Saving Energy and Money: How Your Home Generator Can Run More Efficiently
Home generators might not be the first product that comes to mind when thinking of how to use energy efficiently, but they can actually be quite effective when it comes to home energy conservation. Here are some tips related to: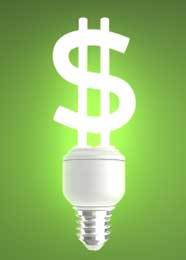 Determining how big your generator needs to be
Perks of a different type of generator that's built to save energy
Information about how to use a gas-powered portable home generator more efficiently
What you can expect to save from each method
Prioritize your energy needs to determine how big your generator should be
Many people make the mistake of buying a generator based on the square footage of their house, when it has more to do with how much power your home uses. Buying a generator that's suited to your needs will keep you from wasting energy and using power you don't need.
First, evaluate your home's central air conditioning unit, which is usually the appliance with the greatest need for power. Then determine what else you'll need during a power outage. High-wattage appliances that require a lot of fuel include hot water heaters, stoves, and dryers. All of these factors can help you determine what size of generator you need.
Cost savings: In addition to the purchase price upfront ($800 to $2,000 versus $3,000 to $29,000 and above), you're going to save on operational costs due to fuel consumption. By leading estimates, you can plan on burning through about 2 gallons of LP fuel for each hour of operation with a 10 kW generator. In the same way, a 20 kW model is estimated to burn 2.5 to 3 gallons each hour. So if you only need 8 or 9 kW of total power, you're simply wasting fuel with a 20 kW machine.
If you'd like help finding the proper model for the size of your home and specific power requirements, use this Generator Sizing Calculator.
Consider purchasing an electric standby generator
Automated electric standby generators connect with your home's electrical panel and help control the excess power demand that comes from high-wattage appliances. In other words, they help you manage your power priorities based on your appliances' surge requirements.
This type of generator also helps you save money on gas and propane, and is much more energy-efficient than a typical generator. It can be installed to your home's electrical panel easily, automatically switches on when the power goes out, and is generally smaller and quieter than a gas-powered generator.
Cost savings: Fuel is another major area where you can cut costs, especially when prices tend to creep higher during a disaster (even though they're not supposed to). The costs of gasoline and diesel are currently around $4 and $3.50 per gallon respectively, when averaged throughout the nation. In comparison, compressed natural gas (CNG) is around $2.50 per gallon and hasn't fluctuated much since 2003 when it was around $1.50 per gallon (though it does rise and fall seasonally).
Get the most out of your gas-powered generator
Since many generators run on gas and oil, knowing how to use energy efficiently can help you avoid wasting fuel and spending money on extra gas. To get the most out of your portable generator, shut it off if no appliances are running and use your appliances only as needed.
Remember to turn your generator off at night or when you're away from home. Regular maintenance and upkeep, such as routine oil and filter changes, will extend the life of your generator and keep you from making costly repairs.
Cost savings: You have the potential to cut your energy costs by 50% or more simply by turning off unnecessary appliances and shutting down the generator at night and when you're away.
Knowing how to use energy efficiently includes prioritizing your energy needs, making smart purchases, and performing routine maintenance. Be conscious of your home's power needs and usage both when shopping for and using your generator. Conserving energy will save you money in the long run.
Ready to Compare Home Generators Price Quotes?