Find the Perfect Home Storage Building for Your Family
A home storage building can be a great way to get your garden and yard implements out of the garage to make room for cars, or a place to store garden and patio furniture during the off-season. In fact, a storage shed's use is really limited only by your needs and your imagination.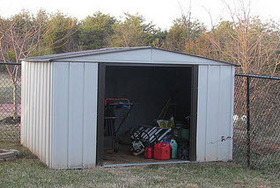 Sizes and types
When you're looking to buy and erect a storage building, the first thing you need to decide is what size you need. This is answered by your planned use for the building, and how much room you have to spare.
If you're only going to store some paints and a few garden or yard tools, you don't need a large storage building. However, if you have a good-sized area to devote to the building and you plan on storing a riding mower and your patio furniture in it, you're going to need a fairly big unit. Sizing varies on the model, but many keep to somewhat standard dimensions, including:
3' x 2'
3' x 6'
6' x 6'
10' x 10'

10' x 20'
12' x 8'
12' x 16'
12' x 20'
In general, there are three different types of home storage sheds:
Wood - Components are treated against weather but require repainting to keep the shed looking new.
Metal - Typically finished with rust-resistant coating to withstand climatic elements and does not require painting.
Resin - Constructed of high-density polyethylene plastic and reinforced with powder-coated steel, they come in a variety of colors and do not require painting.
Designs and customizations
Each shed typically comes in a kit, enabling quick construction on any property with a few basic tools. In addition, most feature attractive designs that dress up the appearance, like mini "barns" (complete with an upper loft) and large side doors for tractor and mower storage, as well as small decks on the front exterior.
Plus, many designs include interior extras like hooks and pegs, shelving, floors, and even skylights, optimizing storage space while making it easier to find the things you're looking for.
Costs and installation
Plastic home storage buildings usually snap together with a few screws for added strength and durability. Wood and steel buildings require some knowledge of how to use a variety of hand tools. If you're proficient with tools and don't mind doing the work, you can build it yourself to save some money. However, most manufacturers will normally only provide warranties on their products if they're assembled by professionals.
For the shed itself, you can expect to pay within the following ranges for each type based on the size of the structure:
Wood - $400 to $7,800
Metal - $200 to $4,500
Resin - $100 to $4,200
Many sellers will offer package deals or discounts on the shed itself if you opt for installation or will list the shed as "installation included." By some estimates, the cost of professional installation could double the purchase price of the shed itself, with average do-it-yourself installation running between $800 and $2,000 and the professional option costing between $2,000 and $4,000 total (including the shed and all necessary building materials).
Ready to Compare Residential Steel Buildings Price Quotes?