Are Steel Residential Buildings the Next Big Thing?
Steel buildings are clearly a force in the construction industry. When you combine the portability and affordability of steel construction, you have a product that is hard for builders to ignore. Firehouses, churches and garages made of steel are a part of communities across the country. Now that the commercial industry is saturated with steel, you might see it make inroads as the hottest residential construction project material. Here are reasons why steel construction could very well be the next big thing in residential projects.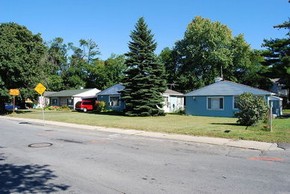 The cost is considerably lower. Steel constructions are cheaper to build because of lower labor costs and the fact that manufacture and design are often handled by the same company. Homeowners on a budget can afford to construct these buildings when other options aren't on the table, leaving developers an opening in a tough market. It is also a way to increase square footage. If you were considering a two-bedroom house composed of traditional building materials, you can increase the size considerably on the same budget by using steel. It can mean an extra bedroom, a home office and a garage, too. Steel prices are currently at their lowest in years.
The materials are easier to assemble, requiring smaller construction teams. Every residential construction project manager has to analyze labor costs carefully before bidding on a contract. When you use steel materials, you can use a leaner crew to put up residential buildings of considerable size. As a developer, you can move faster and put up your projects more efficiently, as steel materials fit together seamlessly.
Steel is a greener material. Every project must take into account the concerns for the environment. Residential construction that utilizes steel will not contribute to deforestation. In fact, steel is recyclable and able to be repurposed when a house is removed or taken down from a location. It lasts longer, as well. The trend in steel shingles has been growing in recent years; steel homes are likely to follow suit for the same reason.
Builders of steel constructions find it easier to observe fire codes. With wildfires becoming an increasing concern in the American West and Southwest, materials that are in line with changing fire codes will be sought. Code-friendly, greener steel materials make sense for residential and commercial buildings alike. As codes continue to become stricter to respond to safety concerns, you can turn to steel when looking at residential construction project options.
Steel may be the hottest thing in residential projects because of its durability, affordability and environmental viability. Consider steel when designing or constructing a residential development.
Ready to Compare Residential Steel Buildings Price Quotes?