Credit Card Terminals Introduction
Credit card terminals are a common sight in almost every retail store and restaurant. They let businesses process credit cards efficiently and securely.
While they are a relatively small purchase in terms of dollars, the total impact they can have on your businesses is enormous. Merchant account providers typically charge half a percent more for keyed-in transactions than for swiped charges. So if your old terminal is not reading cards as well as it used to, it could be costing you money. Older terminals may also not be able to support debit card transactions. Or, you may simply need more terminals because your business is growing.
Before going any further, there are a couple things to be aware of:
Credit card terminals can only be used in conjunction with a credit card merchant account. Need a merchant account? Submit a quote request or read our Credit Card Processing Buyer's Guide.


Many point-of-sale (POS) systems include credit card readers. If you are interested in a complete POS system, submit a quote request or read our POS Buyer's Guide.
Whatever your reasons for buying new credit card terminals, this Buyer's Guide can help you choose the right one. And when you're ready, we can connect you with a number of qualified sellers who can help you find the right credit card terminals for your business.
---
Designed to cater to a wide range of business needs and setups, modern terminals provide a host of connectivity and processing features. So the first step in comparing credit card machines is to look at the different types available.
---
Credit Card Terminal Features
Millions of terminals are shipped every year, and most of them share all the same basic features and functions. There are several basic types of credit card terminal: traditional terminals (with or without printers), wireless credit card terminals, and virtual or software-based terminals.
Traditional terminal
Basic terminals include a magnetic stripe reader, a keypad to enter prices and other information, and a small display. The required printer can be built-in or a separate unit. When choosing between a built-in printer or separate units, remember that while it may be slightly easier to deal with one piece of equipment than two, the impact on your business either way will be minimal.
Credit card terminals have different types of displays: obviously, larger displays let you see more information at once. Displays are usually measured line lines and columns: an 8 x 20 display has 8 lines of text, 20 columns wide. Getting a backlit display lets you use the terminal even in low light conditions and is probably a good idea - backlights are standard on most new terminals in any case.
Keypads vary in size and number of keys. More keys typically give you the option to assign commonly-used functions to their own key; larger keypads can improve ease of use.
Wireless credit card terminal
A wireless credit card terminal can provide a significant advantage for some businesses. For example, taxi drivers, seasonal businesses with temporary locations, and large lot businesses can all greatly increase efficiency by accepting credit cards wirelessly. However for most businesses, wireless credit card terminals are a needless expense: if it is never going to leave the counter, the wires pose no problem.
Wireless credit card terminals by necessity have printers built-in - your employees will not want to carry around two separate pieces of equipment. Important factors to consider when evaluating wireless terminals include battery life, range, weight, and shock-resistance - any terminal that gets carried around is going to be dropped occasionally.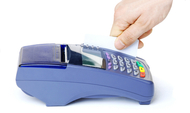 Virtual terminal
If you do business exclusively over the phone or the Internet, you may not need a physical terminal at all. Your merchant account provider should be able to provide software that handles the transaction: you simply type in the credit card number and the software handles the authorization.
Other features
In addition to major credit cards, you will probably want a credit card terminal that accepts debit cards. Most do, but to complete a debit transaction, you also need a way for customers to enter their personal identification number (PIN). This can be done directly on the terminal or through a separate PIN pad. Separate PIN pads let you keep the terminal safely behind the counter and give customers convenient access to type in their code.
Issuing and accepting gift cards is another popular option, but not available on all terminals - so decide in advance if this is a feature you require. Many terminals also support additional forms of payment, such as phone cards and electronic bank transfers (EBT). The volume you see in these alternative payment methods should dictate whether you look for a terminal that supports them.
The address verification system (AVS) provides additional security for your transactions. By comparing the address on a customer's ID with the billing address of the credit card, AVS greatly cuts down on fraud. AVS is a standard feature on most terminals - do not buy a terminal without it.
Despite what some merchant account providers may imply, any credit card terminal can be used with any merchant account - the terminal just has to be programmed to connect to the right provider. If you do not like the terminals your merchant account provider has to offer, purchase yours elsewhere.
Reliability
Overall reliability of credit card terminals is very good. Reliability is measured in mean time between failures (MTBF) or mean cycles between failures (MCBF), and is commonly in the $2 to $4 million transaction range. Because of this, you are not likely to need the 1 year warranty most terminals come with. But it's a good idea to accept it. As with any electronics, there is a small chance that you wind up with a faulty unit.
---
In addition to the machines themselves, many are typically paired with a small printer, enabling you to provide receipts for both in-person and online purchases, as well as phone orders. Like the machines, there are a number of types to select from - easily compared by the level of quality they provide.
---
Receipt Printers
With your credit card terminal, you will need a receipt printer to issue receipts and slips for customer signatures. Whether your receipt printer is built in to the terminal or a stand-alone unit, you will need to choose between the two main types of printers: dot matrix and thermal.
Dot matrix receipt printers, also known as impact printers, use pins and an ink ribbon to print on regular paper. Dot matrix printers are fairly inexpensive, usually $200 - $400. Print speeds tend to be low, in the range of 1 to 4 lines per second.


Thermal receipt printers use heat and special heat-sensitive paper to generate receipts. They are slightly more expensive, ranging from $300 to $500, but they are faster, quieter, and generally more reliable because they have fewer moving parts. They can be much faster than dot matrix printers, with speeds of 10 to 15 lines per second.
A third type, inkjet printers, is fairly rare. Their only real advantage is the ability to print in multiple colors. But they have neither the speed of thermal printers nor the low costs of dot matrix printers.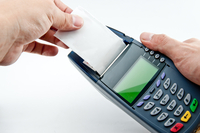 Paper
Over several years of use, the higher costs for thermal paper are just about balanced out by the need to buy both paper and ribbons for dot matrix printers. That said, changing paper can be a hassle if there are customers waiting. As a result, many printers now have "drop-in" paper loading which simplifies the process.
---
One of the major factors in the purchase decision for credit card machines is the cost. So we compiled a range of pricing data on credit card machines - for sale as well as lease - to let you know what you can expect to pay.
---
Credit Card Equipment Pricing
Credit card equipment is not particularly expensive - the ongoing costs of a merchant account will be a much more significant expense for your business. Terminals are often priced as loss leaders to entice you to choose a particular merchant account provider. So you may see prices online that are 'too good to be true' ...and they usually are.
If you want to see actual examples of what other BuyerZone users paid for credit card terminals, check out our real-world credit card terminal pricing article.
Basic terminals range in price from $150 to $300. Terminals with printers go from $200 to $600, and wireless terminals can be $600 to $1,000.
In most cases, you should buy the terminals outright. A 48-month lease could cost you over $1000 for a terminal that you could have purchased for $250.
Because credit card equipment is relatively inexpensive considering the important role it plays for many businesses, it is worth spending a little extra to make sure you get all the reliability you need. Saving $50 is not going to affect your business much in the long run; a terminal that is slow or balky can have a serious negative effect.
Where to buy
Purchasing credit card equipment from your merchant account provider can simplify the process - they will pre-program the terminals for you. They also know that you will be working with them for years to come, so they are more likely to give you a break on terminal pricing and will not be as interested in selling you models at the highest pricing.
If you are purchasing your terminals separately, or will only be buying one credit card machine for your small business, the choice of seller is not terribly important. The transaction is a one-time purchase, not the start of an ongoing relationship. Combined with the overall reliability of terminals and the low total cost, this means that the decision of which seller you purchase a credit card equipment from is pretty minor.
If you choose to buy your credit card terminals over the Internet, use the same caution you would with any online purchase: if you are not familiar with the company, do some basic research to make sure they are reputable. Also make sure you understand both the return policies (in particular, what restocking fees you may be liable for if you choose to return a terminal) and the warranties and service agreements that come with your purchase.
---
As you conclude your research, there are a few additional tips that can help you get the best (and most efficient) machines possible.
---
Credit Card Machine Buying Tips
Keep your credit card machines clean. Dust, crumbs and especially paper lint can quickly clog printers and gum up stripe readers. A $2 can of compressed air can quickly clean your terminal and help it last up to five years.


Find a local seller. Choosing a local seller for your credit card machines means you can get some basic training for your staff. A quick introduction to using the advanced features of your terminal can help you get your money's worth.


Look for machines that provide automatic software updates. Some terminals use flash memory to store the software that runs them, which allows system updates to be easily downloaded and installed. This can extend the operating life for your credit card machine.
Ready to Compare Credit Card Machines - INACTIVE Price Quotes?