The Real Pricing Strategies Behind Black Friday and Cyber Monday
Lately, I've been writing a lot about pricing and promotion strategies for the upcoming holiday season. Also about the importance of retailers using competitor price monitoring and pricing intelligence to get a fuller picture of what the market looks like, identify trends, and know how to price most effectively in real time.

Last year, Upstream Commerce took a look at the pricing patterns of Walmart, Best Buy, and Amazon during the "special sales" period, called Black Friday and Cyber Monday. Using our company proprietary pricing software, we checked to see if these well-known retailers really discounted as much as everyone thought they would, based on the hype leading up to the holidays.
We took a look at the overall average price of product categories for TVs, and Toys/Games. We sampled about 600 products in both categories, comparing the prices at Amazon.com, Walmart.com and Best Buy.com, over three dates: Nov. 15, 2011 (base line), Black Friday 2011, and Cyber Monday 2011, showing the rate of price increase or decrease on those days.
Here's what we found:
1. There wasn't any consistent strategy among retailers. It appears that each retailer had its own pricing strategy for this critical period.
2. In both the TVs category and the Toys and Games category, Amazon discounted the most for Black Friday, but then raised prices for Cyber Monday.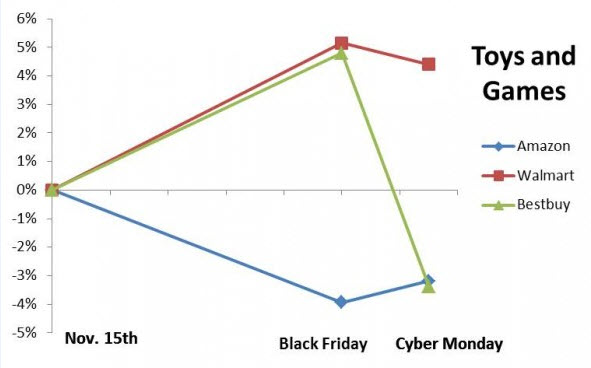 Toys & Games Sales Price Graph - Data from Upstream Commerce
Walmart's average prices were actually HIGHER on both Black Friday and Cyber Monday. Both for TVs, and Toys and Games, the average prices at Walmart were higher than on the 15th.
(We later found out that Walmart's average prices on these particular items on Black Friday and Cyber Monday were high because of out-of-stocks on the less expensive products, which forced consumers to pay more for more expensive items in the same categories, or not buy the item at all).
And, by not having stock when they needed it, we suspect that Walmart missed out on even more sales of the desired products, thereby leaving money on the table.
4. Best Buy's prices and related discounts depended on the product category. Although Best Buy did provide discounts in the TVs category, it actually raised prices slightly on average for its Toys and Games category.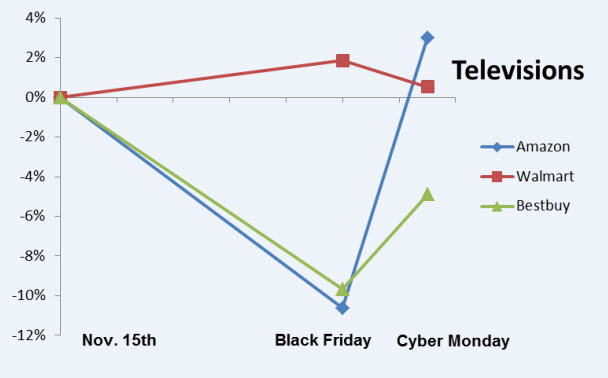 Television Sales Price Graph - Data from Upstream Commerce
What does this mean?
The lead-up to these special days for the consumer was the hype that there would be great sales as competitors jockeyed for the consumer dollar. Of course, there was competition, but whether the sales materialized as expected can be deduced from the retailer pricing behavior on these two special days.
We concluded that each retailer was "dancing to its own strategy" and not looking at, or following, each other's prices, as was expected.
It seems the hype was focused on a smaller set of products that were actually being discounted, than from a broader range of products in entire product categories. On average, the changes were only a few percentage points -- and not the slashed prices across the board that the consumer would have been led to believe.
It will be worth another look this year, to see how the big retailers price in relation to media hype, consumer expectations, and their own individual strategies.