Cause-Based Marketing: Doing Good for Others and Your Bottom Line
Cause-based marketing refers to marketing campaigns that are designed to benefit social and other charitable causes. The practice has grown in popularity in recent years – especially among retailers – as companies have come to realize that aligning their brand with a charitable cause makes sense on two fronts: one, the happiness derived from helping others that are less fortunate and, two, it can help make consumers more likely to buy from them.
There have been countless examples of retailers using cause-based marketing in recent years, but here are some of the more well-known efforts:
TOMS, a cross-channel retailer of shoes and eyewear, has instituted a buy one, give one business model. For every purchase of a pair of shoes or eyewear, TOMS donates a pair of shoes or glasses to a child in need. Since 2006, the retailer has given away over 10 million pairs of shoes to children in need in over 60 countries.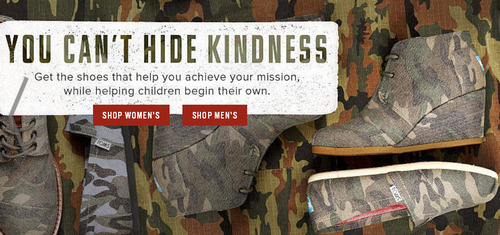 Photo courtesy of TOMS.com
Patagonia, a cross-channel retailer of outdoor apparel and gear, donates 1 percent of its sales, as well as its time and services, to hundreds of grassroots environmental groups around the world fighting to protect the land on which we live.
Warby Parker, a seller of prescription eyeglasses and sunglasses, has followed TOMS business model,donating a pair of eyeglasses to someone in need for every pair the company sells. Warby Parker has already donated over 500,000 pairs of eyeglasses.
Department store chain Kohl's has createdKohl's Cares, which features a variety of programs that support children's health, breast cancer awareness, education and advancing environmental solutions. One-hundred percent of the net profit on products designated as Kohl's Care merchandise is donated to the selected charitable cause.
The Home Depot Foundation has made addressing the housing needs of veterans its primary focus. The home improvement retailer's associates volunteer their time and expertise to help improve the homes and lives of families in need. In 2012, Team Depot completed more than 1,200 projects across the country; 550 of those were focused specifically on veterans.
Tips for Launching a Cause-Based Marketing Program
If your company is looking to get started with cause-based marketing, consider the following tips:
Pick a cause that reflects your company's culture and values.
Affiliating with a nonprofit related to your products or aligning with an organization your employees and customers care about will keep your team motivated and deliver the message to a receptive audience. Figure out what you stand for, and if your heart's not in it, don't bother.
Choose a cause with resources.
If you don't feel strongly about any one cause or if you're choosing between two causes for which you're passionate, choose the one that can activate its supporters. People complain that Pinktober is "Pushtober," but retailers use pink with good reason: Breast cancer supporters are active and loyal shoppers.
If you want your cause marketing promotion to pull in new customers and not just engage existing ones, pick your cause carefully with an eye toward how its supporters can help you.
Launch a campaign that calls people to action.
Whether motivating customers to accept a challenge, make a donation or participate in an event, engagement is key. JPMorgan Chase has Chase Community Giving, which lets the bank's customers decide which organizations should receive money, and encourages voters and followers to share philanthropic experiences, learn about new causes and maintain lifelong charity.
Communicate with your charity of choice in advance.
Doing so will prevent any after-the-fact misunderstandings that can ruin any good-will you hoped to generate. Furthermore, many charities encourage these initiatives and may be able to provide you with additional resources to help in your marketing efforts.