Getting Your Piece of the M-Commerce Pie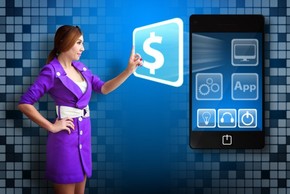 Having returned from last week's National Retail Federation (NRF) conference in New York City, I can tell you that mobile and its overarching effect on all retail operations was the hot topic at the show.
Retailers are hungry for information on how to structure their organizations and align their marketing messages so they can offer consumers the same optimal shopping experience no matter the channel they choose. This includes brick-and-mortar retailers, who are seeing an increasing percentage of consumers walking store aisles with smartphones in hand.
It seems as if retail industry pundits have proclaimed this year the year of mobile every year for the last three years. Well, 2013 is no different.
Has Mobile Reached a Tipping Point?
I still think that's a difficult argument to make — mobile accounted for only 11 percent of total e-commerce sales last year, according to research firm eMarketer — but I'd be a fool to advise you to ignore mobile as an emerging marketing and commerce vehicle going forward.
So how can your company prepare itself to cash in on today's mobile-connected consumers? Here are some best practices to consider:
Create a mobile-friendly site that's easily navigable. Provide direct links from its homepage, making sure to leave a buffer between links to avoid "fat finger syndrome."
Make search a priority. Consumers shopping via smartphone are typically on the go and don't have a lot of time. They don't want to scroll through every item you sell to find what they're looking for. Therefore, include a search bar on every page of your mobile site that catalogs all of your available products.
Simplify checkout. Mobile shoppers are less likely to be willing to type in credit card numbers and shipping information. Whenever possible, populate these fields with data from your desktop site.
Integrate with other channels. Use data that's specific to a user's mobile device (e.g., location) to personalize the shopping experience in other channels. For example, use GPS features to send location-based offers to consumers in the vicinity of your closest brick-and-mortar store, or promote exclusive discounts or merchandise on your mobile site that link back to your desktop site or Facebook storefront.
Becoming an Omnichannel Retailer
Going hand-in-hand with all the talk at NRF around mobile was this notion of becoming an omnichannel organization. What does this mean exactly? Think of it as the next level of cross-channel. Not only are you selling your merchandise in multiple channels (in-store, online, mobile, catalog), but you're fulfilling that merchandise in multiple channels — e.g., buy online, pick up in-store; shipping online orders from inventory at your nearest brick-and-mortar location.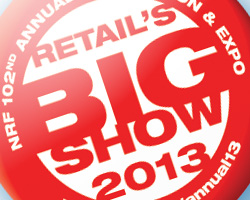 Image courtesy of NRF.com
It goes beyond just fulfillment, however. Omnichannel is being able to make content, merchandise and anything else a consumer wants from your brand accessible from anywhere, including social media sites, mobile apps, tablets, etc. Are your store associates equipped with tablets to help shoppers make online purchases when the product they're looking for in-store is out of stock? If not, you risk losing sales.
In his keynote presentation at NRF, Tim Belk, chairman and CEO of Belk, the department store chain based in the Southeast, left the audience with five takeaways from the company's ongoing effort to become an omnichannel organization:
There isn't a clear path or any industry norms around being omnichannel. You need to test and learn.
Innovation is a skill one must learn and look for in employees.
Partner with thought leaders and technology providers in your space.
Top management must have ownership of the project, from capital allocation to timelines.
Operations are changing, including shifts in supply chains, sales attribution and commercial real estate acquisition.