Super Bowl XLVIII & Sochi Olympics Security Concerns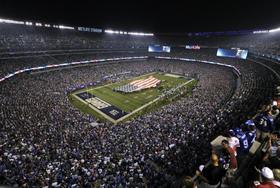 Photo courtesy of Reuters
As we approach two of the biggest sporting events to watch and attend, we need to keep in mind what that entails and some basic precautions we should take:
Super Bowl XLVIII
The Super Bowl takes place this weekend in New Jersey. This creates a security nightmare for those tasked with protecting the attendees, players and venues. This year's Super Bowl will utilize thousands of staff from Federal, State, Local and Private Entities, costing millions and millions of dollars.
We have seen security measures such as:
2.5 mile perimeter fences protecting the stadium
Additional secure parking lots
The utilization of an unprecedented amount of CCTV cameras
Thermal and night imaging
Bomb detecting technology
Law Enforcement is stressing that people should not drive to the game, but should that be the path you have chosen, you would need to apply in advance for a parking permit. Transportation has been set-up from many access points to move people in and out, with supervision of the vehicles and routes.
Sochi Olympics
Similarly, we are fast approaching the Olympics in Sochi Russia and there has already been serious issues occurring prior to the games beginning; bombings, with threats of more unrest by militants and lone wolfs are of major concern.
Russia has implemented a "Ring of Steel," including four-times the amount of law enforcement and security staff as what was used in London. No Olympics has seen this type of security plan ever!
Of major concern are the areas surrounding Sochi, as they will become vulnerable with all the staff being deployed for the games. The Russians have implemented drones, CCTV cameras at every possible location, robots for bomb detection and response, and many more sophisticated technologies.
What can you do at any event such as the Super Bowl or Olympics? Prepare and stay alert!
While enjoying the atmosphere and the games, don't let your guard down. Continue to stay alert and pay attention to your surroundings.
Read in advance what they will and will NOT allow in the games and comply. This makes the lines move faster and the job easier for those trying to protect you.
Review access and egress routes in the event of an emergency and let someone know who you are with and where you will be should something occur and normal communications are cut off.
While there are dozens more you could focus on, common sense and being alert to your surroundings are the key to attending any event. Enjoy the games if you are going and remember that the people trying to protect us and the games do an amazing job and can use our support as well. Every extra set of eyes and ears can make a difference.