Tips to Finding the Best Business Phone Service Rates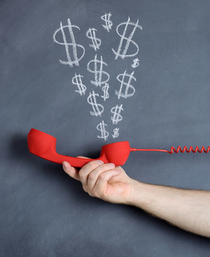 Reliable, affordable business phone service is essential to many companies - even in this age of email. The right provider will offer local, long distance, and toll-free business phone service options at rates that are appropriate for many types of businesses.
Many calling plans offer bundled services. These packages include voicemail, call waiting, caller ID, call blocking and other features. Business phone service rates for bundled business phone service start at about $60 per month per phone line.
If you're operating a business that needs 1 to 5 lines then consider the following options, rates, and features from popular providers
Popular Provider Rates
Provider
Plan Details
Monthly Rate
Vonage

Unlimited international calls to over 60 countries
Small business hosted PBX
Vonage Visual Voicemail

$19.99
Ring Central

Cloud-based PBX business solutions
Mobile app across multiple OS platforms
30 days free
Online meetings for mobile and desktop options

$19.99
Jive

Unlimited auto attendants and extensions
Voicemail to email capabilities
Unlimited local and long distance calling

$19.95
Mitel

Three free months promotion
Unlimited US and Canada calling
Easy connection for audio conferencing
Easy access to admin portal

$17.50
BroadVoice

Unlimited access to setting up auto attendants
Online call management
Voicemail to email

$17.95
8x8 Inc.

Call recording and internet fax
Unlimited extensions
Web conferencing

$19.99
Alliance Phones

Intuitive control panel
Unlimited calls
Access to daily call logs

$19.97
VoIP Studio

Calling Unlimited
Free internet calls
Virtual numbers

$19.99
Long distance packages include a set number of minutes, then charge around 6 to 10 cents for every minute over the allowed amount. There may be volume discounts available depending on the number of lines you need. Some companies may require an activation fee of $30-$40, but they may be willing to waive it.
Rates for toll-free numbers vary. You may pay a monthly rate of $20 - $80 plus per call charges. Setting up a toll-free number may also require a setup fee of $50 or more. Remember you'll be paying network access surcharges, carrier-access charges, and state & local taxes, which will vary. Federal taxes on business phone service run about 3% and you'll pay 6% to 12% of the costs of your calls for Universal Service Fund fees. You may also be responsible for a PICC (presubscribed interexchange carrier charge) of $3 to $5 per phone line.
Tips
Always read the fine print. While you're responsible for a considerable number of charges in addition to monthly fees, make sure to examine exactly what you're paying for. Every billing statement should itemize your business phone service rates: if something looks questionable, contact your vendor.


Aggressively seek discounts. Some vendors may be able to give you a lower rate if you place a credit card or bank account number on file to allow them to automatically withdraw funds for monthly fees.


Directory self-service. Phone companies charge $1 or more each time they look up a phone number for you, but you can just as easily find it for free by doing an online search through a directory website like Switchboard or YellowPages.com


Compare the options- There is more than one phone solution in business today. Private branch exchange (PBX), VoIP, internet phone, and traditional phone systems all combine to offer more or less the same features but prices can vary. Depending on your company's direction, potential for growth and current phone/network status and capability you might be able to upgrade your system or combine costs with an internet service provider (ISP).


Local Business Versus an Internet Solution- Local business service providers offer many of the same packages as internet based service providers. The difference often lies in the sales and service departments. Local or regional services offer service plans generally, meaning having a technician dispatched for any physical issues you might encounter. Service of software or network issues are generally provided by both types. Internet service plans can be less expensive than local or regional packages.
There are literally hundreds of service providers available for nearly every type of telephone solution. Picking just one can be a daunting task. While you might find yourself taking call after call and filling out a lot of request for pricing forms online, there is most definitely a service available that fits your unique needs. Due diligence, a bit of grit and a clear understanding of your needs will net the perfect service for your business.
Ready to Compare Business Phone Service Price Quotes?