Web Conferencing Tools: Must-Haves and Advanced Features
When getting together in person isn't possible or practical, many businesses rely on the Internet for virtual meetings. Web conferencing tools are software applications that make it possible for employees and business associates to share ideas and brainstorm effectively, even when separated by thousands of miles.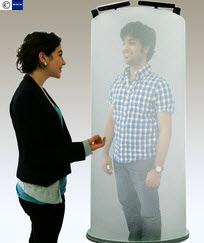 3D video-conferencing pod is a bit much. However, some of these other web conferencing tools are not.
Necessary web conferencing tools
Effective web conferencing tools and products put the focus on communication and should contain most of the following features:
Polling: The moderator can ask a question, track the results, and post the data for all participants to see.


Whiteboards: One of the most popular web conference features, a virtual whiteboard serves the same function as a real whiteboard, but you don't need dry-erase markers to make it work. During the meeting, the presenter can jot down ideas and make changes based on participant feedback.


Shared files: During the online meeting, participants can share documents, spreadsheets, and other data files with the conference members in a dynamic, real-time environment.


Desktop sharing: By giving conference participants a view of the moderator's desktop, the meeting leader can effectively demonstrate new software products or techniques by showing them as well as talking about them.


Breakout groups: As with in-person conferences, the participants typically break into smaller groups to discuss a particular issue. The breakout group tool allows these smaller meetings during a web conference.
Other web conferencing capabilities
Web conferencing products also contain functions and features that are useful, if not essential, for a virtual meeting:
Session recording: Perfectly suited for webinars, you can archive the entire conference and make it available to participants, as well as those who were unable to attend the meeting.
Green meter: Since online meetings eliminate quite a bit of business traveling, that means that your business is reducing its carbon footprint. Some web conferencing tools are now offering a "green meter" where you can actually calculate how green your meeting is.
iPad attendance: In the day and age of smartphone and tablet devices, participants will appreciate the flexibility of being able to attend a meeting with audio, chat, and video from an iPad or smartphone on-the-go.
Webinar promotion: A number of online web conferencing programs are now equipped with marketing tools that utilize social media to promote upcoming webinars; online meetings can be shared with followers on LinkedIn, Twitter, and Facebook.
PayPal payment: If your business plans to use a web conference or webinar for sales or marketing, invitees can be automatically charged to attend or view recordings with convenient checkout via PayPal.
Web conferencing tools: Pros and cons
When preparing for a virtual meeting, web conferencing tools are fairly easy to install or access via the Internet. These software packages make online discussions and collaboration more effective than traditional conference calls.
Top advantages of web conferencing tools include:
Improved productivity in a meeting with whiteboard brainstorming and feedback.
Remote employee attendance via iPad or iPhone.
Seamless file sharing between employees and clients.
Instant feedback and reporting from conference participants.
Enhanced employee technical skills by web conferencing in lieu of phone/email communication.
On the other hand, using a web conferencing tool typically means that every conference participant needs a few computer peripherals to join the meeting - at least a microphone and possibly a webcam. These web conferencing software packages may not have all the features you need for your particular meeting needs.
Potential drawbacks of web conferencing tools include:
Reliance on technology may be substituted for face-to-face business connections.
Costs can add up if conferences or webinars are scheduled daily.
Poor web conferencing technology can make a bad impression on customers and clients.
Web conference attendees must be computer literate to utilize all features.
Clients may resist transitioning from in-person to online meetings.
In most cases, many of the drawbacks listed above can be circumvented by choosing a trustworthy web conference service provider. You can shop wisely based on price and the tools that will be used most frequently in your business. You can cut costs by selecting a service package that includes only the web conferencing tools you need for improved client communication - like whiteboard access, desktop sharing, and session recording - while forgoing tools that may not benefit your industry - like webinar promotion, polling, and PayPal support.
Ready to Compare Web Conferencing Services Price Quotes?