Steps To Secure Web Conferencing
To avoid the high costs associated with travel these days, many companies are using the Internet to hold virtual meetings or "webinars" with their employees and clients. Since these virtual meetings can involve sensitive company material, it's important to use secure web conferencing when meeting online.
Here are some of the top concerns related to web conference security, how they're addressed, and what you'll pay for both in-house and cloud-based platforms.
What makes web conferencing secure?
Web conferencing is a hot technology that is being implemented in more than three quarters of businesses today. If your business already uses an online conferencing program or software, you may have forgotten to take a second glance at security protection.
Clearly, a web conferencing security threat is not a matter to be taken lightly. A business must protect its private information and customer data with web conferencing security features designed to:
Prevent unauthorized use of service and features, limited only to approved users and invited participants
Protect company assets, including attached private networks and client computers
Uphold privacy and integrity in all confidential communications via text message, email, voice interaction, and screen sharing
Guarantee reliability and availability of web conferencing service so that sensitive business communications aren't disrupted or denied
Offer seamless integration with other computer and network security features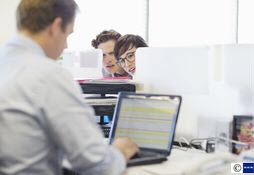 Where to begin: Eliminate the eavesdroppers
To ward off hackers, industrial spies, and other online eavesdroppers, secure web conferencing makes use of the following security measures:
Secure sockets layer (SSL): A SSL sets up a secure connection between you and the authorized conference participants, encrypting any data that's transferred; this keeps confidential information from being stolen or changed by someone outside the firm. When logging into the meeting, the Internet browser's address bar will display "https" instead of "http" if your conference is using SSL.


Constant monitoring: During the online meeting, you should have at least one IT specialist who monitors the participants and looks for possible intruders. They should immediately disconnect anyone who isn't invited, including employees who haven't been specifically invited to the conference.


Password protection: To gain access, each participant should receive a conference password that's been sent to them on a secure email server. For additional protection, you may want to assign everyone an individual access code that they must use to verify their identity. Creating strong passwords and meeting IDs is encouraged so that sensitive data isn't easily guessed.


Non-persistent data storage: Like an ongoing shell game, any data that you transmit during a web conference should not be stored in one location for very long. During the presentation, make sure that your confidential data is constantly being switched between different servers. Secure web conferencing also means limiting participants' ability to save data or print out copies of documents and diagrams. The conference software should give you the power to control any data access.


Physical security: The conference should be held on a very secure network, so make sure that only a limited number of people have physical access to the network. For secure video conferencing, don't videotape the presentation unless you plan to distribute it at a later time.


Automatic inactivity time-out: All participants in a web conferencing meeting will be protected by setting a preference for automatic inactivity time-out. The feature will automatically stop screen sharing if a participant doesn't provide mouse or keyboard input within a set amount of time to prevent on-site third-party access into the conference program.
In-house versus third-party for secure web conferencing?
To ensure secure web conferencing, some companies prefer to purchase a software package and have their in-house Information Technology department help with the meeting. While this may feel more secure, your internal staff may not be completely familiar with all the requirements of secure web conferencing.
There are plenty of experienced companies who will host your online meeting on their computer systems. While you are relying on their security measures, secure web conferences are a central component of their business: They have to stay on top of emerging threats and new privacy technologies.
The security of a third-party web conferencing provider can be assessed by research, reviews, and ratings, as well as the following criteria:
Provider has organizational focus with defined security features
Conferencing program utilizes secure coding practices to limit software bugs that could compromise security
Provider offers secure operational implementation for the program
Estimated costs
Secure web conferencing software solutions are typically billed on a monthly basis when provided through an application service provider (ASP). This fee provides most, if not all, of the security features mentioned above, as well as access for you and up to 100 additional users in some cases.
Packages range in price from $15 to $70 per month based on the inclusion of specific conferencing features, the number of callers or "guests," and the brand name. High-end conferencing solutions can be found that allow anywhere from 500 to 1,000 attendees and also include video recording services. These levels go for between $160 and $300 per month.
In-house solutions require a networking connection box that's similar in size and shape to a TiVo or DVR, with prices ranging from $1,200 to $5,500 based on capacity, number of rooms, and the number of users. Additional rooms and users often incur additional charges that range from $75 to $400 each.
Plus, if you would like to be connected with leading national providers, fill out our free quote request and we'll put you in touch with a number of reliable sellers that will be custom-tailored to your specific business requirements.
Ready to Compare Web Conferencing Services Price Quotes?