Teleconferencing Services Introduction
Sometimes, geography and logistics make it impossible for all of a meeting's participants to be in the same room. And in this era where companies must do more with less, time and costs often make travel prohibitive for many businesses.
In these situations, audio conferencing, or teleconferencing, can be a valuable alternative. By allowing groups of people to communicate by phone, decisions can be made, information relayed, and problems resolved in days rather than weeks. However, most business phone systems can connect only up to three callers on a line. An audio conferencing service allows you to connect more people together without having to invest in expensive equipment.
Audio conferencing services are offered by independent service bureaus and long distance providers that use sophisticated call connection "bridges" to join many different phone calls into a single conversation. Conferencing services allow meetings to take place even when everyone can not be in the same room, connecting people in different branch offices for a sales meeting or providing quarterly results to investors.
Whether you want to set up a conference call for three people or 3000, this BuyerZone Teleconferencing Calling Buyer's Guide is for you.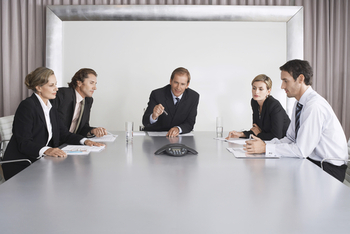 ---
To get going, the first step is to choose between the two types of teleconferencing options available. You decision will largely be determined by the number of individuals on the call, the variety of locations they're calling from, and the overall importance of the call itself. Get started here.
---
Teleconferencing Options
Teleconference services are remarkably similar in terms of their basic offerings. Because almost all teleconference services buy their equipment from one of a few manufacturers, there are very few differences in terms of features and connection quality. There are two basic types of audio teleconference available: reservationless and operator-assisted.
Reservationless conferencing
Reservationless conferencing is the most popular type of teleconference used today. With it, you can start a conference call immediately, any hour of the day or night. This type of calling is often used by salespeople to set up calls with prospects and by departments that need to hold meetings with other employees or sellers.
When you sign up, you receive a permanent, toll-free dial-in telephone number and two passcodes: one passcode for the teleconference host, and the other for participants. Participants simply need to dial in to be connected to the teleconference.
Because reservationless conferencing is mostly automated, rates are far lower than operator-assisted conferencing. However, reservationless conferencing offers a less comprehensive list of features than operator-assisted services.
Operator-assisted conferencing
On the other end of the scale, operator-assisted conferencing provides the comprehensive support needed for important corporate phone calls like investor relations calls or upper level management meetings.
With this reservation-required service, an operator is on hand to place calls to participants and to help manage the conference call, from the beginning roll call to wrap-up reporting. While this can be overkill for small conference calls, when a call has dozens or even thousands of participants, having someone help manage the call logistics while you are speaking can be incredibly helpful.
The only drawbacks to operator-assisted conferencing are the higher cost and the need to make reservations up to a day in advance. For calls where advanced features or operator assistance is important, however, neither drawback is serious enough to avoid using this type of teleconference service.
Many vendors can offer both operator-assisted and reservationless conferences.
---
Once you've settled on the type of call you need, you also have a number of options that can facilitate its effectiveness. The features mentioned below transform a standard phone call to something more akin to a professional business meeting.
---
Business Teleconferencing Features
Conducting a meeting over the phone creates specific difficulties, primarily because participants are not face to face. Most reputable teleconferencing services offer a set of features to address some of the problems of business conferencing.
Web conferencing is the newest, and probably most widely adopted, conferencing feature available through many conferencing services. Web conferencing allows you to deliver presentations online, adding a visual element to complement the conference call. This can involve showing a simple set of Microsoft PowerPoint slides, navigating through a web site, or demonstrating how a software program works.
From a presenter's perspective, one of the tool's primary advantages is that you can control what your meeting participants see and when they see it. Read our Web Conferencing Buyer's Guide or request a quote for web conferencing services.
Conference management
In a meeting room, it is relatively easy to control the tempo and flow of conversation. However, control is more difficult to establish in a teleconference. These features give conference organizers the flexibility to manage a teleconference in much the same way they would face to face.
Call monitoring ensures that an operator is available at all times for the conference. This allows participants to be added in the middle of the discussion, or for other features to be accessed.


Faxing allows a chairperson to distribute materials as they become relevant in a meeting. The service maintains a group of relevant documents, which are then faxed to participants on cue.


Roll call lets everyone know who is connected into the conference. An operator conducts roll call, asking each participant for his or her name.


Subconferencing allows designated participants to communicate privately within the call. Subconference attendees can later return to the main conference. In most cases, many subconferences can be established within any one call.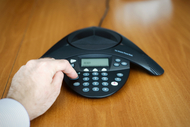 Additional features include translation services, call recording and call transcription. These services typically carry additional per-call costs.
Large conferences
Many business conferencing services can handle conferences of more than 3,000 people. However, the demands of large conferences require additional features to allow for orderly discussion. In many cases, these features are used for large meetings where only a few designated people are expected to speak.
Broadcasting mutes the majority of the participants and only allows certain participants to speak to the rest. This relieves conferences of the inevitable background buzz coming from many participants.


Question and answer creates an orderly exchange of information by allowing participants to signal via phone when they have questions. The operator then calls on specific participants for their input.


Polling allows participants to vote on particular issues. By pushing a touch-tone button, participants can accept or reject proposals in the conference. The operator tallies votes in real time for the chairperson and can provide a printed summary if required.
---
The process of selecting the best teleconferencing service is largely based on two primary considerations which we'll discuss next.
---
.
How to Choose Teleconference Services
Choosing a teleconference service if you plan to hold reservationless conferencing is a fairly straightforward affair: just make sure the teleconference service offers conferencing with the features you want at a fair price
If you anticipate using operator-assisted teleconference service for critical event calls, take the time to learn about the conference calling company beyond its pricing. Ask questions like:
How long has the company been around?
What experience has it had in managing event calls?
What call volume can your facilities handle?
What training do operators have?
Are operators based in-house?
Speak with references about the teleconference services ability to patch in participants efficiently and effectively. Also, ask about how helpful the operator was in helping manage the various calling features you intend to use. It is important to make sure the analyst call runs smoothly so your company's image is not negatively affected.
With modern technology, most telecommunication networks are pretty reliable. As a result, cost is one of the primary factors in your decision making process. Before you get on the phone with sellers, review the cost estimates included below. Culled from national rates, these can help you select a service in line with your business goals, budget accordingly for future calls, and make sure you're not overpaying.
Telephone Conferencing Pricing
Telephone conferencing services are generally used on a per-conference basis. Most services do not require long-term agreements, and there is no need to use the same service that handles your long-distance calling. This makes trying alternate services quite easy and essentially risk-free.
Telephone conferencing calls are typically priced on a per minute per person basis, with reservationless calling being less costly than operator-assisted calls. Pricing has dropped fairly substantially in the past five years. Expect to pay about $125 for a 6-person conference that lasts 45 minutes. Flat rate monthly pricing has started to become popular and is well suited for volume users; doing the comparative math will help you determine which is a better deal.
In addition, you may encounter additional fees for services like call recording, translation, and web conferencing. Telephone conferencing services will vary greatly about which services they include free of charge or as an additional fee-based service.
See what other BuyerZone users paid for their teleconferencing needs.
For high volume users, most telephone conferencing services also offer volume discounts. These are available to anyone making calls on a monthly basis, and often have no minimum spending levels. More substantial discounts require monthly minimums, with penalties for early termination. If you will be committing to a contract, play it safe by using conservative scenarios when assessing your conferencing needs. Tiered pricing based on volume can provide the flexibility you may need to ensure avoid getting bound by a contract you can not meet.
Conferencing Buying Tips
Technical support. Although it is generally very easy to setup, Web conferencing can be difficult for computer-challenged people. Learn about available technical support to help troubleshoot problems.
Hang up. When a conference call ends, make sure your phone hangs up before starting to discuss it with others in your office. Not only may someone still be listening in, any recording services may still be active.
Local calling. Some providers offer lower rates if you dial in a regular phone number instead of a toll-free one. This can be a way to shave a few cents per minute per call for those who can call directly.
Ready to Compare Teleconferencing Services Price Quotes?