Connect Business Calls with a Conference Call Bridge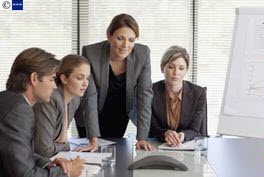 Getting people together from different locations for a conference call doesn't have to be a painstaking process. You can use a conference call bridge to allow several individuals across multiple conference sites to share information and video in real time.
How does a conference call bridge work?
Also known as teleconferencing, conference calling is a step forward in basic business communication. A business can use a conference call to cut down on costly travel expenses and improve inter-office communication.
A standard conference call will include three or more people in one phone call. A conference call line can also be expanded to support hundreds of participants in one phone call without compromising clarity or connection.
The next step in the process is a conference call bridge that will join several phone calls together in a single connection. This piece of specialty equipment will answer multiple calls at once and create a bridge for unified communication. Callers can access a conference call bridge to dial in to a company meeting; the host of a conference call can also dial out to invite or "bridge" more participants into the call.
To summarize, there are two ways to connect using a conference call bridge:
Dial-in. Dial-in provides codes for you and your guests. You simply provide participants with the date, time, and access codes to join the conference call.
Dial-out. With dial-out, you have additional flexibility to invite participants to join at the last minute.
With both options, all participants are muted and can't communicate with each other. Your visitors wait until everyone has connected to the bridge and then you indicate when you begin.
Today's conference call bridge technologies have advanced considerably. A business conferencing provider may offer several web conferencing services under the umbrella of an Internet supported conference call bridge. A business can bridge a conference call using web, audio, and video communication to improve the average office meeting experience.
A conference call bridge may also be available with support from cloud technology, connecting up to 30 participants in a meeting for small business use. This type of cloud-supported audio conference service is compatible with a hosted PBX business phone system.
How much does a conference call bridge cost?
There are two options when it comes to utilizing a conference call bridge:
Purchase/lease physical equipment.
Subscribe to an online conference call provider and use their bridge equipment.
For companies doing more than six hours of conference calls per month, a conference call bridge can reduce hefty toll charges. Purchasing a bridge for your business is expensive, around $10,000 to $20,000 for the equipment and hundreds to thousands of dollars per phone line. You can request a separate recording device for archiving conferences for future playback, or use your own in-house recording equipment.
You can rent a bridge from a service provider to help alleviate the costs, but only if you use conference calls sparingly. Rental prices are primarily available by quote. Whether you buy or purchase, your participants are responsible for long distance charges on their end.
Small to medium-sized businesses with moderate conference call volume may do best by subscribing to a third-party conference call provider. Conference call service providers often charge a flat monthly rate in exchange for unlimited conference calling without reservations, starting at $14.99 per month for cloud conference bridging. Your subscription will provide you with access to a conference call bridge without having to pay for equipment or maintenance outright.
If your business decides to use an online service provider, a conference call bridge may be included within a webcasting service. In this format, you can conference with remote employees and clients by streaming webcasts through a conference call bridge, offering the potential to transmit multimedia messages.
As a final note, take care to look for a conference bridge provider with a specific understanding of your industry. Many online conferencing services now offer niche web conferencing and conference call bridging related to sales, legal, healthcare, and education industries.
Ready to Compare Teleconferencing Services Price Quotes?