Business Phone Service Introduction
Whether your company's monthly phone bill is $50 or $5,000, reliable, affordable business phone service is essential. Choosing the local and long distance providers that will connect you to your customers, prospects, and suppliers is an important decision that should be treated with some care.
A business phone service seller can connect your company with local, long distance, and toll-free capabilities. They can provide service for offices of one to two people or hundreds, with multiple phone lines and extensions, voicemail, call waiting, caller ID, call blocking, and other services, including Bluetooth support. And they may offer advanced services like audio conferencing, calling cards, and VoIP phone service, which can dramatically cut your telecommunications bills.
This Business Phone Service Buyer's Guide will show you how to evaluate multiple providers and get the best phone service deal for your business.
---
The first step in the process is to make sure you have a firm understanding of the basic features of a business phone service. Ranging from the types available to the latest technology, these considerations can help refine your search while ensuring you get the most cost-effective phone package for your business. Get started here.
---
Phone Service Basics
Before talking to any providers, consider the types of calls your business handles: local or long-distance, outgoing or incoming, domestic or international. A good understanding of your current call volumes and breakdowns will make comparison shopping much easier.
For local calls, there are three main options.
Measured-rate service charges you based on the duration and distance of each call. It carries a lower monthly fee, but unless your call volumes are very low or mostly incoming, it's not a great option for your business.


Message-rate service charges a flat rate for each completed local call, regardless of duration. It may include a set number of calls per month under the monthly fee, then a per-call rate. Message-rate service is a good choice if your average call length is high.


Flat-rate service gives you unlimited monthly calling for a higher monthly fee. If you have consistently high local call volumes, this is the option for you.
Long distance plans are somewhat more fluid. If your long-distance needs are limited to a handful of calls a month, a plan with the lowest monthly fee is the best bet.
However, if you call clients across the country or around the world on a regular basis, look for a plan that gives steeper per-minute discounts in exchange for guaranteed monthly minimums. At the highest levels of long-distance usage — over $2,500 per month — you should ask providers about dedicated access plans that can save even more money in the long run.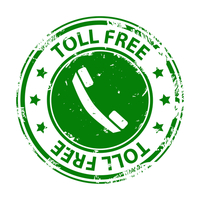 Toll-free calling
A toll-free number lets your customers and prospects call you at no cost. Standard toll-free service connects to your existing phone number and supports calls from anywhere in the US. International toll-free service lets you keep the same phone number for both domestic and international callers, allowing anyone to reach you at a single number from anywhere in the world.
Note that "toll-free" and "800 numbers" used to be synonymous, but no longer. Now, toll-free numbers use 800, 888, 877, 866 and 855 area codes. If you want a toll-free number that spells out your company name or another phrase, you'll have better luck with one of the lesser-used prefixes than the coveted 800 numbers.
What about VoIP?
VoIP (Voice over Internet Protocol) service uses the Internet to provide drastic cost savings on your long-distance phone calls. Unlike VoIP systems that are installed at your business to handle internal calls, a VoIP service carries external calls. Also known as Internet telephony, it allows for extremely cheap long-distance and international calls. Generally, one reasonable fee covers all of your calls.
VoIP service typically requires a regular phone, an adapter, broadband Internet service, and a subscription to a VoIP provider. When you place a call, it is sent over the Internet as data until it nears the recipient's destination. Then the call is translated back into a more traditional format and completes the trip over standard phone lines.
Similar to residential VoIP, a business VoIP solution uses the Internet, but also offers more progressive features like conference calling, music on hold, desk to desk calling, managing extensions, automated attendant, find me-follow me, landline to mobile, and more. Many business VoIP services feature an Internet connection that routes calls over a private network, helping to ensure the quality of each call.
---
One of the easiest ways to find the best solution for your business is to enlist the help of an expert. A professional business phone service provider can pair your needs and existing infrastructure to the appropriate technology. Doing so saves you time and money, while ensuring you get a system you and your employees are comfortable with.
---
Choosing a Telephone Service Provider
Increased competition in the telephone service market has made it possible to choose different providers for each facet of your phone service. Since almost all providers use similar technology, call quality is consistently high. The two main criteria to use when making your decision are price and customer service.
Discount providers may seem attractive due to their low prices — but they may not offer the same level of customer service you'd get from a more established provider. Take the time to ask about support hours and policies, and make sure you get references to other customers.
In contrast, the peace of mind that comes with a big name provider can be very expensive. Balance your needs for savings with your expectations of customer service.
Another important distinction between telephone service providers is the billing increment: the smallest amount of time you can be billed for. Some providers have increments as large as one minute, meaning that a 61-second call gets billed as two minutes. Try to get the smallest increment possible — many providers offer six second increments.
When reviewing billing increments, there are two elements to check for. First is the initial billing increment, which is applied as soon as your call is connected. After that, the rest of your call is billed using the additional billing increment. Both have a big impact on your overall bill, particularly for companies that make a lot of short calls. Reducing your billing increment can save as much as 10-15% on your overall bill.
Also investigate the billing services each provider offers. Do they just send you a bill at the end of the month, or do they have an online service that lets you track your usage on an ongoing basis? Do they offer online payment options? Make sure the telephone service provider you choose offers the flexibility you need.
Finally, most but not all providers include basic features like call waiting, caller ID, and call forwarding as part of their standard packages, so be sure to ask. Some providers also include extras like auto-attendants, conferencing, and voice mail. If your phone system hardware doesn't include them, consider turning to your telephone service provider.
---
Before you get on the phone, take a few minutes to review the business phone system pricing we've compiled below. These national averages are taken from BuyerZone customers across the country and can help you evaluate quotes effectively... and even negotiate in some cases.
---
Business Phone Service Pricing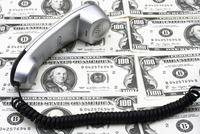 Newer bundled business services often include both local and long-distance telephone service, as well as high-speed Internet access. Comprehensive packages may include broadband Internet access like DSL or T1 lines, calling cards, wireless telephone service, conference calling, toll-free numbers, or even Web site hosting.
Monthly costs typically start at $40 per phone line and 500 long-distance minutes, or they can range from two to 10 cents per minute once you go over your allotted minutes.
Some companies may require an activation fee of $15 to $40 per line, but they may be willing to waive that charge. Plans that offer a low per-minute rate may require you to make a certain number of calls. Otherwise, monthly maintenance fees may apply, which can be $10 to $100 or more.
For toll-free numbers, you'll pay a monthly service fee of $3 to $50, plus per-call charges that can range from 4 cents to 20 cents per minute, depending heavily on volume.
Remember to check the billing increment, though. A plan with one-minute billing increments at four cents per minute can easily cost you more than a plan with six-second increments at six cents per minute. However, if you're paying for unlimited long distance calls, the billing increment is irrelevant.
Carrier-access charges, taxes, and other fees will be tacked onto your monthly bills. For example, federal taxes are about 3%, and Universal Service Fund fees -- a government-mandated charge to promote quality services at affordable rates -- will add another 6% to 12%. These "common charges" will apply no matter which provider you choose.
If you haven't evaluated your phone service options recently, you can be almost certain you're not getting the best rates -- at least, not with every call. In today's world of highly competitive telecommunications, rates and service offerings change almost daily. So the most practical approach may be to review your rates frequently, about once a year.
If new, more attractive deals are available, switch! You'll keep your phone number, so there's no disruption to your everyday business.
Phone Service Buying Tips
Always read the fine print.
While you're responsible for a considerable number of charges in addition to monthly fees, make sure to examine exactly what you're paying for. Every billing statement should provide a detailed summary of your fees; if something looks questionable, contact your vendor.
Essential technical support.
Make sure you know who to contact if you need service assistance after hours (weekends, middle of the night, etc.). You can't afford to lose business because your phones aren't working.
Avoid long-term contracts.
Since prices and plan details change often, long-term contracts can be unfavorable. The standard contract is one year - try to avoid longer contracts. Some companies will include contract language that lets you adjust your rates based on competitive offers, without renegotiating the entire deal. This gives you the benefits of price flexibility without the hassle of switching providers.
Block unneeded charges.
Per-call add-ons like automatic redial, directory assistance, and three-way calling can drive up your costs unnecessarily. Your phone service provider can block these types of services, along with calls to pay-per-minute 900 and 976 numbers, helping you keep your monthly bills free of surprises.
Be compatible.
Before you sign on the dotted line, make sure your phone system and computer networks are compatible with a service that combines your voice and data traffic.
Watch your back.
Don't put all your telecom eggs in one basket. Consider getting a backup phone line with another company in event of failure.
Ready to Compare Business Phone Service Price Quotes?