Network Cabling Connects You Better
Because computers and high-speed data transfers are absolutely essential to businesses these days, it is a good idea to bring in expert help when making changes to your network cabling. There are many reputable companies such as Network Cabling, Integrated Cable Network and Sky Cabling to name a few. Well-known and well-established companies such as these have contractors or other companies in all 50 states that they work with, so you can get national quality service at a local level.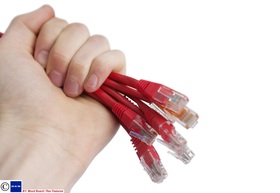 Defining your needs
Though there are industry-wide standards, a contractor must, first and foremost, handle the basic network cabling needs of your company, no matter if it is something as simple as adding a new telephone system or as advanced as upgrading to fiber optics.
Is this an upgrade to an existing network or a brand-new installation?
How many employees are using this network?
Besides cables, what other hardware will be needed?
Do you need the contractor to supply all the cables and hardware?
Does the installation need to be done outside normal business hours?
What kinds of cables are needed?
What construction permits are needed to do the work?
Your answers should help you narrow down the list of available contractors to a select few. It is okay if you do not know all the answers - but those questions then become important topics when you do start talking to cabling services. BuyerZone can help you narrow down the field and get in touch with the best in the business.
Choosing the right network cabling contractor
Many contractors have impressive-looking Web sites advertising their services, but you need to scratch below the surface and verify the following information:
Experience/References: Experience counts, so look for companies that have been in business for several years. Contractors also should be well-versed in the type of network cabling you need installed. Ask the sales representative for a few verifiable references from companies with networks similar to yours and solicit honest opinions from those companies.


Licenses/Insurance: Network cabling can be a complicated and messy undertaking, which means you want the best people to do the work. Make your selection from a pool of licensed contractors, verifying their status with your state's license board. As is the case with any construction job, cabling involves a fair amount of hard work above and below the office floor. The installers should, therefore, be fully insured by their employer for any damage caused to your office during an installation.


Structured Cabling: When installing a network, a structured approach can save your company money in the long run. Contractors who keep up with structured cabling techniques and standards should be among those you consider to do the job.


Certifications: Network cabling is an investment in your company's future, so any installer working on the cabling should have current certifications in the latest techniques and technologies.
Selecting The Right Cabling Service
Putting your computer network in the hands of an outside company can be a nerve-wracking experience, but bringing in an outside contractor to handle the network cabling makes excellent financial sense. The cost of fixing errors made while trying to save money will just cost your company time, money, extended downtime and lost business in the end.
Interviewing cabling service providers
There are a few options for finding the right cabling service. Either conduct your own online research or submit a free request with BuyerZone for cabling and wiring quotes. You will get matched with multiple companies. Once you have a list of prospective companies, make sure to address the following points:
How long has the company been in business? You want to hire a contractor who is familiar with proper wiring techniques, and the latest technologies. A quick look into a company's background can tell you when they were established and the types of clients they've worked with.


How much network downtime can you expect? Ideally, the cabling should be done in the evenings, or over a long holiday weekend to keep your employees up and running.


Are physical changes to your office necessary? A cabling service may need to string wires and cables in hard-to-reach spaces, and install network outlets in each office. This could require drilling through plaster and drywall.


Is the contractor skilled with structured cabling? Whenever you upgrade a network, it's best to make sure the contractor is familiar with the concept of structured cabling. Following industry standards now can help avoid costly upgrades in the future.


What kind of equipment do you need to purchase? Depending on your facilities, an installation can be quick and easy with minimal add-ons, or lengthy and complex with lots of new equipment. Before work even begins, your contractor should let you know how much equipment your installation requires.
Ready to Compare Cabling and Wiring Price Quotes?