Understanding Structured Cabling and its Benefits
As a business grows and changes, it typically will add new voice and data lines, but this can be a time-consuming and costly process depending on how the office was originally wired. Switching to structured cabling can reduce the long-term expenses involved with upgrading your network.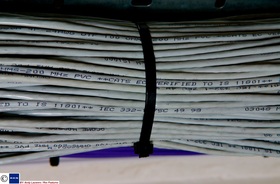 A standardized approach to cabling
Developed through the efforts of the Electronics Industry Association (EIA) and the Telecommunications Industry Association (TIA), structured cabling is, by definition, a set of standards that can be used when installing network cables.
Using the structured approach, every office in your building or suite is wired the same way, with multiple ports for voice, data and video transmissions. All these cables lead back to a centralized "patch panel," which makes it easy for a technician to repair or replace defective cables and redirect data.
The rise of TIA/EIA 568
In 1991, the two industry organizations released a structured cabling standard, which became known as TIA/EIA 568. Since that time, changing technologies prompted the TIA/EIA to regularly upgrade their standards to meet the needs of the modern business world, including the growing popularity of fiber optics.
Many structured networks these days utilize Category 5 (Cat 5) or Category 5 Enhanced (Cat 5e) cabling for voice and data transmissions. Structured Cat 5 cabling can be used for phone systems or the now outdated token ring. Replacement cabling for both phone systems and token rings solutions is often Cat5e, this allows the possibility of future upgrade.
Benefits of structured cabling
Though these cabling standards are not required by law, the structured approach makes good business sense for a number of reasons:
Future needs: Adding standard voice and data ports to every office at one time makes it easy to set up new workstations.

If your company plans to build a new office building, a structured configuration is a wise addition. A standardized network typically has a longer lifespan than one that doesn't adhere to TIA/EIA standards, which reduces your long-term networking costs.


Standardized equipment: Many manufacturers produce cable and equipment that meet the standards set by the TIA/EIA. This means that no matter which manufacturer you choose as a vendor, you should receive the same signal quality from each. Parts beyond RJ45 tips (the end on a Ethernet cable) and cabling can vary, so not all company's solutions will physically fit together, meaning all wall jacks will accommodate any RJ45 tip but will only fit into a wall plate they were designed for.


Employee turnover: With a structured network, a new IT employee who is well-versed in TIA/EIA standards will take less time to adjust to your network. Additionally, any service or repair person who enters into your facility will be able to properly identify and repair your issues more promptly.


Industry support: The Structured Cabling Association (SCA) increases awareness about this type of cabling and can be a good resource when setting up your network.
Overall, Cat5e is the industry standard but with the recent advances in high speed technology, Cat6 is being installed more and more. The costs of a Cat6 are typically 50% greater than those of a Cat5e solutions. For PCs, voice over internet, and other basic network devices, Cat5e does the job when properly installed and shows no sign of going away any time soon.
Ready to Compare Cabling and Wiring Price Quotes?