Introduction to Dump Trucks
On-road or off, dump trucks provide the hauling muscle necessary for modern construction projects and other types of heavy hauling. But to be competitive in this industry, it's essential to get the right dump truck for the job you want to do.
Whether you'll be driving long-distance or local, on or off roads and with heavy or light loads, there's a truck that can provide the right combination of capacity, fuel efficiency, comfort, and safety.
Buying a new or used dump truck isn't easy, but we can help. This BuyerZone Dump Trucks Buyer's Guide will help you learn everything you need to know to purchase a dump truck, including:
How to choose the right-size truck
What features to look for
How to choose the best dealer
What you can expect to pay
Once you've armed yourself with this information, you'll be in a better position to get a good deal on the right truck for you.
This Buyer's Guide covers medium- and heavy-duty dump trucks. If you're looking to purchase a medium-duty box truck, read our Box Trucks Buyer's Guide. Or, read this Buyer's Guide with a focus on highway trucks or flatbed trucks.
Ready to start purchasing? Just answer a few quick questions about your needs and we'll connect you to multiple dump truck dealerships - free.
Basic Truck Specs
One the main distinctions to keep in mind when choosing a dump truck is whether you want a truck primarily for off-road or on-road use. The differences between so-called "vocational" trucks and highway trucks affect engines, transmissions, frames, and more.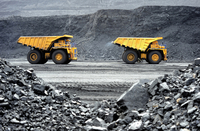 Exactly what you'll be hauling is another key data point for the seller. Dump trucks for hauling demolition debris have quite different requirements than those that will be used in landscaping applications.
What specs do you need?
In the long run, you want a truck that will give the best return on investment. But you have to consider more than just the initial purchase price: make sure you include all of these factors in your decision:
Up-front cost
Load capabilities
Maintenance costs
Resale value
Fuel costs
Keeping those factors in mind, you'll have to decide on several key specs for your truck:
Power - Heavy-duty dump truck engines typically range from 270 to 500 horsepower. Don't choose on HP alone, though: low-end torque is essential for moving full loads. Work with your seller to select the right match of horsepower, torque, and gear ratio for the loads you plan to haul and the type of driving you'll be doing.


Axle ratings - Heavy duty dump trucks often have higher axle ratings than other types of trucks, often 18,000 to 20,000 lbs for the front axles and 40,000 lbs or more for the rear. Smaller heavy-duty and most medium-duty trucks are more commonly rated at 10,000 to 16,000 lbs front and 20,000 to 30,000 lbs rear.


Transmission - Overdrive magazine recommends that dump truck buyers consider Allison automatic transmissions, as they're better suited to the frequent stops and rough use a dump truck gets. On the other hand, traditional 8- to 18- speed manual transmissions give you finer control.


Body length and type. Dump truck bodies can range from 8' to 20' or more. Common sizes on medium-duty trucks are 9' to 12', and heavy-duty trucks are often in the 16' to 18' range. The exact type of material you're hauling will help determine the style of body you need - elliptical or half-round dump bodies help dump loose materials, while square boxes offer more total capacity in the same length.
Some additional specs to consider:
Number of axles - While smaller dump trucks usually have just one rear axle, most heavy-duty trucks have at least two. For even greater capacities, you may want to choose trucks with extra drop axles that you can lower when moving the heaviest loads.


Tire setup - Some manufacturers are moving from dual tires on each side of the rear axle to "super singles." Super singles help increase fuel economy, but you lose the safety that tandem tires provide in case of a blowout.


Engine brakes - Jacobs (Jake) brakes and other engine brakes are common on most heavy truck engines. While their use is restricted in many communities, they can really increase brake lifespan if you regularly run long downhill stretches.
Fuel economy
While getting better gas mileage isn't as critical to dump truck drivers as it is to long-haul over-the-road drivers, fuel economy is still an important consideration as you research your truck. After all, any reduction in operating costs goes straight to your bottom line.
The single most important factor to getting the best fuel economy is choosing the right size engine for the work you want to do. If your engine and transmission is underpowered or overpowered, you'll spend more on gas than you should.
Features like aerodynamic styling can also help quite a bit if you're regularly driving at highway speeds - but for dump trucks that stay mostly local, they're not worth the extra expense.
Upgrades & Extra Features
Beyond the basic specs, you'll want to carefully evaluate several additional features that can really make a difference in your long-term satisfaction with the truck.
Seats
Your driver's seat is a critical piece of equipment. Modern truck seats offer a level of comfort unheard of 20 years ago - and with that comfort comes a range of options you may not have expected.
Until recently, the typical truck seat was 21" wide and made of high-grade upholstery foam over wood or metal. But seats have been increasing in size: depending on cab space limitations, you can upgrade to seats as large as 24" wide in some cases.
Also, you'll find some seats with coil springs for more balanced support, as well as many seats with adjustable air chambers to create the exact fit you're looking for.
Of course, the most critical characteristic of a truck seat is how it feels to you. We'll talk about test-drives later, but you should take careful note of how the seat feels in each truck you're considering. Take the time to adjust the seat exactly to your liking, for the best visibility and ergonomic support. Pay attention to how many different types of adjustments you can make and how precisely you can control each change.
Other extras
There is a huge range of extra features to consider. Here are just a few:
Additional mirrors provide extra visibility where you need it most. Convex mirrors mounted low on the fenders help when you're maneuvering in tight spaces.


Instruments and gauges should be easy to read and understand.


Tool boxes mounted outside the cab can provide valuable extra storage capacity without taking up interior space.


Additional fuel tanks let you reduce the amount of stops you need to make to gas up.
Choosing a Dump Truck Seller
Even when you're buying used, finding a dump truck for your business isn't like picking out a used car online or in the classified ads. Getting a good price on the right truck is important - but don't overlook the value of choosing a reliable dealership.
It's worth taking some extra time in the purchasing process to make sure you choose a dealership that stands behind the truck and will provide top-quality support when you need it.
Overall sales approach
The best dump truck sellers will work with you to spec out exactly the truck you need. Expect to answer a lot of questions about what you're hauling, how far you're going, and what's important to you. Avoid sellers who come up with a 'hot deal' that is supposedly just right for you after five minutes of conversation.
Your relationship with the seller is important as well. Building a strong working relationship will help when you have questions later or need to buy your next truck. A seller who doesn't seem to value your business when you're first buying a truck likely won't be around much after the sale.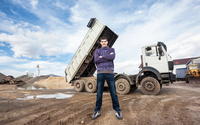 Selecting the right size
The right dealership is large enough to have a variety of different models and high-quality facilities - but small enough to value your business. If you're an individual owner/operator, you should expect the same level of respect and attention that fleet buyers get.
If you are a fleet buyer, look for a dealership that can provide specialized fleet management services, including overall fleet maintenance tracking, resale assistance, and long-term cost management.
Maintenance and support
The seller should be the first place you turn when you need repairs or new equipment, so its maintenance department is one of the key areas to evaluate. Talk to the seller's mechanics if you can, and ask about their overall experience with the type of truck you're considering. You're looking for two things in this conversation - validation of your opinions about the truck and proof that the mechanics are familiar with the specific model so they'll be well-qualified to make any needed repairs.
Find out what the repair policies are - how quickly the seller responds if you have a problem, whether it has a 24-hour hotline for emergencies, how it helps you with preventative or regularly scheduled maintenance, and what its tracking policies are.
Checking references
Before making a final decision, it's worth asking other businesses in your area where they get their trucks. Talk to your suppliers, your customers, and even your competitors - anyone who has a truck similar to what you need. Ask them key questions about the truck and the dealership, such as:
Where did you get your truck? How long have you had it?
Has it met all your needs?
Do you feel like you got a good deal?
Was there a particular issue that you feel could have been handled better?
Have repairs been handled quickly and thoroughly?
Would you buy your next truck from the same seller?
If you could change one thing about this dealership, what would it be?
You can also ask the dealerships you're investigating for a list of references, and ask the same questions of them. Of course, you'll be connected to some of their most satisfied customers, but you can still learn the sellers' relative strengths and weaknesses.
Evaluating Trucks Before Purchase
After narrowing your choices down to a few models and sellers, it's time for the hands-on evaluation: set up a test-drive of each of the trucks you're considering. Work with the seller in advance so you put the truck through all its paces.
A test-drive should be much more than a spin around the block. No matter what your usual type of driving is, you'll want to see how the truck performs in a wide variety of situations.
Take out each rig for at least a couple of hours and put it though a range of situations: city and highway driving, low speed and high speed, flats and up- and downgrades. Make sure you do the test-drive while hauling a load similar to your typical job, to see how the truck handles.
What to look for on a test-drive
Whatever the truck's specs say, the real-world results are the most important. Start with your overall impression of the truck's performance: acceleration, handling, and braking. Does the truck respond to your input quickly? Is it predictable and controlled? Is gear shifting responsive and smooth?
Some specific areas to evaluate while on your test-drive include:
Maneuverability - Back up to a loading dock. Take tight turns in the city. How well does the truck respond? You may want to do some maneuvering in empty parking lots first to become familiar with the truck's handling characteristics.


Visibility - Note to what degree you can see straight ahead and through the side windows. Also check the mirrors for blind spot coverage, and be sure that the dials and gauges are visible and easy to read.


Comfort - One reason to go for longer test-drives is to judge the comfort and support of the driver's seat. Try to hit both bumpy roads and well-paved highways, and compare your comfort. Look at the amount of room in the cabin, and see if all the controls are easy to reach and operate and if the noise level in the cabin allows normal conversation.


Dumping performance - Make sure hydraulics work smoothly and that bed performs as you expect.
Take notes if you want - if you're test-driving four or five trucks, the details can get blurred. If you can, take each truck you test-drive to the same areas so you can draw accurate comparisons.
Buying Used Dump Trucks
The combination of the steep cost of new highway trucks and their long operating life makes buying a used truck an attractive option for many buyers. But keep in mind that no matter how much you save when you buy used, there's a chance that you'll face higher repair bills in the near term.
The risk involved can vary tremendously: a three-year-old truck with 200,000 miles on it is a significantly different purchase than a 10-year-old truck with 800,000 miles. But not all the differences are so obvious. Here are some ways you can make sure you get the right used truck.
Start at the right source
The first step to minimizing risk is buying from a quality used truck seller. Online classifieds and auctions may seem to offer great bargains, but unless you're quite familiar with the exact model being offered, it can be hard to distinguish a good deal from an impending disaster.
Look for truck sellers who offer a wide range of trucks, so they can match your exact needs - not just shoehorn you into one of the few trucks they have on the lot. Reputation is essential to these dealerships, so you can be more confident that you're getting a high-quality truck. In addition, you'll be able to get warranties on the truck's performance that you wouldn't find with a direct sale or auction.
How to evaluate a used truck
Much of the buying process is the same for a used truck as it is for a new vehicle. You'll still have to list out your exact requirements, decide on the specs and extras that are important to you, review multiple sellers, and take some test-drives. In addition, though, you'll have to be more thorough about your inspection when buying used.
Of course, the test-drive is important to a used truck evaluation. Pay extra attention to any unusual noises or vibrations, and watch gauges carefully throughout the trip. Check out the engine compartment before and after your test-drive for any signs of leaks, and compute the exact gas mileage for your trip to verify the fuel efficiency.
In addition to the test-drive, it's worth taking the truck to an independent mechanic for evaluation, if possible. A qualified mechanic can run critical diagnostics and give you a valuable, neutral opinion on the overall condition of the truck. Most sellers will agree to this, and although you'll have to foot the bill for the inspection, that's a tiny cost compared to your potential investment in the truck.
The used truck market
Since large fleets are constantly upgrading to newer trucks, there is a steady stream of used but well-maintained trucks entering the market. These days, fleets are downsizing, too, further increasing the supply.
Modern truck engines are so durable that they can run up to one million miles before needing a rebuild. An engine rebuild can help you get more life out of a truck, but keep in mind that even after that investment, the rest of the truck is still just as old and prone to failure.
Dump Truck Pricing
Dump truck pricing varies tremendously, since the term includes 8' medium duty trucks and 21' heavy duty dump trucks. Here are some general guidelines as to what you can expect to pay for new and used dump trucks.
New heavy duty dump trucks can range from around $60,000 to well over $150,000, with common prices around $90,000 to $130,000. Medium duty dump trucks can be priced between $30,000 and $90,000, with most falling closer to $40,000 to $70,000.
There are all kinds of factors that will influence the price. The overall size and capacity of the truck is the biggest: at the high end of these price ranges, you'll get a truck with more horsepower, a bigger bed, and higher axle capacities. This is another reason to decide on your specs early on: knowing your capacity requirements will help you refine the price range more closely.
Used dump truck costs
Used dump truck prices can vary quite a bit, just like new truck prices. The largest trucks can still be over $100,000 if they don't have too much mileage on them, and you can find a useable medium-duty truck for $15,000.
More common prices are around $30,000 to $80,000 for used heavy duty trucks and $20,000 to $40,000 for medium duty. Of course, you can find trucks much cheaper - but at the low end of the price range you'll find either trucks with very high mileage, which reduces reliability, or trucks with limited capacities.
Whatever the list price, it's important to follow the steps described in Buying used dump trucks to make sure you get a high-quality truck.
Financing and leasing
As with any major investment, you'll have to decide whether you want to purchase your truck or lease it. The decision really should be based on your financial situation and the available lease options.
Owner/operators more often tend to purchase trucks than lease them, while fleet buyers lean more toward leasing. The main reason is that individual drivers tend to hang on to their trucks for much longer, while fleets turn over their vehicles more regularly.
Truck Tuying Tips
There are plenty of things to think about as you're buying a truck. Here are a few additional tips to help you get the truck that meets your needs.
Go for reliability. One expert on truck purchasing recommends that buyers choose the newest truck they can afford. This doesn't mean you have to buy a brand-new truck, of course - two-to-four-year-old trucks can be a great value.
Choose proven power. Many trucks are available with a choice of engines from different manufacturers. Choosing a well-known brand and a common model will help you when you need parts or repairs.
Don't skimp on the sleeper. If you're buying a long-haul truck, try to get a 70" stand-up sleeper or the like. Your drivers will thank you - or, if you're an owner/operator, you'll thank yourself.
Stay on top of performance. Newer trucks offer in-dash displays that monitor real-time fuel economy, trip data, and mechanical problems
Ready to Compare Dump Trucks Price Quotes?