Introduction to Highway Trucks
The trucking industry is the lifeblood of the U.S. economy. From individual semi truck owner/operators to massive trucking fleets, trucking businesses move more than 70% of all freight shipped in this country, according to the American Trucking Association.
To be competitive in this industry, it's essential to get the right semi truck for the job you want to do. Whether that's making short runs around a city or long hauls across the country, there's a truck that can provide the right combination of capacity, fuel efficiency, comfort, and safety.
Buying a new or used heavy-duty truck isn't easy, but we can help. This BuyerZone Semi Trucks Buyer's Guide will help you learn everything you need to know to purchase a semi truck, including:
How to choose the right-size truck
What features to look for
How to choose the best dealer
What you can expect to pay
Once you've armed yourself with this information, you'll be in a better position to get a good deal on the right truck for you.
This Buyer's Guide covers Class 8 heavy-duty trucks - primarily highway trucks. If you're looking to purchase a medium-duty truck, read our Box Trucks Buyer's Guide. Or, read this Buyer's Guide with a focus on purchasing dump trucks or flatbed trucks.
Ready to purchase? Just answer a few quick questions about your needs and we'll connect you to multiple semi truck dealerships - free.
---
The first step in finding the right highway truck for your operation is to review some of the common and more advanced specs associated with rigs of this size. Designed for long-distance hauling, they're equipped with features that enable them to remain as fuel efficient as possible while still providing the horsepower required for large loads.
Get the best of both by starting your search here.
---
Truck Specs
Before you start talking to truck dealers, it's important to understand exactly what your needs are. Keep these considerations in mind throughout the purchasing process, and you'll be sure to get the best truck for your work.
How far are you going
The first big distinction to keep in mind is whether your trips will be mostly local (where the truck is returned to your location each night) or long distance (requiring multiple nights out on the road).
Local work requires a very different set of truck characteristics than those required for long-distance highway driving. Negotiating city traffic and accessing crammed loading docks demands a truck that's maneuverable and has great visibility. You can skip sleeper cabs and other long-distance amenities to cut down on weight and costs.
Long-distance trucks, on the other hand, need to maximize comfort and fuel efficiency at highway speeds. A sleeper cab is a must, and you'll want to make sure it has the extras that make overnight stays comfortable. In addition, aerodynamic contours and fairings provide a nice boost to fuel economy at high speeds.
What specs do you need?
The guiding principle to keep in mind when choosing specifications for your truck is that you want the vehicle that will ultimately make you the most money. There are several components to this:
Initial purchase price
Resale value
Maintenance requirements
Fuel costs
Cargo capabilities
Balancing all these requirements can be a challenge, but simply keeping them all in mind can help you avoid moving too far in any one direction.
The basic truck specs you'll need to determine include:
Axle ratings - Typical axle ratings are 12,000 lb for the front axles and 40,000 lb for the rear, but can be as high as 20,000 lb front and 80,000 lb rear. Don't upgrade unless you know you're going to be hauling extra-heavy loads.


Power - Heavy-duty truck engines usually spec out between 320 and 550 horsepower. Don't get too focused on horsepower - often, peak torque is a more important indicator of the power a given engine will deliver. When matched with the right gear ratio, modern truck engines run most efficiently at lower RPMs, thanks to improved torque. Work with your dealer to select the right match of horsepower, torque, and gear ratio for the loads you plan to haul and the type of driving you'll be doing.


Transmission - An automatic transmission may seem unnecessary to some trucking veterans, but they're gaining in popularity. For on-highway applications, automatics save on fuel and can prolong the life of your drivetrain, as they ensure your truck runs in the right gear at all times.
Some additional specs to consider:
Wheelbase - A shorter wheelbase offers more maneuverability, while a longer wheelbase providers a more comfortable ride. 230" to 245" wheelbases are more common in local applications, while long-haul trucks are more commonly 260" to 280".


Rear axle - A double rear axle greatly increases your carrying capacity and the resale value of your truck, but a single rear axle improves maneuverability. Most over-the-road trucks use a double drive axle.


Tire setup - Some manufacturers are moving from dual tires on each side of the rear axle to "super singles." Super singles help increase fuel economy, but you lose the safety that tandem tires provide in case of a blowout.


Type of tires - Low-resistance tires can help improve your mileage, but they're not as durable as tires designed for long life. High fuel costs currently make low-resistance tires the most economical long-term choice for highway usage.


Wheels - Experienced truck buyers recommend spending a little extra to get polished aluminum wheels on your tractor, mainly to help maintain resale value.


Wheel cut - In the city, a truck with a 50 degree wheel cut (instead of the more common 40 degree) can improve maneuverability quite a bit. Be aware that oversized tires can limit the wheel cut.


Engine brakes - Jacobs (Jake) brakes and other engine brakes are common on most heavy truck engines. While their use is restricted in many communities, they can really increase brake lifespan if you regularly run long downhill stretches.
---
The more fuel efficient the rig is, the more cost effective the transportation process becomes. As you move forward with your purchase decision, it's critical to make sure the semi trucks you're considering are equipped with at least a few of the elements mentioned below.
---
Fuel-Efficiencies
The EPA sets standards for new trucks that help cut down on fuel consumption and pollution. Some features, such as the reduced emissions engines first required in 2007, are mandatory in all trucks, while other standards are just recommendations.
The engine and transmission you choose are the most important contributors to your overall fuel efficiency. Matching the power and performance of your drivetrain to your typical load and type of driving is essential to getting the best performance.
After that decision, though, two of the most important factors are aerodynamic contours and idle reduction features.
Aerodynamics
Aerodynamic design is a very visible way to improve mileage. This includes roof fairings, gap reducers between the tractor and trailer, and aerodynamic bumpers and mirrors. Overall, good aerodynamics can improve fuel economy of highway trucks by up to 10%, which means thousands of dollars in savings over the course of a year.
Keep in mind that these savings are much lower on trucks used mostly in city traffic or at low speeds. In those cases, a traditionally styled truck might be a better choice.
Idle reduction features
Idling your truck's engine all night to stay cool or warm simply isn't an option any more. Not only is it against the law in many states, but at current fuel prices it's also a huge waste of money. Manufacturers offer multiple solutions to this problem.
The most versatile option is an auxiliary power unit, or APU. An APU is essentially a miniature electrical generator powered by diesel fuel. APUs use only small amounts of fuel - according to Overdrive magazine, they typically use about 0.1 to 0.3 gallons per hour, as opposed to 1 gallon per hour or more for idling the engine.
Another power option is additional dedicated batteries. Some manufacturers offer battery systems that maintain a comfortable temperature in your sleeper for eight hours at a stretch. To avoid draining your main source of power, be sure that a battery-powered system is either completely separate from your starter battery or has an automatic shutoff.
In areas where heat is more important than air conditioning, consider a direct-fired heater. These skip the electricity generation, burning gas to provide heat directly. They're less expensive and lighter than APUs, but they don't provide cooling in hot weather.
Finally, more and more truck stops are offering shore power, an idea and term borrowed directly from the boating industry. By plugging your tractor into an external source of electricity, you can avoid taxing your batteries or burning diesel all night.
---
One of the great things about a semi truck is its size. And that extends well beyond just its hauling capacity. Highway trucks are designed to allow the operators to sleep on the road.
And the more comfortable that sleeping environment is - not to mention the inclusion of other cab amenities - the more you'll guarantee timely (and safe) deliveries.
---
Additional Features to Look For
Beyond the basic specs, you'll want to carefully evaluate several additional features that can really make a difference in your long-term satisfaction with the truck.
Sleepers
Sleeper cabs can range from the tiniest bunks to what seem like miniature apartments. Trucking experts recommend purchasing the best sleeper you can afford. Whether you're an owner/operator buying for yourself or a fleet manager purchasing trucks for your employees, the comfort factor is essential to long-term satisfaction. Premium sleeping areas can really improve the resale value of your truck as well.
Look for sleepers that make it possible to forget you're sleeping in a truck. Separate climate control panels make it easy to adjust air flow or heat without returning to the driver's seat. TVs with DVD players can help kill those off hours you're required to take, and refrigerators and microwaves can reduce your reliance on truck stop food.
High-end sleepers include more kitchen space and even toilets and showers. For drivers who live out of their trucks for weeks, this can be a huge benefit - but it carries a penalty in terms of fuel economy.
Seats
Your driver's seat is a critical piece of equipment. Modern truck seats offer a level of comfort unheard of 20 years ago, derived from a range of options you may not have expected.
Until recently, the typical truck seat was 21" wide and made of high-grade upholstery foam over wood or metal. But seats have been increasing in size: depending on cab space limitations, you can upgrade to seats as large as 24" wide in some cases.
Also, you'll find some seats with coil springs for more balanced support, as well as many seats with adjustable air chambers to create the exact fit you're looking for.
Of course, the most critical characteristic of a truck seat is how it feels to you. We'll talk about test-drives later, but you should take careful note of how the seat feels in each truck you're considering. Take time to adjust the seat exactly to your liking for the best visibility and ergonomic support. Pay attention to how many different types of adjustments you can make and how precisely you can control each change.
Other extras
There is a huge range of extra features to consider. Here are just a few:
Sleeper compartment insulation can help cut down on the power needed to maintain a comfortable temperature, and can reduce noise as well.


Additional mirrors provide extra visibility where you need it most. Convex mirrors mounted low on the fenders help when you're maneuvering in tight spaces.


Instruments and gauges should be easy to read and understand.


Additional lights are a popular way to customize a truck, and can be a good investment in terms of resale value. Often, these include running lights and other add-ons that are more decorative than functional.


Tool boxes mounted outside the cab can provide valuable extra storage capacity without taking up interior space.


Additional fuel tanks let you reduce the amount of stops you need to make to gas up.
Choosing a Highway Truck Dealer
Even when you're buying used, finding a semi truck for your business isn't like picking out a used car online or in the classified ads. Getting a good price on the right truck is important - but don't overlook the value of choosing a reliable dealership.
It's worth taking some extra time in the purchasing process to make sure you choose a dealership that stands behind the truck and will provide top-quality support when you need it.
Overall sales approach
The best semi truck dealers will work with you to spec out exactly the truck you need. Expect to answer a lot of questions about what you're hauling, how far you're going, and what's important to you. Avoid dealers who come up with a 'hot deal' that is supposedly just right for you after five minutes of conversation.
Your relationship with the dealer is important as well. Building a strong working relationship will help when you have questions later or need to buy your next truck. A dealer who doesn't seem to value your business when you're first buying a truck likely won't be around much after the sale.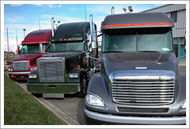 Selecting the right size
The right dealership is large enough to have a variety of different models and high-quality facilities - but small enough to value your business. If you're an individual owner/operator, you should expect the same level of respect and attention that fleet buyers get.
If you are a fleet buyer, look for a dealership that can provide specialized fleet management services, including overall fleet maintenance tracking, resale assistance, and long-term cost management.
Maintenance and support
The dealer should be the first place you turn when you need repairs or new equipment, so its maintenance department is one of the key areas to evaluate. Talk to the dealer's mechanics if you can, and ask about their overall experience with the type of truck you're considering. You're looking for two things in this conversation - validation of your opinions about the truck and proof that the mechanics are familiar with the specific model so they'll be well-qualified to make any needed repairs.
Find out what the repair policies are - how quickly the dealer responds if you have a problem, whether it has a 24-hour hotline for emergencies, how it helps you with preventative or regularly scheduled maintenance, and what its tracking policies are.
Checking references
Before making a final decision, it's worth asking other businesses in your area where they get their trucks. Talk to your suppliers, your customers, and even your competitors - anyone who has a semi truck similar to what you need. Ask them key questions about the truck and the dealership, such as:
Where did you get your truck? How long have you had it?
Has it met all your needs?
Do you feel like you got a good deal?
Was there a particular issue that you feel could have been handled better?
Have repairs been handled quickly and thoroughly?
Would you buy your next truck from the same dealer?
If you could change one thing about this dealership, what would it be?
You can also ask the dealerships you're investigating for a list of references, and ask the same questions of them. Of course, you'll be connected to some of their most satisfied customers, but you can still learn the dealers' relative strengths and weaknesses.
---
A highway truck is a major purchase by any standard. As a result, professional sellers will allow you (and your drivers) to conduct an extensive evaluation before purchase. Focus your attention on the difference between specs and actual performance for each of the considerations detailed below.
---
Evaluating Trucks Before Purchase
After narrowing your choices down to a few models and dealers, it's time for the hands-on evaluation: set up a test-drive of each of the trucks you're considering. Work with the dealer in advance so you put the truck through all its paces.
A highway truck test-drive should be much more than a spin around the block. No matter what your usual type of driving is, you'll want to see how the truck performs in a wide variety of situations.
Take out each rig for at least a couple of hours and put it though a range of situations: city and highway driving, low speed and high speed, flats and up- and downgrades. Make sure you do the test-drive while hauling a load similar to your typical job, to see how the truck handles.
What to look for on a test-drive
Whatever the truck's specs say, the real-world results are the most important. Start with your overall impression of the truck's performance: acceleration, handling, and braking. Does the truck respond to your input quickly? Is it predictable and controlled? Is gear shifting responsive and smooth?
Some specific areas to evaluate while on your test-drive include:
Maneuverability - Back up to a loading dock. Take tight turns in the city. How well does the truck respond? You may want to do some maneuvering in empty parking lots first to become familiar with the truck's handling characteristics.


Visibility - Note to what degree you can see straight ahead and through the side windows. Also check the mirrors for blind spot coverage, and be sure that the dials and gauges are visible and easy to read.


Comfort - One reason to go for longer test-drives is to judge the comfort and support of the driver's seat. Try to hit both bumpy roads and well-paved highways, and compare your comfort. Look at the amount of room in the cabin, and see if all the controls are easy to reach and operate and if the noise level in the cabin allows normal conversation.


Sleeper - If possible, try it out! After all, how often do you get to sleep on the job? Make sure that you can comfortably fit in the bunk and that the mattress is comfortable. Also, check out sleeper-area climate controls, additional windows, secure storage areas, and room for electronics such as TVs and DVD players.
Take notes if you want - if you're test-driving four or five trucks, the details can get blurred. If you can, take each truck you test-drive to the same areas so you can draw accurate comparisons.
---
If you're in the market for a used highway truck, you may be able to save yourself tens of thousands of dollars in comparison to a new rig. But there are a few tradeoffs to be aware of. Next, we'll explain what you'll confront when comparing used semi trucks.
---
Buying Used Semi Trucks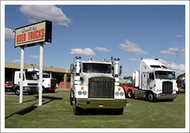 The combination of the steep cost of new highway trucks and their long operating life makes buying a used truck an attractive option for many buyers. But keep in mind that no matter how much you save when you buy used, there's a chance that you'll face higher repair bills in the near term.
The risk involved can vary tremendously: a three-year-old truck with 250,000 miles on it is a significantly different purchase than a 10-year-old truck with 800,000 miles. But not all the differences are so obvious. Here are some ways you can make sure you get the right used truck.
Start at the right source
The first step to minimizing risk is buying from a quality used truck dealer. Online classifieds and auctions may seem to offer great bargains, but unless you're quite familiar with the exact model being offered, it can be hard to distinguish a good deal from an impending disaster.
Look for truck dealers who offer a wide range of trucks, so they can match your exact needs - not just shoehorn you into one of the few trucks they have on the lot. Reputation is essential to these dealerships, so you can be more confident that you're getting a high-quality truck. In addition, you'll be able to get warranties on the truck's performance that you wouldn't find with a direct sale or auction.
How to evaluate a used truck
Much of the buying process is the same for a used truck as it is for a new vehicle. You'll still have to list out your exact requirements, decide on the specs and extras that are important to you, review multiple dealers, and take some test-drives. In addition, though, you'll have to be more thorough about your inspection when buying used.
Of course, the test-drive is important to a used truck evaluation. Pay extra attention to any unusual noises or vibrations, and watch gauges carefully throughout the trip. Check out the engine compartment before and after your test-drive for any signs of leaks, and compute the exact gas mileage for your trip to verify the fuel efficiency.
In addition to the test-drive, it's worth taking the truck to an independent mechanic for evaluation, if possible. A qualified mechanic can run critical diagnostics and give you a valuable, neutral opinion on the overall condition of the truck. Most dealers will agree to this, and although you'll have to foot the bill for the inspection, that's a tiny cost compared to your potential investment in the truck.
The used highway truck market
Since large fleets are constantly upgrading to newer trucks, there is a steady stream of used but well-maintained trucks entering the market. These days, fleets are downsizing, too, further increasing the supply.
Understandably, the used truck market lags several years behind the new market in terms of features and performance. For example, the used market is only starting to favor the aerodynamic trucks that dominate new sales. You'll still find loads of square, high-horsepower trucks on sale through used dealerships - and while the prices may be attractive, be sure you consider the operating cost over the long run before you buy.
Modern truck engines are so durable that they can run up to one million miles before needing a rebuild. An engine rebuild can help you get more life out of a truck, but keep in mind that even after that investment, the rest of the truck is still just as old and prone to failure.
Highway Truck Pricing
New highway trucks are a big investment for the average buyer. Even for large fleet operators, new purchases have to be weighed against the amount of additional revenue they'll bring in. While new and used truck prices can range considerably, there are some general guidelines you can keep in mind.
New heavy-duty truck cabs typically range in price from $80,000 to $150,000. The high end of that range gets you high-horsepower engines, full-sized sleepers, premium accessories, and the latest technologies for reducing fuel and other operating costs. The low end includes mainly day cabs with single axles and lower overall capacities.
If you're buying new, you'll have the chance to add and remove options to customize your truck. Extended custom sleepers, extreme-duty frames and suspensions, or custom paint and chrome jobs can push total costs over $200,000.
While most buyers don't push the envelope quite this far, some find that the extra investment up front can eventually be recouped. Extras like premium seats and sleeper packages hold their value and can help when it comes time to resell the truck.
On the other hand, consider that those extras have a higher cost than just their initial purchase price. Adding more weight to your truck reduces your fuel efficiency as well as the total weight of cargo you can haul.
Used highway truck costs
Used highway truck prices can vary almost as much as new truck prices - but in a far lower range. Once a truck has a few hundred thousand miles on it, the resale price starts to drop considerably.
Oversized sleepers with all the extras that cost $175,000 when new might be found for $115,000 once they have reached 200,000 miles. When that same truck accumulates 500,000 miles, it might sell again for $80,000.
A more common price point seems to be two-to-five-year-old sleepers in relatively good condition - with 300,000 to 600,000 miles - for $45,000 to $60,000. Many of these trucks are likely fleet trucks or trucks coming off leases. Day cab trucks are slightly less, with a wide variety of serviceable used trucks in the $30,000 to $50,000 range.
Be cautious when looking at the low end of the price spectrum. In the $15,000-to-$40,000 price range, you'll find either very high-mileage trucks, where reliability can be questionable, or lower-horsepower trucks that are more limited in the types of loads they can haul.
Financing and leasing
As with any major investment, you'll have to decide whether you want to purchase your truck or lease it. The decision really should be based on your financial situation and the available lease options.
Owner/operators more often tend to purchase trucks than lease them, while fleet buyers lean more toward leasing. The main reason is that individual drivers tend to hang on to their trucks for much longer, while fleets turn over their vehicles more regularly.
Highway Truck Buying Tips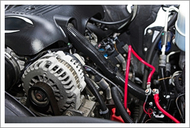 There are plenty of things to think about as you're buying a truck. Here are a few additional tips to help you get the truck that meets your needs.
Go for reliability. One expert on truck purchasing recommends that buyers choose the newest truck they can afford. This doesn't mean you have to buy a brand-new truck, of course - two-to-four-year-old trucks can be a great value.
Choose proven power. Many trucks are available with a choice of engines from different manufacturers. Choosing a well-known brand and a common model will help you when you need parts or repairs.
Don't skimp on the sleeper. If you're buying a long-haul truck, try to get a 70" stand-up sleeper or the like. Your drivers will thank you - or, if you're an owner/operator, you'll thank yourself.
No lap for your laptop. Many drivers use laptop computers for tracking income, expenses, and maintenance, as well as for route planning and keeping in touch with friends and family. A laptop mount is a nice accessory for keeping computers safe and accessible.
Stay on top of performance. Newer trucks offer in-dash displays that monitor real-time fuel economy, trip data, and mechanical problems.
Ready to Compare Highway Trucks Price Quotes?