Forklifts Buyer's Guide
New and used forklift pricing
Table of Contents
New and used forklift pricing
There's a wide range of quality and extras when it comes to buying a forklift. So it's hard to set a definitive price. We'll give you some general guidance in terms of cost range, as well as examples of what our buyers have paid, but there a few points to keep in mind:
Similar to standard cars and trucks, the manufacturer matters. Top-tier brands are built to a specified level of quality, often with more demanding specifications in mind for particular applications. As a result, these vehicles (and forklifts by extension) perform more reliably.


Buying mid- or lower-tier brands can be an excellent way to save money but it may not adequately meet the demands of your business. Even worse, these lifts can actually cost you more in the long-run.


As a general rule, the more punishing the environment and usage, the more you should expect to pay for a dependable lift.


Geography also plays a big part, especially if you're buying used, with inventory and availability that continuously fluctuate. So the price a buyer in one part of the country pays may not reflect the costs you can expect to see elsewhere for the exact same machine.
Forklift price ranges
Generally speaking, electric forklifts cost more than internal combustion lifts with comparable specs. But features, brand names, and other factors often result in exceptions.
A 5,000 lb forklift is the industry standard. New electric 5,000 lb forklifts typically retail for $20,000 to $25,000 plus $2,800 to $5,000 for one battery and a charger. For this reason, electric forklifts sell quickly in the used market, where the cost is often half that of a new lift. In addition, you'll probably require a battery transporter and can expect to pay anywhere from $3,000 to $6,000 and up, depending on its weight-rating.
A 5,000 lb internal combustion (IC) forklift starts at around $20,000 and can cost up $36,000 or more, depending on the options you choose.
At the larger end of the scale, you're primarily looking at IC forklifts. Due to Tier 4 EPA requirements, a 10,000 lb diesel lift can go for $40,000 to $60,000. High-end lifts, with capacities of 35,000 lbs or more, cost $100,000 and up.
Want more specific examples? Take a look at what our users paid for new, used, and leased forklifts.
Operating costs
The real cost of your forklift goes far beyond what you pay up front. Hourly operating costs can be an unpleasant surprise if you're not prepared for them. So listen up! These costs include fuel, energy, maintenance, and supplies like oil, batteries, filters, or fuel cells. Plus, you have to factor in the often considerable cost of labor required to service the truck.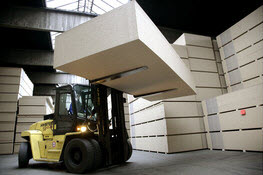 REX Features
Operating costs increase with the size of the truck and are exponentially higher for IC trucks. In fact, depending on your geographical location, the operating cost of an electric forklift is only 10 to 15 percent of its IC counterpart.
Consider the following example. Let's assume our year includes a total of 250 work days. Depending on the efficiency of the charger you use and the cost of electricity in your area, the cost of charging a standard industrial battery would be about $3 per charge.
At the same time, you'd pay about $30 to fill a 7 gallon diesel tank and $25 to $35 to fill a 33 lb propane tank. Assuming two fuel replacements each day, this would equate to a yearly fuel cost of $1,500 for electric, $15,000 for diesel and about $12,500 for propane.
With this in mind, we can break down your hourly cost to: 75 cents per hour for an electric lift, $7 to $10 per hour for a diesel truck and $6 to $8 for an LPG lift truck.
But keep in mind, these estimates don't account for lift maintenance – another area where electric units beat out IC forklifts. By some estimates, IC lifts require DOUBLE the amount of maintenance when compared to an electric forklift due to the greater number of moving parts requiring service on an IC model.
Factoring in parts and maintenance can see your costs rise from $3 per hour to well over $30 per hour, depending on the lift.
Used equipment
Buying used equipment can save you quite a bit up front. But even a used forklift is still a significant expense. A used 3,000 lb electric forklift might go for around $5,000 to
$10,000 – less than half the cost of a new one. A 5,000 lb IC forklift that might cost $28,000 to $40,000 new could cost $8,000 to $16,000 in the used marketplace.
BUYING TIP: If you're using your forklift more than four hours a day, you may quickly find that the costs of downtime and repairs cancel out the savings of a used lift. For full-time usage, it's probably worth the extra initial cost to buy a new lift truck, and may even be cheaper. Plus, new lifts are backed by original manufacturer warranties and may include better service plans with a quality dealer.
Forklift leasing, financing, and long-term rentals
Because of the high initial cost, almost all forklifts are either leased or financed. Some manufacturers provide financing and forklift leasing through their dealers. In other cases, the dealer may have an arrangement with a third-party bank or leasing company.
When manufacturers subsidize a forklift loan or lease, they may offer very favorable terms. Nevertheless, if you're dealing with a third party, compare the financing terms to those you could get through own bank to ensure you're getting the best deal.
Long-term rental is another alternative. Usually defined as a rental for more than 12 months, long-term rentals differ from leases in that they can be canceled any time after the minimum rental period expires. Featuring a lower monthly rate than short-term rentals and typically including all maintenance, long-term rentals can be an economical choice for temporary projects or contractors. If you're going to use it for the full term, a standard lease is usually more cost-effective.
Warranties
The greater the number of in-service hours your forklift logs each week, the more susceptible it is to wear and damage. A lift truck that works 10 hours or less each week is safe with a lower service package and warranty than a lift in service 20 or more hours per week.
In addition, the work environment should also factor into your purchase decision for warranty and service packages. Construction zones, industrial factories, and other locations that routinely haul heavy loads or have corrosive elements in the work environment should be on the lookout for a more comprehensive warranty that offers a higher level of coverage for more components over a longer period of time.
Service plans
To protect their investment, the majority of forklift buyers choose a preventative maintenance (PM) plan. These plans cover oil and filter changes, transmission servicing, and general check-ups at regularly scheduled intervals. Unless you have an in-house mechanic to perform these maintenance tasks after every couple hundred hours of operation, it makes sense to lean on the dealer's expertise.
Many quality dealers offer complete maintenance plans that cover any breakdown or repair that's needed. This type of plan often includes:
Basic preventative maintenance on a bi-monthly or quarterly basis
Complete preventative maintenance and/or full tune-up at least once per year
For a new forklift, you probably won't need this type of coverage as you'll have very few breakdowns in the first couple of years. But on older equipment, it may be a useful insurance plan. At the same time, if you're buying older equipment to save money, the cost of the extra coverage could wipe out the savings you're trying to achieve.
Cost varies by region. But in general, you can expect to pay around $40 to $50 per month or around $500 to $550 annually, based on quarterly service intervals, for a service agreement with a reputable dealer.