40' x 60' Steel Buildings: Pricing Examples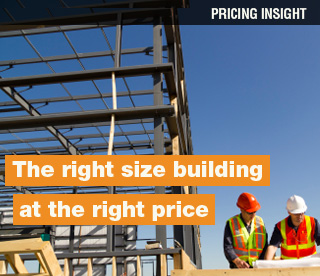 The cost of a 40x60 steel building depends on the location in which the steel building is ordered as well as the amount of needed features. The most basic steel building of this size might cost about $10,000, while a building with a concrete foundation, complete insulation, eaves, and two roll doors can cost over $40,000. 40x60 steel buildings are often requested by agricultural companies and businesses that operate or sell machinery, because the building is large enough to store several vehicles and equipment. A 40x60 building usually includes one or two roll doors, a walk in door, and extra space for a workshop or storage zone. Many business owners also request insulation, as the owner usually uses the metal building as a separate work space. Compare prices on the 40x60 steel building that you have in mind.
"$17,300 for a 40 x 60 steel building with 12x12 doors and full insulation." - Tree Farm Owner, Kittrell, NC
"I purchased a Mueller 40x60x15 metal building for $9,995.00; and only $125.00 delivery fee. The snow load was only 10 but I am adding additional supports down the center as this is only a horse barn. I had trouble getting most sales people to realize I had this option to center support as most wanted to sell heavier snow load rated buildings at higher prices (5,000.00 more). Mueller worked with me to obtain the best value for the money." - Agriculture Company Owner, Alanreed, TX
"$28,000 for a 40'x60' steel building with one walk-in door, one 6x6 door. The price included the concrete slab, blow-in insulation and 2 large windows and labor to put the building up." - Business Services Principal, Quanah, TX
"$28,500. Clear span 40x60 steel building with 8ft side walls, 3/12 rafters, 14ft at peak, 2 overhead garage doors 8x10 ft, a man door, 4 27x 36 in. Windows, bubble insulation on walls and ceiling, steel covering over insulation. - Agriculture Business Owner, Edinboro, PA
"40x60 steel building with one 10' drive in door and one walk in door. Complete insulation (3" thick) $14,500.00. Total including shipping. Down payment was $3,977.00. Lifetime structural warranty, a 40 year coating warranty." - Business Services CEO, Calhoun, MO
"40x60 steel building with a concrete slab, windows completely built for $37,000." - Farm Owner, Tenaha, TX
"I paid $41,000.00. This included a concrete pad 4" thick, 40 x 60 steel building, 14 ft eaves, 4:12 roof pitch, 3- 12x10, 2- 10 x 2, and 2 service doors. Plus complete insulation and erection by contractor working for supplier. Also elected 26 gauge steel walls and roof. I sent specifications to 5 companies that I found on your site and other sites." - Business Owner, Seale, AL
"40x60x16 steel building w/insulation cost just under $16,000." - Shop Owner, Millbrook, AL
"$75,000 for a 40x60 Complete turnkey construction package. Concrete work, flooring, painting, drywall build out included." - Business Owner (Landscaping Company), Worcester, MA
Ready to Compare Steel Buildings Price Quotes?