Office security systems help protect your business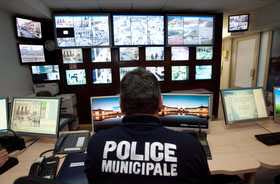 REX Features
You can't afford to lose your business offices, equipment, and customer data to theft or vandalism, so why risk it? With office security systems, you can get a comprehensive solution that will protect your property 24 x 7 x 365.
Many businesses put off purchasing office security systems for a variety of reasons: it's too expensive, it doesn't contribute to the bottom line, and it's too difficult to operate. By working with reputable office security systems vendors, you can quash all those misconceptions and more. They'll take a close look at your facilities, present you with your options, and design an affordable, easy-to-use setup that will protect your assets.
What is central monitoring?
The underlying value of office security systems comes from the service you get from a central monitoring station. The vendor owns and operates the monitoring station (or works with a third-party) to watch over your business and ensure there isn't a break-in. Central monitoring is quite inexpensive – about $1 per day – and provides peace of mind that your property and employees' safety will always be protected.
The central monitoring station pre-programs your business information into a control panel which serves as the "brains" of your office security system. When an intruder trips the alarm, the central station receives a signal and attempts to locate the source of the problem. If they can't, they immediately send authorities to the scene to investigate.
With central monitoring, you never have to worry about not reaching a live person during an emergency as the station has staff working around the clock. Also, there's no concern about the station suffering power outages – if they lose power, your information defaults to a second monitoring station, or backup generator kicks in to keep operations up and running.
Key features of office security systems
The central monitoring station works in tandem with the office security system's control panel, as well as other devices to detect problems in your office. These features may include:
Security keypads: Panels installed near entrances to allow employees to arm and disarm the security system. With added two-way monitoring, the keypad serves as an intercom system between your office and the monitoring station to confirm a visitor is authorized to enter the facilities at a given time.
Motion detectors: Devices that trip the alarm by sensing changes in the infrared energy levels when an intruder is in the area.
Door and window contacts: Magnetic devices placed along door jams and window frames that trigger the alarm security system when opened.
Glassbreak sensors: Sensors identifying the acoustic shock waves of glass breaking that set off the system.
Sirens: Loud horns attached to the inside and outside of the building and may include strobe lights to draw immediate attention to the intrusion.
Backup systems: 24-hour reserve system that takes over if your phone lines get cut or you lose power.
In addition, a vendor can set up your office security systems with other components such as video surveillance to monitor and record your facilities, and access control systems to use pre-programmed cards to enter and exit certain building areas. If you need fire alarm protection, the vendor must design a system that strictly adheres to local and national codes and keep it separate from your office security system.
Office security systems are great for keeping unwanted outsiders into your business building; however, be sure to practice workplace safety to prevent insiders (employees) from breaching security.