Overview of Data Backup Services
If your "to do" list is like that of many businesses, backing up your computer files is unlikely to rank among your top 10 action items. That is, of course, unless you have suffered a major data loss. If you have, setting up data backup services will jump to the top of your list. Here's what you need to know to hire a dependable backup service.
Almost any company that keeps customer, financial, or project data on computers is a good candidate for backup services. Remote backup services are even more critical for some specialized situations:
Small companies with no dedicated IT staff
Companies with employees who travel frequently or work from home
Companies with multiple locations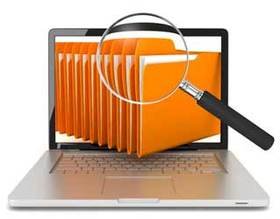 Furthermore, even if you do regularly back up your files, chances are you don't store the data in a secure off-site location. While on-site backups are better than no backups at all, you're not really protecting yourself against catastrophic data loss. Remote backup services safely store your data offsite without requiring the purchase of any special technology.
How data backup services work
Essentially, remote backup services provide an automated way to back up and store your computer files off-site. It works within your existing infrastructure to cost-effectively enhance your business continuity in the event of an on-site technical failure. And all you need is an Internet connection.
The process begins with an initial backup, where everything you want stored is uploaded to the service. From there, the remote data backup automatically backs up any changed and new files incrementally through a schedule you set. Backups can occur nightly or even on a real-time basis, depending on how critical the data is and how much you want to pay. And when evaluating a service, upload speed is definitely an issue, with speeds ranging from 2 hours to 25 hours for around 50 GBs, depending on the service.
Your data should be sent via an encrypted connection to ensure privacy and security. In most cases, the service can't even open your files: all they can do is store the locked data. Ideally, the data will be stored redundantly, at more than one physical facility, and preferably at geographically separated locations.
How to choose a backup service
When evaluating backup services, the first thing you should check is that their software can work with the operating systems you use. Once this basic requirement is met, look for software that is easy to install and configure.
Check how long it would take to identify and restore a file you need to recover. In fact, you should make sure you restore a backed-up file before you really need it: you'll want to ensure the system works as advertised. As with the upload times, there is a huge disparity between services for retrieval and download, ranging from just over an hour to 39 hours for a 50 GB data set.
To ensure that only authorized users can access your files, ask about how users are authenticated. You should be comfortable with the steps the service takes to ensure the appropriate person is requesting a copy of your backup. In addition, there should be protections against anyone overwriting your backed up files.
How much will you pay for data backup services?
Plan on paying 50 cents to $1 per GB per month, depending on the service. That said, prices vary from $10 to hundreds of dollars per month, with discounts available for 1-year and 2-year agreements.
For example, a month to month contract for 10 GB of backup will cost around $10. With agreements, you can often expect to pay around $110 and $210 for 1-year and 2-year contracts respectively - not really a huge savings for that amount of data. But when you consider that 1 TB of space goes for $380 a month, $4,200 for one year, and $8,000 for two years, extended plans enable you to save more than $1,100 per year. Plus, you can always add more storage to your account as needed.
You may also incur a few other fees: $50 to $200 initial setup and $10 to $100 per user license, for example. When comparing backup services, make sure you get a complete picture of what your start-up and ongoing costs will be so you can draw an accurate comparison. It's important to know that many services offer their rate as all-inclusive, meaning you're only charged for the amount of data stored in the backup, not for bandwidth, storage, transactions, or other resources tied to the service itself. So keep your eyes open for extra hidden charges that could quickly elevate a seemingly low monthly rate.
It's a relatively small cost for something so critical. Ready to start shopping for remote backup services?
Ready to Compare Cloud Backup Price Quotes?