Offsite Backup Introduction
If you don't have a system in place to back up your critical business data, you're putting your company at risk. Offsite data storage and backup services protect businesses from viruses, natural disasters, and power outages by transferring copies of information stored on computers to a secure remote data center.
With offsite backup, you select the files you want to copy and schedule when you want backups to occur. The system automatically copies the data, encrypts it, and sends it securely over the Internet to the seller's servers at a constantly monitored data center. If a user accidentally deletes a file or finds it is corrupted, you simply access the offsite backup server from your PC and download the most recent clean version.
Businesses may have serious reservations about sending customer information and confidential data over the Internet. However, since the software encrypts every file before it leaves your computers, the offsite backup process is highly secure. Even if the files fall into the wrong hands, the data can't be accessed without the required password.
Online backup sellers can offer solutions for all types of businesses and any amount of data. This BuyerZone Offsite Backup Buyer's Guide will explore:
How offsite backup works
Which features are available, including backup for virtual machines and cloud/utility computing projects
What to look for in a seller
How the pricing tiers work
Data Backup Basics
Backing up business data is not a new concept. Since the late 1970s, businesses have used a variety of approaches to backup their essential data. Each option provides significant advantages and disadvantages to your business.
Regardless of which method you use, it's essential to backup your information in a secure offsite location. No matter how effective your backup methods are, if they're stored at your location the data will still be at risk if a natural disaster hits your office or your system becomes infected with a virus.
The most traditional approach is to make physical backup copies of the data and contract a storage center to make regular pickups. This can be done on tapes, DVDs, or other removable storage media. These methods are generally inexpensive at first, but may require expensive hardware, if you don't have tape backup drives or DVD burners. They can also be demanding on your employees' time and productivity.
External backup drives and RAID servers (redundant array of inline disks) are useful, automated means of creating backups that can help you recover from most disk failures. However, they don't give you an offsite backup option to protect against viruses or natural disasters.
Remote data backup encrypts your data and sends it over a secure Internet connection to a data storage house. You don't need any special equipment other than a high-speed Internet connection, and you can schedule automatic backups as frequently as needed. It's also relatively inexpensive making it the best option for small to mid-sized businesses. Be aware that if your network connection goes down, you won't be able to make a backup or recover data.
How Online Backup Works
Most online backup services work with any major operating system including Windows, Mac, UNIX, Linux, and more. Unlike other backup methods like tape drives or network servers, online backup doesn't require specific hardware. Simple client software lets you select the files you wish to backup, restore data, and view a history of changes.
The installed software allows you to schedule an online backup of critical files and documents, complex databases and company mailboxes. It's sophisticated enough that you can access individual documents, system files, and even e-mail messages at any point in time and restore them back to your computer, yet simple enough for anyone in your office to use.
When an online backup runs, the information is sent over the Internet to servers at a secure data center. On-site personnel ensure the data centers are operating smoothly 24x7x365. They monitor the Internet and power connections and make sure the server room is cool and dry. More importantly, the setup is redundant - if there is a problem at the data center, your file transfers automatically default to a backup data center in a different location. This ensures your scheduled backups happen on time even if the primary data center has an outage.
Backing up data requires a lot of bandwidth, so most businesses schedule online backups at the end of the work day when computers aren't in use. You can schedule real-time backups that take place in the background while you work, but they can slow down computer performance and hamper productivity.
To recover your data, you log in to the client software and select the restoration option. This will pull up a detailed list of changes to the file you're restoring. You can then select which version to download to your network.
Initial online backup process
The heaviest lifting in the online backup process is the "seed backup." This initial backup occurs on a service-provided hard drive at your office and captures a complete image of all the computers on your network and downloads the configurations to an external hard drive. The data is compressed and encrypted, and the hard drive is then shipped to the data center.
The seed backup is important for two reasons. First, it gives the seller a point of reference for what your system should look like. If your system is hit with a disaster, they can use this mirror image to restore your network.
Second, seed backups speed future daily online backups. While the initial process takes many hours to complete, subsequent backups take only 10 to 15 minutes a day. The process is streamlined because the software transmits only the incremental changes to the data center.
Offsite Data Backup Features
Offsite data backup offers an array of features that help streamline your business. With the right solution in place, you can spend less time worrying about your data's safety, and concentrate on growing your business.
Here are some of the key features that most offsite data backup services offer:
Encryption: This most-requested feature of offsite data backup is also the most crucial. Before data is transmitted, it must be encrypted according to Advanced Encryption Standards (AES). AES provides maximum security and helps avoid unintentional access, deletion, and file corruption. The only way to decrypt the data is with a password or encryption key that the software creates before transmission.


Full reporting: With every offsite data backup, you can get a report that details what was copied, when it was transferred, and whether or not the transfer was successful. Reporting provides proof the software works, and more importantly details when it doesn't.


Permission setting: This option allows you to select which computers get backed up and which employees have access to view or restore files.


Version control: With version control, you can select a specific version of a file you want to restore. For instance, if it's Friday and you want to review contract changes made that Wednesday, you can access Wednesday's version, restore it to your local PC, and compare the two versions without overwriting information.


Local data store: This allows you to store additional copies of your files on a local device. Instead of downloading information from the offsite data backup center, you can access the files more quickly from the local storage. Storing data locally also lets you retrieve files if your Internet connection is down. The offsite data backup center is still the primary backup in case something catastrophic occurs at your location.


Bare metal restore: Vendors offer an optional "bare metal" restoration for rebuilding a computer or server from scratch. Using a separate storage device, the seller creates a mirror image of your complete system. The device is then shipped to the data center and stored with your other data. If your network is corrupted or you lose important system files, you can restore your system to its original configuration.


Cloud storage archiving: You may want to look for service providers who use cloud computing to provide almost infinitely scalable storage with a fixed cost based on usage. This allows the provider to expand their storage as needed, without having to build more infrastructure or hire and train more personnel to manage the additional storage.


Inactive document backup: Archives of static or infrequently accessed data can be stored at a lower cost. Make sure, though, that even your inactive documents are readily accessible when you do need them.
In addition to these features, sellers may offer remote access to your files from anywhere, customized reporting capabilities, reminder e-mails for upcoming backups, and comprehensive training for your staff. Let your offsite data backup seller know which features are important to you so you get the solution that best suits your business. Or continue reading to learn more about offsite data storage.
Choosing an Online Data Backup Seller
Most online data backup sellers license software from a developer and re-brand the technology as their own. The sellers then supply the software via remote installation or a web download and provide storage space at the data center for a monthly fee. Most businesses should opt for a paid online data backup service.
Note that at the extreme low end, you can find free online data backup solutions. Some web sites offer a small amount of storage in exchange for completing surveys or displaying ads on your web site. We don't recommend these services for any important data. You don't want your critical business data in the hands of a free service - the storage capacity can fall short of your needs, it could be impossible to get support, and your data might not be there when you need it.
Large businesses with multiple offices, thousands of employees, and extremely large storage needs may want to purchase online data backup software directly from a manufacturer. It can be quite expensive - $12,000 to $80,000 or more - but gives you 100% control over your data. It's only an option for businesses that can afford the resources and personnel necessary to manage their own offsite data center.
You may also wish to consider no- or low-cost open source online backup solutions. You'll have to compare the software for functionality and security, but the potential savings are significant. Some seller subscription fees are 80% less than licensing costs for competitive commercial programs.
Selecting the right online data backup seller
Start your research by only working with online data backup sellers who operate Tier 1 data centers to store your information. Tier 1 data centers are certified and HIPAA compliant so your information is always 100% secure. They are also monitored carefully by on-site personnel to ensure your data's integrity and safety.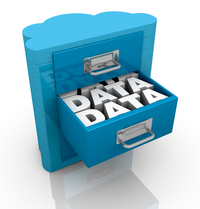 After this initial cut, make sure the seller offers all the online data backup features you will actually use. And learn how long each service you're considering has offered remote backup - longevity is usually a strong sign that they keep customers happy.
Also, find out what level of customer service online data backup sellers provide. Do they offer 24x7 phone and e-mail support? Who handles problems during weekends and holidays? It's important to know how to get in touch with the seller when you need data and can't access it.
Never shop for an online data backup service based solely on the lowest price. Vendors that offer prices far below their competitors should raise a red flag. While cost is always an important consideration, think about the consequences of putting your data in the wrong hands.
Take full advantage of free trials. Most online data backup sellers will allow you to download the client software for free for 30 to 45 days with full access to features and a small amount of storage on their servers. This allows you to evaluate the functionality and make sure it's the right solution for your business before spending any money. Vendors may also provide free product demonstrations, either in person or through an online tutorial.
If your data is particularly valuable to you, request references, preferably in an industry similar to yours. Don't accept printed testimonials: ask if you can contact past customers directly to ask specific questions such as:
Have you ever needed to do a major restoration? How did it go?
How responsive is their customer service?
Did they provide full training for you and your staff?
Have your backups ever failed? Were you immediately notified?
How long does it take to retrieve data from the seller's servers?
Did they adjust to your needs as your company grew?
How did the seller address your backup needs?
Online Data Storage Pricing
Pricing for online data storage is typically based on "one dollar per GB." Sellers typically allow you to backup 10 GB of data starting around $10 per month, with storage capacities going up to 1 terabyte (TB).
If a service doesn't provide unlimited data backup, they'll most likely offer tiered pricing. For example, monthly rates for 10GB are $10 to $20; 50 GB are $50 to $75; and 200 GB are $200 to $300. Prices for unlimited encrypted, incremental backups range from $3.25 monthly up to $500,000 annually!
See what other BuyerZone users have paid for online data storage services.
Monthly fees for online data storage cover software installation, data center monitoring, phone and e-mail support, and training for your staff. Your rate can vary greatly depending on the amount of data you back up, how many individual servers you back up, and the number of different versions of files you need to store.
Sellers may require monthly minimums. Since you typically get deep discounts as you increase the amount of offsite data storage you need, it may be worth purchasing additional space. The extra money you spend now will give you more flexibility as your data needs grow, and you won't have to worry about running out of storage space.
Keep in mind that you can reduce storage costs by decreasing the amount of data that needs to be backed up. Reducing or eliminating duplicate data (or deduplication) is a key step to storing more effectively.
Besides monthly service charges, online data storage sellers may require various other fees:
Setup and installation. Some sellers charge $50 to $100 or more for online backups, including cloud storage with deduplication, to install the software, configure your system, and troubleshoot initial problems. Expect to pay $100 to $250 or more per hour to set up very complex infrastructures requiring more experienced professionals.


Initial backup. Unless the seller builds it into the monthly fee, it costs about $40 to $100 to rent the backup storage device for your initial seed backup and ship it to the data center.


License fees. The seller may also charge a one-time license fee of $8 to $80 or more for each online data storage user, or several hundred dollars for a certain number of users. As with monthly pricing, the per user costs decrease as you increase the number of users.


Additional services. Sellers may charge several hundred dollars for bare metal restoration to completely revert your network to the way it was before you experienced problems.
Online data storage contracts
Sellers usually require a one-to-three year contract outlining their obligations and your responsibilities - how much online data storage you get, what services you need, and how much you pay. While some sellers may allow you to work under a month-to-month agreement, you can usually get favorable discounts based on the amount of data you store if you agree to a longer-term deal.
Contracts should also detail the service level agreement (SLA.) The SLA protects your business by guaranteeing the uptime of the seller's servers - usually 99% or greater. If their servers aren't up and running, the seller may have to pay penalties or credit your account.
If you need to break the contract, expect to pay a 30% to 35% penalty on the remaining value.
Backup Services Tips
Lengthy backups take time. If you need to restore large files, or if you require a full bare metal restore, it can take several hours to get your system back to the way it was before the problem occurred. After you get the data back, reserve adequate time to review it and make sure it's clean and ready to work with.
Keep a regular schedule. Your data is only as secure as your last backup. If your company's data is important enough to be sent offline, then it should be protected on a predictable, repeatable schedule. If your hard disk drive crashes and there has been no backup in 4 weeks, that time frame is your window of vulnerability. Backups on a daily or weekly basis are commonplace - just make sure they're scheduled so they don't impact the regular operations and transactions on your network.
Don't overlook local backup. It provides an additional means to backup your data and is quicker to access than online backup services. You can even transmit files to on-site servers or portable backup devices concurrently with remote backup. With the low cost of recordable CDs and DVDs, you can also back up data to store in a fireproof safe or to take home.
Need to switch providers? Find out what the process is for retrieving your data if you decide to move to another backup services vendor. You want to make sure they give you plenty of time to remove your data before they clear the server space to another customer.
Save storage space. You can set up you can set up the software to automatically delete archived files from your history after a certain number of days.
Reduce your storage needs by eliminating redundant data from a device. Data deduplication helps you:
Protect your data better
Recover lost files more quickly
Reduce backup and recovery costs
Ready to Compare Cloud Backup Price Quotes?