Compact Excavators vs. Mini Excavators
Manufacturers treat "compact" and "mini" excavators as very different terms, defining two different families of excavation machines. When shopping for a smaller-sized excavator with greater mobility and a price within your budget, be sure to understand the difference between compact excavators and the other models on the market. Several key factors and trends differ between the two primary classes.
Basic differences
The compact excavator occupies a space between the extra-small mini excavators and the large, expensive, standard excavators. This gives them both advantages and disadvantages when compared to smaller options. Compact excavators come with bigger buckets and extra power, which can help you finish up jobs more quickly and attack larger demolition or digging projects. However, compact versions also have a lot of extra weight and roughness, which can make it more difficult to maneuver them into commercial buildings or through backyards.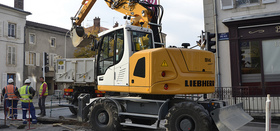 Size and weight
Compact excavators range from around 2,600 pounds to 17,000 pounds at the largest. Typically, anything beyond around 13,000 to 14,000 pounds is considered out of the compact territory and into more standard models. Below 2,500 pounds, the excavators become extra small and are more useful for landscaping, backyard projects, and indoor sites where you can equip the mini model with rubber treads to minimize damage. Of course, each brand defines "compact" and "mini" with slightly different parameters, so expect to see a few differing numbers in your research. In terms of power, most fall within the range of 13 to 65 HP.
Dig depth
Dig depth refers to how deep the excavator can dig below the level it is operating on. For larger trenches, channels, and holes, a compact excavator can typically dig much deeper than a mini version. The extra weight and size allows the machine to successfully lever its bucket further down, making it more suitable for projects that require deeper work. Specifications will show the precise dig depth of every model, making it easy for you to compare options.
Room and features
As excavator technology grows more advanced, many of the features that once belonged only to the larger machines are now moving down to smaller versions. This means that buying a compact model allows you to access these new features, while mini excavators remain very simple. A larger compact model can offer instruments like multi-layer touchscreens, diagnostics, and multiple speeds. They are also more likely to include handy features like automatic climate control and monitor-based control of idling and cycling.
Eventually some of these features may make their way down to mini excavators, but for now choosing a compact model is the best way to take advantage of these technologies trickling down from the largest units.
Pricing
Mini excavators start around $12,000, and you can expect to pay up to $35,000 (and above) for higher end machines, with a number of popular models falling in the $14,000 to $17,000 range. Compact excavators are priced similarly, with a wide number of models in the $17,000 to $25,000 range and deluxe machines costing $34,000 to $45,000.
Ready to Compare Mini Excavators Price Quotes?