Used Excavators are Low Cost and Better For Building a Business
Whether you're starting your own construction business, or looking to renovate, investing in a used excavator is one of the best ways to save money. And when shopping for used excavators, it's important to do thorough research on several brands and prices. But even more important is examining your choices with a critical eye.
Heavy machinery is expensive, so the low-cost factor of a previously owned excavator is one of its biggest benefits. Finding a gently used piece of equipment that is still high quality isn't difficult - but you definitely have to know what to look for. Here are a few key considerations to get you started:
Consider the scale of your project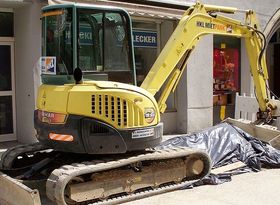 Avoid overpaying for features you don't need as well as under-buying on performance requirements by making this your first step in the purchase decision. How large is your project? What exactly will you be doing with your excavator? When looking at different models, you should consider the following:
Operating weight
Bucket capacity
Horsepower
What its designed for (landscaping vs. demolition)
Tail swing and ability to maneuver around obstacles
The more project planning you do, the easier it will be for you to choose the right used excavator.
Watch out for warning signs
There are used machines, and then there are USED machines. Your mission is to avoid the latter! One of the most expensive repairs is a damaged slew ring. So watch out for movement by rotating the hydraulic excavator housing a quarter turn to check for play at the connection points of the boom, stick, and bucket.
Also be the lookout for cracks anywhere. In particular, watch for cracks around major key connection welds as this type of damage can indicate a serious compromise to structural integrity. Finally, just like the car you drive to work in, inspect the excavator for leaks. Check all hoses, lines, and cylinders, as well as in and around the hydraulic pump compartment.
Is it being sold through a dealer, original owner, or a rental house?
There is a huge difference between the wear and tear incurred by a machine with a single owner in comparison to one that's been rented. Pros advise you to consider the history as much as, if not more than, the hours. And if the hour clock doesn't work, walk away.
In general, a used mini excavator that has had a genuine owner (or two) is still considered reliable if it's under seven years old and the hours pair with its age (excessive hours that indicate continuous operation would be a check in the negative column). If the machine is an ex-rental, anything over three years old has pretty much had it.
One final word of advice: check the undercarriage for excessive wear and replacement and always be on the lookout for the tell-tale "re-spray and walk away" paint job. It may look new, but given the indicators mentioned above, finding a low-cost mini excavator that will actually be cost-effective entails far more than just a glossy appearance.
Ready to Compare Mini Excavators Price Quotes?