Using Mini Excavators as Demolition Equipment
While mini excavators are typically used to carry away debris from a demolition site, you should also consider using the maneuverable machinery as an integral part of the demolition itself. Thanks to their compact size and demolition-specific attachments, mini excavators offer several demolition advantages and can play an increasingly versatile role in many different projects.
Compact radius and counterweights
In demolition, space is often limited. Whether it's a narrow hallway or an alley between buildings, you don't have a lot of elbow room for tools that swing on elongated arms. Mini excavators are designed specifically for these types of work environments, featuring either minimal or zero tail swing that confine the swing radius within the track width of the machine's upper frame. This means that as long as the machine can fit into the space, you can operate safely and effectively.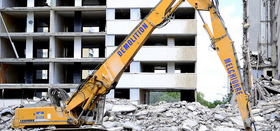 Plus, with the extending undercarriage and fold out dozer blade that come standard on many excavators of this type, you gain access to a wider range of areas that would be inaccessible with a larger machine. The undercarriage also provides enhanced stability to balance digging and loading, as does the counterweight (another standard component on machines in the United States). Shown to greatly increase lifting capability, this feature may slightly extend the overhang, but it's well worth it when using heavy hydra mechanical tools.
With models that extend from 13 HP and operating weights of just over 2,000 lbs. to those that offer 65 HP and weigh more than 18,000 lbs., you can expect to pay anywhere from $12,000 to $35,000. It's worth noting that there are a number of popular models that fall within the $14,000 to $17,000 range.
Hydraulic hammers
Mini excavators can serve as demolition equipment thanks to a handy attachment called a hydraulic hammer or sometimes a hydraulic breaker. This is essentially a larger, automatic version of a jackhammer, but with several key differences.
First, because they do not need to be held and positioned manually, they are often easier to control and re-position by operating the excavator arm.
Second, because they tend to be larger they can tackle demolition jobs that a traditional jackhammer would not be suitable for because of the material involved.
Third, because the hydraulic hammer is designed as an attachment, it is fully housed in a single box with minimal accumulator features. This both deadens the annoying sounds and makes maintenance less frequent.
Prices for these hydraulic hammers vary depending on size and model. You can expect to pay at least several thousand dollars for a new model and up to $10,000 for many versions. Fortunately, this is only a fraction of the cost that a hydraulic breaker would incur for larger, 50,000-pound excavators.
Ready to Compare Mini Excavators Price Quotes?