Is a Hybrid Excavator the Right Move for Your Business?
Unlike the electric and hybrid cars you see sailing past you in the transit lane, the meaning of "hybrid" is somewhat different when it comes to mini excavators. When installed in industrial equipment, a hybrid engine leverages three specific aspects of efficiency to produce a cleaner result:
Fuel conservation: alternating between hydraulic hybrid power sources, engine, and accumulator.
Performance optimization: manage restrictions and flows to control machine motion without compromising power.
Recycled energy: capturing the excavator's upper structure swing brake energy in accumulators and reusing it during swing acceleration.
Here's what you need to know about hydraulic hybrids when you're looking for excavation equipment.
Significant fuel efficiency and emissions reduction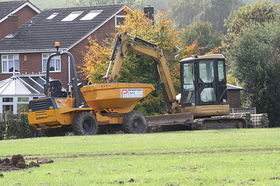 A Toyota hybrid has both an electric and a fuel-powered motor that are used to operate the vehicle. A hybrid excavator has only a diesel engine. But it becomes an energy-saving device by capturing hydraulic energy and using it to power the vehicle. Hydraulic accumulators trap the heat typically lost when an engine is braking or swinging forward. By eliminating the waste, it becomes a power-saver. And that's enough for Caterpillar, the company making these machines, to call them hybrids.
Certified to meet Tier 4 Interim requirements, the CAT engine features a regeneration system that works automatically, with no switching or operator intervention required. It also offers three unique power modes to enable optimum fuel consumption and performance, including high power, standard power, and economy.
But as with any hybrid design, the goal is to save fuel. So the CAT models also include on-demand engine power and engine idle shutdown to streamline fuel efficiency, requiring 25% less fuel in comparison to standard contemporary models and 50% less than older excavators, according to CAT. Here's how:
On-demand maintains a low speed while moving light loads or idling then automatically ramps up as demand increases.
Engine idle shutdown shuts the engine off when it's left idling for more than a set amount of time (customizable by operator) and, in doing so, is shown to conserve a substantial amount of fuel while simultaneously reducing emissions.
Easy to maintain
The hybrid models feature ground level compartments that provide immediate access to the radiator, pump, and air cleaner compartments, facilitating the quick checking and replacing of fluids and filters. The oil dipstick is also located right at the front of the engine compartment, preventing service personnel from having to climb in and around the engine.
In addition, the hybrids feature a unique electric priming pump design, located on the primary filter base, reportedly making it easier to service than traditional hand-priming pumps.
A genuine shift in engine efficiency is underway in the industrial-equipment trade. Instead of investing in older-model equipment, it might make more sense to look to the future with newer technologies that are designed to limit emissions. Run a check of the numbers to see if a hydraulic engine that wastes less is the right fit for your business.
Ready to Compare Mini Excavators Price Quotes?