Buying vs. Leasing a Mini Excavator
When it comes to major machinery, buying vs. leasing is always a challenging dilemma. Buying a mini excavator provides you with a customizable machine fit for a variety of projects and is available whenever you need to use it. Leasing or renting an excavator, on the other hand, can help you reduce costs and meet your budget goals. Comparing mini excavators and their purchasing options is vital for business decisions. Here are several considerations to keep in mind: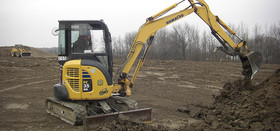 Cost Expectations. A mini excavator will cost at least several thousand dollars, no matter how you choose to buy it. Even a used version can easily cost between $10,000 and $30,000 to purchase, depending on the type and size. This is a significant investment in machinery, but it is also far less than the price of a full-size excavator (which can reach beyond $500,000 even for used versions). When it comes to renting an excavator, you should create a cost projection that carefully analyzes the frequency of use, the length of your average projects, and the rate of incoming projects. Mini excavators cost several hundred dollars to use for a single day, and about $1,000 on average to use for a week. For an entire month, they cost around $3,000 to rent. As you can see, if you plan on using the excavator for longer than several months at maximum, it may be more cost efficient to simply buy your own model.
Budget Flexibility. What are your budget goals? If you need to cut costs and save money wherever possible, buying an excavator may be out of the question: You should instead try to arrange site work so you can rent excavators for just a day or two to complete the necessary tasks. However, if you have the flexibility to purchase a mini excavator, keep in mind tax options that allow you a choice of expense recordings to make in your books.
The Hours Matter. When comparing mini excavators in leasing and buying categories, one of the primary differences in the equipment itself will be the hours used. Leased machinery should offer information on the number of hours the machine has already been used: The more hours on it, the more it may under-perform. The overall age and quality of the equipment is also important. Buying a new machine does not come with these additional problems.
Maintenance and Storage. Leasing a mini excavator for short-term use avoids the problem of storage and maintenance. You don't have to spend any money or time finding a space to keep the excavator, and you don't need to worry about maintenance and repairs. Buying an excavator adds in these long-term costs, and may not be a viable option if you are short on space or time.
Attachments and Specifications. A leased excavator may not come with important attachments for multiple jobs. Consider what projects you need an excavator for and if you can find the necessary attachments.
Ready to Compare Mini Excavators Price Quotes?