Commercial Floor Cleaning Machines Introduction
With the right commercial floor cleaning machines, jobs that take hours with a broom or vacuum can be done in a fraction of the time. Your cleaning staff will be able to move on to more productive tasks, cutting your labor costs and helping the machine pay for itself over time.
There are different commercial floor cleaning machines to wash, scrub, polish, and remove debris from just about any floor material or carpet. There are even specialized machines that restore floors to their original shine and clean sensitive materials like marble floors or exotic rugs.
Note that commercial floor cleaning machines are not used exclusively by commercial cleaning companies. While it's true that cleaning companies make up a large segment of floor cleaning machine buyers, any business with floors to maintain can benefit from the equipment's functionality at an affordable cost.
Whether you have basic or complex cleaning needs, or run a small retail store or large manufacturing plant, you'll find a variety of machines to help you increase your cleaning productivity.
This BuyerZone Commercial Floor Cleaning Machines Buyer's Guide will help you:
Learn the different types of equipment available
Determine your equipment needs
Understand the benefits of ownership
Set expectations for what you'll pay
Once you learn what commercial floor cleaning machines can do, BuyerZone can connect you with the top sellers in your area - for free.
Preparing for a Floor Cleaning Machine Purchase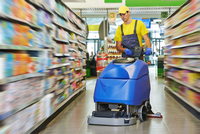 Before you start shopping for floor cleaning machines, you need to think about the layout and makeup of your facilities.
Start by measuring the areas you typically clean. Since floor cleaning machine performance is measured by the coverage area rating: the amount of square footage a machine can clean per hour: you'll know how quickly certain machines can handle the job.
You'll need to consider more than just simple square footage, though. You must also think about:
Cleanable space: Measure the exposed floor you'll clean, not the total square footage of the room. For example, you may have a 30,000 sq. ft. warehouse to clean, but 5,000 sq ft is used for shelving units. This means you need to find machines that can clean 25,000 sq. ft.


Narrow areas: If you have to clean hard-to-reach spaces or change direction in tight areas, make sure to purchase cleaning machines that are easy to maneuver and can fit into the various nooks of your office.
Next, it's important to know what material your floors are made of. Are they flat, smooth floors, or ceramic tiles with peaks and valleys? Are your carpets braided, extra thick, or made from special materials? Do you have high-quality marble or granite surfaces that are extra sensitive? It's important to look for machines that clean the floor materials you work with the most.
Also, consider where you will do your cleaning. Industrial or outdoor cleaning jobs typically require vehicles powered by gas or propane. These machines are the most powerful and provide the longest run times, but they cost the most and are too noisy to use during normal business hours. Battery-powered floor cleaning machines are best for commercial or indoor settings because they're quiet and protect air quality, but the batteries require more maintenance and you must recharge them for several hours before you can use them.
Floor cleaning machine considerations
Before you start looking at the different floor cleaning machines available, here are some important things to keep in mind:
Ease of use: Operators spend less time figuring out how it works and more time completing cleaning tasks.


Environmental concerns: You may want to look for "green clean" or "environmentally-friendly" equipment that conserves resources and protects air quality.


Durability: With proper maintenance, a quality floor cleaning machine can be used 400 to 600 hours per year for 8 to 10 years. If you'll rely on a machine frequently, find one that can perform the job without getting overworked.


Convenience: Instead of focusing on specifications like horsepower or RPMs, look at features that will make your job easier, like larger cleaning solution tanks or longer battery life.


Safety: Make sure the machines comply with OSHA standards. If you work in a business like a hospital where air quality is a top priority, you may have to purchase machines that feature additional safety measures like HEPA air filters that prevent the release of harmful particles.


Simple maintenance:

Dealers

can show you how to troubleshoot quick problems and keep mechanisms clean to keep your operations up and running and extend the life of your equipment.
Understanding Floor Cleaning Machines
Floor cleaning machines are not "one size fits all". Businesses need different machines according to the size of their floors, the type of cleaning they need to do, and how quickly they want jobs done. They may also have more specific needs like presenting the most professional appearance, or limiting the use of harmful chemicals. Here are some considerations to keep in mind.
There are three main modes of operation for floor cleaning machines:
Manual push machines: Hand-operated equipment for cleaning small surface areas like short hallways or individual offices. They're the least expensive, but require the most maintenance and aren't suitable for larger jobs.


Automatic, walk-behind machines: Bigger, self-propelled machines that handle larger area floors and carpets such as hallways or cafeterias. Walk-behind units require less energy and maintenance than manual equipment, but can take several passes to clean wide areas.


Ride-on machines (or riders): Cleaning machines for the largest areas like warehouses, parking lots, or arena floors. Riders cover the most surface area in the fastest time, but they're the most expensive, hardest to store, and not suitable for reaching narrow spaces.
Floor cleaning machine benefits
In addition to cleaning faster and making your staff more productive, floor cleaning machines also provide other key benefits:
Cost savings: Floor cleaning machines reduce the time staff spends on cleaning jobs so you spend less on hourly wages.


Ergonomics: Users can operate lightweight or automatic machines comfortably, without strain or injury risk.


Workload reduction: Automatic settings help reduce the physical effort needed to operate the machines.


Versatility: You can save money (and storage space) with machines that handle multiple jobs from a single unit, such as a sweeper/scrubber.
Of course, not every business needs floor cleaning machines. Many companies hire commercial cleaning services to handle their floor cleaning and other maintenance work. And businesses with little floor space can get by with traditional cleaning equipment.
Types of Floor Cleaning Machines
Floor cleaning machines are application-specific: if you want to clean floors or carpets a certain way, there's likely a machine for that project. With a variety of sizes and power options available, you can find the appropriate machine to wash, scrub, or restore just about any floor surface.
Hard floor cleaning machines
Compact floor machines: Also known as swing machines, they're the most common equipment for cleaning and polishing hard floors like wood, tile, and smooth concrete. These low-speed machines easily and safely navigate through narrow paths and around furniture to sweep away loose dirt and leave the floors looking shiny


Scrubbers: Highly efficient for their use of high-powered brushes, these machines clean textured hard floor surfaces and then dry them. Scrubbers are generally easy to use and maintain, and allow you to easily swap out scrub heads for different-sized jobs.


Burnishers: Remove scuffmarks and light scratches while producing a glossy finish and removing dust after the job. These fast and quiet machines are available in different speeds based on your floor's dimensions.
Other hard floor cleaning machines
Sweepers: Gas-powered vacuums for large outdoor cleaning projects (parking lots, sports stadiums)


Scarifiers: Equipment that uses multiple brushes to remove thick, stubborn grease and oil deposits (common in kitchens), or residual glue (left behind after carpet removal)


Safety buoys: Battery-operated devices with a built-in fan to help dry floors and alert passers by that the floors are being serviced
Soft floor cleaning machines
Proper carpet and rug cleaning requires three levels of maintenance:
Preventative maintenance: Typical day-to-day cleaning
Interim maintenance: More comprehensive, deep-surface cleaning
Restorative maintenance: Cleaning embedded dirt deep in the carpet fibers
Commercial vacuums are the best approach to preventative maintenance. These devices remove loose dirt, dust, and soil from carpets, and range from standard upright models to wide area and ride-on versions for the largest carpeted areas. Specialty vacuums like quiet, lightweight backpack vacuums that are easy to carry around, or large-capacity wet-dry vacuums that quickly clean up spills and leaks, offer more specialized solutions.
For interim or restorative maintenance, carpet extractors use a hot- or cold-water power wash to break down heavy dirt and grime deep in the carpet fibers, and then extract and contain the dirty fluids. Extractors also clean the edges of soft floors and allow you to program different cleaning jobs into the machine's memory. You can purchase portable extractors for spot cleaning, or walk behind or ride-on extractors for larger carpet-cleaning jobs. An additional carpet dryer can provide ventilation and help speed up the drying process.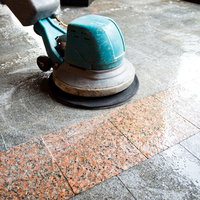 Specialty floor cleaning machines
If you have expensive floors or carpets, you'll want to keep them looking new and protect the value of the materials. Specialty floor cleaning machines handle sensitive cleaning jobs or multi-process functions. This category of machines includes:
Floor restoration machines: Floor strippers remove an old finish, floor sanders rub down rough or splintered areas, and floor applicators put on a new finish


Touchless cleaning systems: Deep cleans and deodorizes dirty or contaminated areas (like restrooms or operating rooms) so the user doesn't have to touch germ-covered surfaces


Stone and marble polishers: Gently cleans and restores high-quality floor surfaces requiring special care


Critical filter vacuums: Contains hazardous materials and prevents dust and debris from entering the air
If you can't decide which floor cleaning machine is the best fit, you can find many useful resources online. Industry associations like ISSA, for example, provide helpful tools on their web site with background information on specific companies and equipment, product reviews, and online product demonstrations.
Choosing a Floor Cleaning Machine Seller
Floor cleaning machines are sold by seller networks, not directly from manufacturers. When you submit a free request for floor cleaning machine quotes through BuyerZone, you'll be matched to multiple manufacturers who will connect you to their local sellers. These sellers will assess your facilities and current cleaning methods, suggest machines that best fit your needs, and provide ongoing support for your equipment.
What to look for in a seller
Prices are fairly consistent between different brands, so you'll have to compare sellers based on other characteristics:
Warranty offerings: While a typical floor cleaning machine warranty offers three years on parts and one or two years on labor, some sellers may provide additional protection -up to eight to ten years on critical parts or longer guarantees on battery life. The better the warranty, the more secure you'll feel about the purchase.


Customer support: Can you reach someone after normal business hours? Are local repair techs available? How soon can you get assistance? Getting answers to these and other questions will indicate the level of service sellers provide after the sale.


Experience: Dealers that have been around for a long time likely know how to keep customers happy.


Replacement parts: To ensure your machines are always up and running, sellers should have quick access to replacement parts that wear down frequently like belts, brushes, and squeegees, as well as consumables like filters and cleaning solution.


Descriptive web site: This is a good way to learn more about a seller's history, their product line, and whether they respond to industry trends like touchless cleaning systems or microfiber cleaners.


Training: Work with sellers who provide hands-on training for you and your staff to learn how to safely use and maintain the equipment.


Offers multiple products: If you need to buy several different machines, try to find a seller that offers them all. This keeps service and support under a single umbrella so you only need to contact one company when problems arise.
Machine certification
Some sellers demonstrate the quality of their floor cleaning machines by paying a non-profit industry organization to verify the equipment. Underwriters Laboratories (UL), for example, certifies equipment so buyers know they are purchasing reliable machines that comply with OSHA and ISO 9000 regulations.
The Carpet and Rug Institute lists vacuums and extractors that will effectively remove soil and contain dust, but won't alter your carpet's appearance. They also indicate the environmental friendliness of a machine by declaring it "Green Seal certified."
On-premise demonstrations
The best way to gauge how well a machine works is to try it out at your facility. Dealers should bring the machines to your location so you can evaluate its functionality. If they can't bring sample equipment to your site, make sure they provide a hands-on demonstration on their premises.
It's always helpful to invite the employees who will operate the machines to the demonstration. Let them try out the equipment, ask questions about certain features, and provide feedback. Not only will they learn how the machines work, it will make them feel like an important part of the purchasing process.
Commercial Floor Cleaning Machine Pricing
A quality commercial floor cleaning machine can be expensive, but you may not realize how it could help you save money. See what other BuyerZone users have paid for floor cleaning machines.
Looking at your total cost of ownership (TCO) can determine if a commercial floor cleaning machine will pay for itself over time with labor savings. Here's an example of TCO calculations for a 20,000 sq. ft. auditorium floor that gets scrubbed once a week:
If you pay cleaning staff $12 per hour and the job takes seven hours to complete, you'll pay $84 each time. That's $4,368 annually for labor costs (before benefits and perks).
If you buy a $4,000 walk-behind scrubber with a 20,000 sq. ft. coverage rating, you'll pay $12 each time for the one-hour job. Your labor costs drop to $624 annually, saving you $3,744 - almost the entire cost of the scrubber in just the first year.
Extrapolate this amount over several years, or factor in multiple cleanings each week, and you'll get an even clearer idea of the money you can save over the life of the machine.
Commercial floor cleaning machine price ranges
Commercial floor cleaning machine prices can vary greatly depending on the application, power, and coverage area. As a rule of thumb, you can find most machines grouped by the three types of operation we covered in floor cleaning machine basics:
Hand-operated machines: $500 to $2,000
Walk-behind machines: $3,000 to $10,000
Ride-on machines: $8,000 to $100,000
The features you choose will push you towards one end of the pricing spectrum or the other. For example, typical battery-powered machines can cost twice as much as plug-in equipment, and even more if the machine features a low-maintenance gel battery. Internal combustion (IC) engines for outdoor use cost 100% to 200% more than battery-powered indoor riders.
To protect your equipment from repair costs, you can add a preventative maintenance agreement for $500 to $1,000 per year. With a maintenance agreement in place, sellers will inspect and service the equipment a few times each year. This helps protect your investment and ensures you don't lose access to your equipment at critical times.
Also, make sure your purchase includes delivery and installation. A commercial floor cleaning machine can weigh hundreds or thousands of pounds, so if delivery is priced separately, your costs could jump.
Specific commercial floor cleaning machine prices
With dozens of different floor cleaning machines available, it's difficult to pinpoint exact pricing data for each. The segments described above will give you a general idea, but here are some price ranges for the most common floor cleaning machines:
Scrubbers: $400 to $50,000: The low end includes "motor on a stick" scrubbers, while the high end consists of the most powerful ride-on scrubbers.
Polishers: $1,000 to $5,000
Sweepers: $300 to $13,000
Vacuums: $250 to $25,000. The low end includes backpack vacuums, wet/dry vacs, and standard uprights; wide-area and ride-on vacuums tend toward the high end.
Carpet extractors: $2,000 to $4,000
Carpet dryers: $800 to $3,000: Heated models fall closer to the high end.
Floor restoration machines: $800 to $4,000: Standard floor strippers and sanders fall in the lower range, with critical filter vacuums and touchless cleaning systems making up the higher end.
Regardless what you pay for your commercial floor cleaning machine, make sure it's an "out of the box solution," that is, that it includes all the supplies you need to get started the day it arrives. You may think you got a good deal on a scrubber or carpet extractor, but lose out on the savings if you have to shop separately for batteries, chargers, brushes, and other accessories.
Are used machines worth buying?
Most dealers only offer new equipment. If you're looking for a pre-owned machine to save money, you'll have to search online or check classified ads. While you'll pay less, you won't get the same level of service that a dealer provides. Before you buy used, research the item carefully and ask the seller a lot of questions about its performance.
Rather than deal with the uncertainty of a used machine, dealers can offer brand new equipment through a lease. Leasing allows you to spread your payments out so you get the best technology without breaking your budget or worrying about the equipment's quality.
Ready to Compare Floor Cleaning Machines Price Quotes?