Meeting Room Tables and Other Desk Types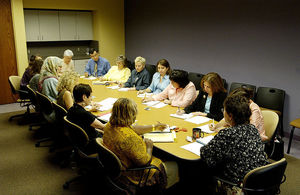 Meeting room tables are essential for your business. Whether you're creating a large table or individual areas, desks come in a variety of shapes and sizes, and are sold in pieces that allow you to form one different meeting areas for your participants. Rectangular tables with half-circle tables can create an oval "racetrack" style setup, allowing comfortable seating for everyone including those sitting at the corners.
Meeting room tables can provide a mobile and modular solution for presentations and brainstorming sessions. Casters provide mobility to transport sections of the table around. They can be lightweight and portable for easy setup and storage. Special connectors can lock individual pieces of the tables together. You can also order tables with a thick laminate top to provide a nice work area for writing or reviewing documents.
Your Meeting Room Style
There are a variety of options when it comes to meeting room layout design. In addition, there are many options for your meeting room table, depending on how close you want participants to sit and where you want the focus to be:
Square: Enhances close discussion and eye contact for small group sessions
U-shaped: Horseshoe design that allows easy exchange of ideas
E-shaped: Add-on to U-shaped tables that allow you to invite more people
T-shape: Add-on to U-shaped tables that provides a center table for more work space
V-shape: Angled tables towards the front of the room to encourage eye contact and open discussion
Classroom style: Several rows of tables and chairs facing the front of the room for training sessions or orientations
L-Shaped Desk Design
The L-shaped desk provides a larger workstation while maximizing available workspace. It comes complete with storage and filing compartments, a keyboard pullout and a writing pullout to keep the desk clear. The L desk provides enough room to keep your computer tower on the floor. The extra space is perfect for to hold one-on-one meetings with colleagues at a private workstation.
Most L-shaped desks feature a credenza and a hutch with adjustable shelves to file large amounts of paperwork. The tabletop features a high-quality, high-pressure laminate top for a sturdy writing surface. Interlocking drawers provide plenty of room to organize files. A cable management system prevents wires from getting tangled under your L desk, and a hidden power manager helps avoid accidentally unplugging your devices.
L-shaped desks feature multiple utility drawers. In an effort to reduce clutter, but you can create more space with pedestals that provide additional box and file drawers. The L-shaped desk features like wood color and finish can be selected to accommodate your business style. The desks feature a brass finish on the guards to help prevent scratches and stains. This protection adds to an L desk's long-term durability.
Although the L-shaped desk can often have several parts and weigh several hundred pounds, most vendors will ship them fully assembled so you can begin working with it on the day of delivery. You also receive a limited warranty of five to seven years that covers the major parts of the desks.
The Cost of a Conference Room
When you're ready to set up your meeting room, in addition to style and layout, you will need to decide on the cost. The cost of setting up a conference room depends on your style and selection of main stay pieces like ergonomic chairs and meeting tables. The conference table you choose will likely determine the chairs and other accessories.
Investing in a more expensive conference table may leave less to spend on smaller items like chairs, end tables, presentation boards, and lighting. To design a standard conference room, complete with meeting table, 8 chairs, wall cabinet, and presentation board, you can expect to spend about $4,500. Customized design features, upgrades, and additional seating would increase the price.
Ready to Compare Office Desks Price Quotes?