Introduction to Purchasing Office Desks
Buying a desk often seems like merely a matter of choosing style and size. If you know the look you want, the purchase should be simple.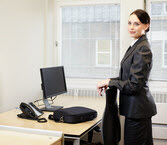 Unfortunately, buying a desk involves more than just a good eye. Variations in quality can mean the difference between a desk that lasts for decades and one that winds up in the trash the following year.
The primary difference among desks is the material used in their construction. Desks are typically made from wood, laminate or metal.
While wood is considered to be the best looking-material, it tends to scar and must be treated to maintain its appearance. As a result, most desks are made of laminate, which is a plastic finish applied to a wood core.
Laminate comes in a wide array of patterns, from wood grain to color finishes, and is available in the budget and mid-market segments. For even greater durability, some businesses prefer metal desks.
Evaluating the quality of office tables and desks
A good way to check the quality of office tables and desks is to examine the construction of the drawers. Higher quality drawers will have a sturdy suspension, using metal suspension rollers. Make sure that the drawers open and close smoothly when bearing weight. Also check to see if the drawers slide out to their full length, allowing the user to fully utilize the space.
With wood desks, continue to examine the drawers to assess the quality of construction. Higher-end office tables will have drawers that are assembled using an interlocking dovetail construction rather than staples or glue. In addition, the bottom of the drawers will use a wood veneer or heavy plywood rather than plastic melanine sheet.
When considering laminate desks, examine the type of laminate used. A thick, high pressure laminate withstands stains, scratches, watermarks, and other day-to-day office abuse much better than a thinner laminate. In addition, more expensive desks typically have rounded corners rather than regular squared-off corners.
The primary indicator of quality for metal office tables is the gauge of steel used in their manufacture. This can be assessed by simply feeling how solid the construction is and checking a desk's overall weight. One area to examine in particular is how the drawers look when they are closed. If the desk is not set right, you will see a gap where the drawer meets the desk.
The warranty can give a good sense for the life expectancy of a desk. Mid-market desks typically come with warranties of 5 to 15 years, while high-end desks are designed to last several decades.
The edges of a desk typically show the most wear, especially at the corners and at the center near the chair. You may want to check the edge surface to test its resistance to chipping.
Buying Tips & Pricing
Choosing computer desks
When using a computer on a desk, you must also make sure that the keyboard can be placed at a comfortable height.
A normal desk height of 29-30 inches can result in great discomfort when working at a computer for long periods of time. To address this issue, the desk should be equipped with either a keyboard platform (preferably adjustable), or legs that can be adjusted. Check also that the keyboard platform is large enough to support a mouse or other pointing device.
Also consider how computer wiring is managed. Some computer desks are equipped with wiring holes. These allow wires to be dropped through the worksurface so they do not hang over the edge of the desk.
Other desk manufacturers address this issue by adding channels along the edge of the desk to funnel the wires. Some manufacturers have even developed a storage area for a surge suppressor so it can be kept safely out of a foot's reach.
Pricing
Not sure how much high-quality office furniture is going to cost? Take a look at prices other BuyerZone users reported paying for their office desks and conference tables.
One attractive option for low cost, but high-end desks is to buy remanufactured furniture. Vendors replace worn parts and refinish surfaces to remove damage. Limited availability generally makes this a better solution for smaller companies.
Sales are generally slowest during the summer, making it the best time to negotiate a deal on furniture.
Ready to Compare Office Desks Price Quotes?