Customize Prefabricated Booths for all Your Needs
As you shop for prefabricated booths or shacks, you have many options to choose from. Whether you want portable shelters, ticket booths, security booths or something similar, vendors can customize the structure for style, functionality, and employee safety.
Here's how to design the booth for your specific purpose.
How customization works
Vendors usually have standard designs available for structures, such as ticket booths, which must comply with building codes. These vendors often provide you with choices for features within this framework so that you get an aesthetically pleasing structure that functions efficiently and is comfortable for employees at the same time.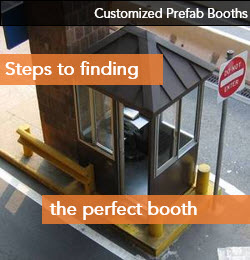 When shopping for the booths, you can easily customize materials, dimensions, and ergonomics. You can also control your level of security. Below are explanations of the options, as well as examples of ways for you to tweak booths to your business needs.
Booth materials
For security booths, vendors usually offer steel or aluminum framework options to resist rust and withstand harsh weather. But beyond that, there's a lot of potential to make it your own. To customize it to your specific purpose, take into account the following considerations:
Walls and roof: Decide between what type of panels you want; whether or not you need insulation; and any colors or finishes to dress it up. Roofs are available in standard integral design, kingspan insulated design (KD), and tapered.
Flooring: Aluminum and vinyl are the two most popular options here, but you can also opt for rubber mats to provide additional comfort to security or staff.
Doors: Your location and environment will largely determine whether you choose from sliding, swinging, steel, storefront, or additional styles.
Windows: Similar to doors, you can choose from sliding, fixed, and ticket windows, each with options related to tint that will fend off glare while providing privacy and extra safety.
Dimensions and ergonomics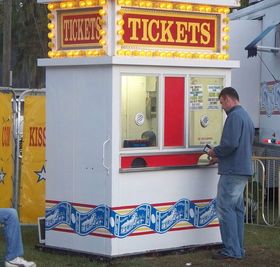 Standard sizes range from 72x72x96 on the large end to 48x48x96 on the smaller end and cost about $7,000 to $4,100 respectively. That said, you can easily have something tailored to your exact dimensions - including round, octagon, and other custom shapes - but expect each degree of complication to add to the cost.
In addition to adequate size, providing employees a work space that is ergonomic and functional is also important. Happy employees work efficiently, increasing business output. So add features that promote employee well-being. A refrigerator, toilet, and sink are appropriate items for employees with lengthy shifts or who work in remote locations.
Additional comforts and conveniences include:
Shelving and drawers
Plastic laminate or stainless counter tops
Intercom systems
Electrical outlets for computers and other equipment
Enhanced interior and exterior lighting
Heat and air conditioning
Exhaust fans
Don't forget to inquire if the vendor does pre-wiring and whether the foundations are in place for the features you need.
Security
Ensure your employees are safe within the prefabricated booths through security considerations that pertain to the booth's surrounding location and the nature of the work being done. For example, a military installation and a movie studio will require vastly different levels of security. Nevertheless, bullet-proof walls and glazing are often used for guard shacks, as that particular job comes with a certain degree of risk.
For strong windows, ask the vendors if they carry thick, clear, tempered safety glass. This option reduces the chances of break-ins, which can be costly events and disrupt work routines.
Additional security enhancements can include:
Explosion-proof electrical systems
Security screens, burglar bars, and roll-up shutters
Bullet-resisting construction (typically specified by levels of resistance)
Most vendors design and construct booths off-site and then ship them to your desired location. Shop around for affordable pricing prior to signing any paperwork to get the best value for your booth. Plus, for short-term solutions, you may even be able to lease the structure of your choice.
Ready to Compare Booths and Shacks - INACTIVE Price Quotes?