Finding the Right Drexel Forklift for Your Workplace
Landoll acquired the Drexel forklift line in 2003 to manufacture high-quality Swingmast lift trucks. Drexel lifts are unique in their design because they allow drivers to control the entire truck, not just the mast assembly. The basic lift truck is essentially four vehicles in one, performing as a counterbalanced truck, side loader, reach truck, and turret truck.
Popular among business owners from a diverse range of industries, and warehouses in particular, Drexel machines have been reviewed and credited with the following:
"Drexel swing mast allows you to have narrower aisles."
"[Drexel] provides for fast put-away/extraction rates once the drivers get used to the truck."
"Drexel is the better choice ... from a mechanics perspective."
"Drexel is sometimes challenged when it comes to rear visibility".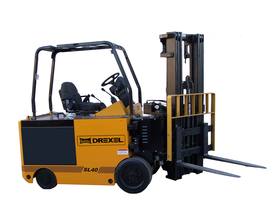 Photo courtesy of Landoll.com
Specializing in the manufacture of storage aisle machines, Drexel forklifts cost anywhere from $19,000 to $25,000 used and $49,000 to $60,000 new. Here's a quick look at the primary benefits found in popular models, while comparing key features in the chart below.
Drexel forklifts on the market
SLT-30AC: The vehicle is equipped with an AC traction and AC hydraulic motor and controller, AC electronic steering, and 7 miles-per-hour travel speed. The SLT-30-AC has a 90-degree rotating mast with a 20-inch shift for convenient load insertion and material retrieval.


SLT-35AC: Shares the same specs as the SLT-30AC but can handle 3,500 lbs. Both lift trucks are economical, with a longer run time per work shift (nine to 10 hours) on average for a single charge.


SL-30AC: The SL-30 offers the convenience of a 3-inch fork-side reach and a 20-inch mast side shift. The forklift is independently driven with front-wheel control and is equipped with dual front-wheel hydraulic disc brakes.


SL-60: The SL-60 is designed with articulating rear steel axles and a heavy-duty transmission. For safety purposes, the forklift has a battery-discharge indicator with lift interrupt.


SL-80: The SL-80 electric forklift runs with Curtis SEPEX dual-traction motor controllers, as well as the Curtis Series hydraulic motor controller. The SL-80 features a 30-inch shift radius with a 3-inch reach, as well as 40-inch shank forks with standard tapers.


SL-120: Representing the highest-capacity lift truck by Drexel, its recommended storage aisle is measured at 78 inches.


R-60i4: This forklift is LP gas- or diesel-powered and offers two-speed forward drive and a reverse power shift transmission. The R-60i4 runs with a four-wheel configuration, front-wheel-drive, and rear-wheel steering. It features a high-visibility mast with joystick control levers and hydraulic service brakes.


FL-60-EX: The FL-60-EX electric forklift has a four-wheel configuration for front-wheel drive and rear-wheel steering. It operates with a 36-V electrical system, high-visibility mast, and four-wheel brakes. The FL-40-EX shares most specs with the FL-60-EX, yet its capacity is 4,000 lbs and its max triple mast lift height is just higher at 234 inches. Both forklifts are explosion-proof for advanced safety protection.
Drexel comparisons table
| | | | | | | | | |
| --- | --- | --- | --- | --- | --- | --- | --- | --- |
| | SLT-30AC | SLT-35AC | SL-30AC | SL-60 | SL-80 | SL-120 | FL-60-EX | R-60i4 |
| Weight Capacity | 3,000 lbs | 3,500 lbs | 3,000 lbs | 6,000 lbs | 8,000 lbs | 12,000 lbs | 6,000 lbs | 6,000 lbs |
| Triple Mast Lift Height | 22' | 22' | 22' | 24' | 25' | 20' | 19.5' | 20' |
| Quad Mast Lift Height | 26' | 26' | 26' | N/A | N/A | N/A | N/A | N/A |
| Power | Electric | Electric | Electric | Electric | Electric | Electric | Electric | LP Gas |
Ready to Compare Forklifts Price Quotes?