Real-world Forklift Prices From Other BuyerZone Users
It can be hard to tell if you're getting a good deal on a substantial purchase like a forklift. One key way to double check is to see what other businesses paid for similar forklifts, and we can help you with that.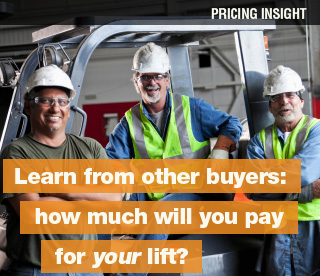 Thousands of BuyerZone users have shared their purchasing results with us, and the details are below. We've collected forklift prices on new, used, and leased forklifts to help you learn what other people are paying and how much you can expect to pay.
Key pricing points
Budget carefully. Beyond the purchase price, running a forklift entails some significant ongoing expenses. Operating costs, including fuel, oil, batteries, maintenance, and more, can add up quickly. Operating costs can range anywhere from $1/hr for small electric lifts to $20/hr for the largest models.
Test drive. Most dealers will allow you to try out the forklifts you are thinking of purchasing. This is an important step in the purchasing process, as a full day or more of using the truck will give you the best idea of how it fits your specific application. If an on-site demo is not an option, consider renting the same model forklift for a month - from another dealer if necessary - before you commit to buying it.
Brand names matter. Top-tier manufacturers command higher prices for their lift trucks -- but you get more than just a fancy nameplate. The additional cost for a high-end brand is often justified by improved reliability and an extended lifespan.

Want quick, valuable tips for buying forklifts?
Download our free PDF - the BuyerZone 5 Minute Guide to Purchasing Forklifts.
New forklift prices
"$27,500. We traded in for a Nissan CF60 diesel forklift. The Nissan lift had a 6,000 lb lift capacity, and maximum lift height of 276 inches." -- Industrial construction, Fort Worth, Texas
"$23,500. Clark Model C25D forklift: 5,000 lb capacity, tilt Mast, 3-stage lift w/side-shift, 48" forks, pneumatic tires." -- Telecom/Utilities, Saugerties, New York
"$60,000. Linde Forklift with free fall mast, 2 extra hydraulic outlets, Lewco hay bale handler and cab w/heater." -- Agriculture, Genoa, Ohio
"$20,328. c25 diesel forklift. 41" forks, sideshifter, backup alarm, signal lights, mirrors, included in price $550 freight." -- Manufacturing, Meredith, New Hampshire
"I purchased a 5,000 lb Yale forklift with a 214" mast, fork positioner, and fingertip controls. The purchase price was $22,000." -- Wholesaler, Kent, Washington
"$22,850 for a Hyster, 5000 lb capacity, side shift, propane, headlights, solid pneumatic tires, 42" forks, price includes delivery and tax." -- Other Business Service, Louisville, Kentucky
"$20,401 for a Clark C25 Forklift. Includes 5000 lb capacity, operator restraint system, seat belt alert, headlights, backup alarm, stop/tail directional lights, enclosed cab cage, pneumatic wheels, dual LP/gasoline engine, side shifting forks, operator's manual and parts manual." -- Health Care, Warrensburg, Missouri
"7,000 lb capacity Linde Forklift with side shifting fork positioner and triple stage mast - $36,500." -- Manufacturing, Boyd, Texas
Used forklift prices
"$13,000. Great deal on a 2007 used Yale forklift with 4,500 hours. The lift had pneumatic tires, a load capacity of 13,200 lb and a max fork height of 11 ft." -- Recycling center, Putnam County, Indiana
"$10,500 for a used Komatsu FG25ST-14 forklift. The truck has a 5000 pound lifting capacity, max lifting heigh of 10 ft. 7 inches, with 1,100 working hours." -- Sea Port, Baltimore, Maryland
"$3,950 for a used 1986 Toyota forklift. We got an automatic powershift with 42' and 48' forks. Lowered height of 77", with 118" for a maximum fork height." -- Warehouse shipping, Sacramento, California
"$9,200 for a 2005 Toyota. 42 in. forks, side shift, gas, 189 in. lift." -- Government agency, White Plains, New York
" $11,090 for a used 2004 Komatsu Forklift with 2500 hours, 5000lb capacity, side shifter, 3 stage boom, LPG and cushion tire." -- Manufacturing Company, Chicago, Illinois
"$13,000 for 5000 lb reconditioned pneumatic 2003 Hyster truck." -- Manufacturing Company, Azusa, California
"$13,500 - Komatsu 5000 lb 3-stage mast with side shift, solid tires, 800 hours, new paint, LP/gas, 90 day warranty. " -- Media/Entertainment, Gillette, New Jersey
"$6,900 for 1999 Yale 3,000 lb forklift. 8,000 hours, good condition." -- Agriculture, Stanwood, Washington
"I Paid $8,500 for a 1998 Nissan 50 forklift that had been reconditioned - 90 day warranty - delivery was included." -- Wholesale, Spiro State, Oklahoma
"$9,900 for a 4,000 lb propane lift truck with pneumatic tires and 3 stage upright. Came fully reconditioned with a 6 month warranty." -- Manufacturing Company, Chicago, Illinois
"11,000 lb capacity Yale lift. In excellent shape with low hours, no reconditioning required. For $21,000." -- Insurance, Jacksonville, Florida (Ed: we're not sure why an insurance company needs a forklift, either.)
"$10,900 for a 2005 Schaeff, 1900 hrs on the meter, fully reconditioned to include batteries and a fresh paint job, unit looks and performs as new." -- Government, Minneapolis, Minnesota
"Paid $4,500 for an old Hyster 6000 lb. lift with long forks and 3 tier lift. Good buy." -- Wholesale, Simpsonville, South Carolina
Forklift rental prices
"I leased a Komatsu Forklift for one month for $850.00. " --Manufacturing Company, Oceanside, California
"We entered into a rental agreement for a Nissan Forklift at $524 per month for 36 months." -- Government, Washington DC
"$950 for a month's rental." -- Transportation/Logistics, Lawndale, North Carolina
"I am renting a forklift. The forklift cost broke down this way: Base monthly price $1,050. $85 delivery fee. $85 pick up fee." -- Business Services, Mosier, Oregon
"Komatsu (5000 lb capacity) - Rental for approximately $900 per month. This is a test for a lease at approximately $400 month for 36 months." -- Business Services, Chicago, Illinois
Want more information on choosing a forklift? Read our Forklift Buyer's Guide.
Information was provided by BuyerZone users. Quotes have been edited for clarity only.
Ready to Compare Forklifts Price Quotes?