Forklift Safety is Serious Business
If you've ever had any doubts about the importance of properly training forklift drivers, the following statistics should settle the question. According to the U.S. Bureau of Labor Statistics, on average 100 workers are killed and 20,000 are injured each year due to forklift mishaps. The most common causes of fatalities include:
Forklift overturns (22 percent),
Pedestrian worker struck by forklift (20 percent),
Driver or employee crushed by forklift (16 percent), and
Driver fall from forklift (9 percent).
Worker struck by forklift
Fatalities that occur when nearby workers are hit by a forklift are among the deadliest forklift injuries. In retail settings, it is often hard to move efficiently with so many workers present. In some cases, the forklift operator does not take enough precaution when moving around the work site. Driving too fast and operating in reverse with a load that obstructs the view are two common ways workers end up victims.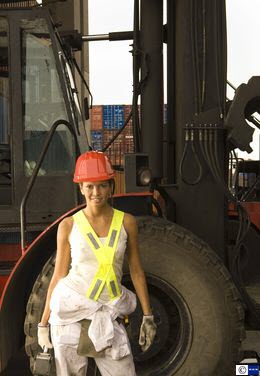 Worker falls from forklift
In the heat of the moment, having a fellow worker hoist you up 20 feet to change a light bulb or grab an item from a shelf probably seems like an excellent idea. Unfortunately, it is really too much of a gamble.
Falls in the workplace actually made it to OSHA's Fatal Four. If your work environment encourages employees to use a forklift to reach common objects, you are violating safety precautions and could face serious consequences. By not enforcing safe behavior, you could be encouraging costly forklift violations.
Forklift turnovers
Twenty-five percent of all forklift deaths are caused by forklift overturns. In one case, a forklift operator, driving in reverse, was not alerted to the fact that there was an opening in the ground covered with plywood. In other cases, speed or machine malfunction played a part. The most common reason for turnovers, however, is not understanding how much of the load a machine can take, or improperly carrying a load.
Improper forklift operation is a source of damage, accidents, and litigation for industrial companies every year. You can prevent costly or dangerous forklift accidents by following federal regulations and adopting strict rules in your factory, warehouse, or storage area, and keeping in mind the following safety points.
Safety strategies
Choose the Right Drivers: Forklift safety issues are frequently linked to drivers who don't have the necessary experience. Guidelines from the Occupational Safety & Health Administration (OSHA) recommend that you only use drivers who are over 18 years of age. Create detailed training programs for them that include formal instruction, practical education, and strict evaluations. Evaluations should be repeated at regular intervals to ensure drivers have not grown sloppy. Rules and regulations are useless if drivers don't know them or don't put them into practice every day.
Pay Close Attention to Capacity Ratings: Every forklift, no matter what type, has a capacity rating that shows how much weight it can handle. Post these weight limitations clearly, and make them part of your company's forklift operation guidelines. It can be tempting to add more weight than the rating allows in order to finish jobs faster, but the habit is a dangerous one -- many of the most dangerous forklift accidents occur because top-heavy lift trucks topple while trying to lift too much weight.
Use Audible Warning Signals: Industrial lift and truck drivers should always keep a sharp eye out for other employees. However, it can be difficult to see around cargo or to know if anyone is coming around a corner. Forklifts come equipped with horns and other audible warning systems for this reason. Train your employees to sound the horn every time visibility is an issue, especially when rounding corners and intersections.
Keep People Away from the Loads: Even workers who don't operate the forklifts need some training. Instruct your employees to keep away from forklifts whenever they're in operation, and always to stay several steps away from the cargo and the forks to prevent injury. Casual behavior around forklifts should not be tolerated.
Go Slow: Another frequent cause of forklift accidents is too-rapid operation, which can easily unbalance loads. Forklifts should never make sudden turns or starts. Every movement should be studiously slow, particularly when rounding corners. Forklifts should also decrease their speed when moving up or down ramps and other inclines. This regulation goes hand-in-hand with meticulous care of surfaces, which should be smooth, hard, devoid of debris, and fully supported.
Maintain Forklifts Rigorously According to Class: There are several classes of forklifts, each with its own maintenance requirements based on the machine's components. In addition to poor driving, forklift accidents happen because of damaged, missing, or worn-out parts. Create a full maintenance plan to ensure that your forklifts operate correctly and that all parts are up to standard. Make forklift safety a key part of every job.
Forklift pre-shift inspections
Inspections take place in two parts: visual (before starting the engine) and operational. Operators should begin by making sure fluids are at proper levels. While checking the hydraulic fluid, look for cracks in the hoses, as well as in mast chains. The forks and tires should be in sound condition, while the finger guards and backrest extension and seat belt should be functioning without jamming. The compartment must be free of debris and clean to ensure there are no hazards for operators. Once you confirm these safe conditions, check that serial numbers of the lift are visible, as are warning signs. The manual detailing lift operation must be in the compartment, in readable condition.
The following forklift pre-shift inspections are required according to lift type:
Electric Lifts: Look at all cables and connectors for evidence of frayed wiring. In addition, check the hood latch and battery restraints. Using the proper protective equipment, examine electrolyte levels.
Internal Combustion Forklifts: Check engine oil and coolant and confirm that the belts and hoses are operational. Look at the radiator and brake reservoir, before making sure the air filter is clean.
Liquid Propane Lifts: With protective equipment, look at propane tanks to make sure they are the right size for the unit, have restraint brackets, and are in good condition. Any cracks in the tank make your vehicle unsafe to operate. Make sure the tank has been mounted correctly and the hoses are not leaking in any area. Look at the pressure relief valve to confirm it is pointing up.
Keep up with maintenance
Meeting OSHA requirements includes daily inspection of a forklift before it is used. The complete checklist depends on the exact type of vehicle and the power source. Basic checklist requirements include the following:
Inspect all areas for leaks, including fuel, oil and, brake lines.
Check the condition of all hoses, belts, chains and cables.
Inspect the level of all fluids.
Check the condition and inflation of the tires.
Ensure the finger guards and overhead guard are in place.
Ensure the manual, nameplate, and safety tags are attached to the vehicle.
Check the condition of the forks and retaining pins.
Brakes and pedals must be inspected for proper operation.
Gauges must be functional.
A record of fueling is required for any gas-powered vehicles.
Training Makes the Difference
It should come as no surprise that most experts say that training is the most important step employers can take to improve warehouse safety: Three of the top five OSHA citations relate to driver education. "The major cause of forklift accidents is lack of proper training," confirms Pat Huebel, national training and customer-care center operations manager for Toyota Material Handling U.S.A.
OSHA's forklift-training requirements have been in effect since 1999. "Since OSHA began mandating this training, the total number of accidents has decreased, despite the fact that the number of forklifts in use has increased," says Marvin Welch, vice president, risk management, for NACCO Materials Handling Group, which manufactures Hyster products.
While it's imperative that forklift operators comply with OSHA's training requirements, it's also important that managers and supervisors undergo that same training. "These are the people who see the operators on a daily basis," says Bob Mundson, e-learning manager and operator safety manager for forklift maker Mitsubishi/Caterpillar. "If they are well trained, they can point out concerns to operators. If they aren't well trained, operators end up [making mistakes] on their own."
There is a lot to learn about forklift safety. But if you come away with just three key points, you will be well on your way to improving safety in your facility. First, have all drivers and supervisors properly trained in accordance with OSHA requirements. Second, be sure all drivers pay close attention to vehicle stability (the "stability triangle"). And finally, be sure all drivers pay attention to pedestrians, and that all pedestrians pay attention to the drivers.
Ready to Compare Forklifts Price Quotes?