Forklift Side Loaders Are the Big Boys
As forklifts go, side loaders are the heavy lifters in the family. Forklifts are a required piece of machinery for many industries, such as shipping and receiving, retail, or construction, as well as various other industries. There are a variety of different types of forklifts available, as well as different ways to acquire one for your needs. We're going to examine these forklifts, and whether you'd be better served by renting or buying a new or used one.
What are side loader forklifts?
Sit-down and stand-up forklifts may be more familiar machines, so you may not have seen many side loaders. They can range in size from just about the size of large stand-up forklifts to big monsters mounted on flatbed truck chassis.
As far as their lifting capacity goes, they can lift from about a ton and a half, to well over ten tons. You'll find lower capacity units in warehouses where lift heights up to ten feet, as well as heavy industrial yards for loading and unloading heavy equipment from flatbed trailers. Typically, they're going to be used for longer loads and narrow warehouse aisles.
Rent or buy?
Before getting into prices for side loaders, keep in mind that short-term projects can be served by renting your forklift.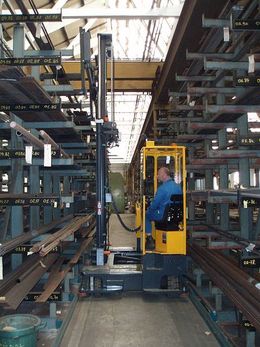 When looking to buy a side loader, you've got your choice of buying a new or used unit. Whether you decide on a new or used unit, the price will depend mostly on what fuels the unit (electricity, propane, gas, or diesel) and its capacity.
New electric units can range in price from about $1,000 for a unit capable of lifting between 1,500 and 5,300 kilograms, to more than $30,000 for a unit capable of lifting up to five tons.
Large capacity diesel units run from in the neighborhood of $20,000 for a three-ton unit to over $400,000 for a super high-capacity ten-ton unit mounted on a large truck chassis.
When looking at used side loading forklifts, the prices vary greatly by manufacturer, capacity, and power type. Some examples are listed below:
Combilift diesel side loader 8,000 kg capacity for $53,000
4,500 kg Combilift propane machine for $38,000
5,000 kg Bison electric for $18,800
2,000 kg Jungheinrich electric for $2,900
Our Forklift Buyer's Guide can help you find the best overall deal for your needs. You'll find who has this type of forklift available for sale along with the rated capacities and side-by-side price comparisons that will help you make an informed buying decision.
Ready to Compare Forklifts Price Quotes?