First Complete Forklift Simulator Could Reduce Workplace Injuries
For many years, simulators were reserved primarily for the military and other government programs, such as the U.S. Air Force and NASA. However, thanks to Tactus Technologies in Buffalo, New York, forklift operators will be able to receive training via simulator for the first time. The forklift simulator offers virtual training in a wide range of industrial environments and is expected not only to increase effectiveness and decrease the cost of training, but also to ensure that operators are fully aware of the safety procedures and regulations set forth by the Occupational Safety and Health Administration (OSHA).
Prevent thousands of injuries and fatalities every year
According to OSHA, there are roughly 85 forklift-related fatalities, 39,000 serious injuries, and 61,800 non-serious injuries every year. With an estimated 855,900 forklifts in the United States alone, this means that roughly 11 percent of all forklifts will experience an accident on an annual basis.
Over two-thirds of these fatalities, however, are caused by the forklift tipping over or the operator being crushed between the vehicle and a surface, both of which are common problems. The new forklift simulator could prevent these problems by allowing operators to experience warning signs first-hand in a virtual environment, which then allows them to prevent accidents before they occur in the actual workplace.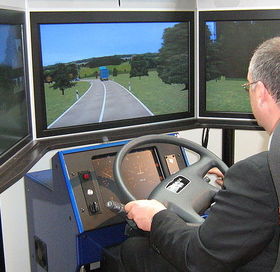 More than a videogame
Known simply as "3D Forklift Trainer," the simulator features a videogame-like system complete with a replica steering wheel, pedals, and even optional forklift-like seating. Unlike a video game, however, there are no points, boss levels, or captured princesses: 3D Forklift Trainer is a straightforward workplace simulator.
Current forklift training often involves students watching videos, observing diagrams, receiving brief lectures, and even taking tests. According to Tactus CEO and co-founder Jim Mayrose, however, such training is passive and doesn't fully engage the student. Simulators, by contrast, are interactive and serve to better prepare trainees.
As a result, the simulator allows students to ditch tests and lectures in exchange for an immersive virtual environment where lesson plans involve reacting to safety challenges such as ramps, elevators, and people, all while reinforcing correct techniques and safety procedures. In addition to this, the forklift simulator maintains student profiles, and these evaluate progress and performance. Complicated as it may sound, it only takes three to four hours to complete the entire simulation.
Making the investment
Each purchase of the simulator comes with a full license for 3D Forklift Trainer, as well as the steering wheel and pedals. Customers may also choose to purchase an optional 60-inch screen and forklift-type seating. A commercial version of the software featuring a warehouse environment is also available.
3D Forklift Trainer is compatible with companies of all sizes and was installed for the first time at the Cummins engine plant in Jamestown.
Ready to Compare Forklifts Price Quotes?