Buying a Hyster Forklift - What To Know
Buying used Hyster forklifts makes sense for many business owners. If you need less than six hours of daily use (30 hours weekly) from a forklift, the investment in a new model doesn't make a great deal of sense. Turning to used forklifts is the right move to make when you have limited resources or limited needs for the machine.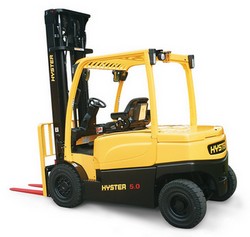 Photo courtesy of Hyster.com
Here's a quick buyer's guide with the questions to ask before you buy a pre-owned Hyster forklift for your business.
With a company history that dates back to the 1920s, and catchy names like Karry Krane (1940) for their mobile crane, Handy Andy (1941) for their 4,000-lb forklift, and their 15,000-lb version simply called "Jumbo" (1942), Hyster has a long track record for developing industrial grade equipment that's as powerful as it is robust.
Just a few years shy of their centennial, they now provide more than 130 different lift trucks configured for gasoline, LPG, diesel, or electric power. They manufacture machines to meet the broadest demands of any industry, offering lifts with rated capacities anywhere from 2,000 to 115,000 lbs.
Basic models start in the neighborhood of $16,000 to $20,000 and quickly travel north from $25,000 to $57,000 for standard mid-range sit-down models featuring a 15,000-lb to 17,000-lb lift capacity. Expect to pay $75,000 to $100,000 and above for top tier models (36,000+ lbs).
Hyster machines have remained popular among businesses and consumers for a myriad of reasons that include:
Fuel-efficiency: "[The Hyster forklift] has a specially-designed lightweight frame and an engine that produces up to 12% fuel savings."
Comfortable seat: "This seat is one of the best seats available on the market, with a fully adjustable design that significantly improves operator comfort and productivity." (Reviewing the seat on the H50CT.)
Safety features: "The high visibility overhead guard of a Hyster lift narrows and angles the tubing, allowing for extra strength and a clear line of sight - providing the best possible visibility!"
Purchase considerations
Can you get the same guarantee from private owners as you can from a Hyster dealer? Hyster dealerships are usually meticulous in their documentation of a used lift's condition. You'll find checklists containing as many as 100 points for you to review when shopping at a dealership. When buying from a private owner, you may not see the same level of documentation. However, with minimal overhead, a private owner's price will typically be lower than a dealer's. Decide if the extra buying security is worth it.
Has a full review of the lift's condition been completed? Before you buy used Hyster forklifts, you need to be sure the machine is in full operational condition. You don't want any surprises a few weeks or even months down the road. Get a breakdown of the lift's condition in writing. If there is little information to review or (even worse) no service record, you're better off choosing another seller.
Are lifts previously used as rental equipment your best bet? Forklifts that were used as rental equipment often end up on the market. Will one of these Hyster models prove better than a lift that was used by a small business? It will depend on how much activity the lift saw. Lifts that have logged high hours should be closely inspected for wear and tear.
Can a short-term leasing prove to be a better value than buying used Hyster forklifts? At the end of your analysis of different lifts' conditions and price points, you might find you still can't afford to buy. In this situation, consider leasing a Hyster model for the upcoming work you have contracted. Short-term leases may help you get the income you need to purchase a model in the near future.
Your decision to buy a used Hyster model will hinge on the answers to these questions. If you're satisfied with the lift's condition and price, you'll be happy with the durability and quality of the Hyster brand.
Ready to Compare Forklifts Price Quotes?