The Advantages of Skytrak Forklifts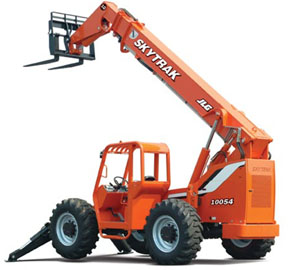 Photo courtesy of Skytrak.com
Most commonly used in agricultural and industrial applications, the Skytrak forklifts line provides telescopic handlers that are capable of transporting and managing loads that would typically be inaccessible to traditional forklifts. The machines were designed with the goal of combining several specialty machines into a single unit.
With a boom that extends away from the vehicle and upwards, the telehandlers manufactured by Skytrak can load or unload pallets from high surfaces with ease, and the variety of models makes the line suitable for a wide array of applications. Skytrak forklifts are capable of managing load capacities of up to five tons, and lifting them up to 54 feet in the air.
Safety features
One of the most appealing factors of a telehandler is its ability to reach significantly elevated pallets and cargo areas. But for some of these types of machines, their very design can make them unstable. Skytrak forklifts feature the patented StabiliTrak system, which increases stability significantly. An added benefit of this stability is the heightened level of operator security and comfort it affords, which can lead to fewer accidents on the job site.
Because of the overall stability of Skytrak forklift models, they're more capable of handling the kinds of terrain that other telescopic handlers would struggle to navigate. Their simple design makes for greater ease of use, another feature that adds to operator security and confidence. Skytrak forklifts are also tested heavily to ensure peak performance, handling, and accuracy, further increasing their safety over comparable handlers.
Increased productivity
Because the StabiliTrak system makes these forklifts a more dependable option in telescopic handlers, there's an inherent boost in productivity simply because they suffer from fewer lost-time incidents. There's also a full line of attachments and aftermarket parts to make Skytrak forklifts more versatile and user-friendly, while high-performance axles and four-speed, modulated transmissions work to make the equipment more manageable and efficient.
The bearings are sealed, which can reduce both maintenance costs and time lost due to servicing, and the very design of the machine eliminates the need for liquid-filled tires. Advanced hydraulics and an exclusive interlock system increase load-control precision and horsepower while allowing for full boom extension. Higher load capacity and precision handling make quick work of large jobs, which allows operators to move onto the next task more quickly. Total cost of ownership is typically lower, while resale value is generally greater than that of comparable telehandlers.
Industry popularity
Increased stability, performance, and productivity in conjunction with all-wheel steering, safer and more comfortable cabs, and their ease of operation have driven Skytrak machines to the top of the industry. As a result of their superior performance and safety features, Skytrak forklifts are one of the most popular and best-selling brands within the industry.
Specific components and functionalities have generated user reviews that include:
"As a builder, a transverse carriage is a must - which narrows things for me to Skytrak."
"Skytrak is a great wood-framing machine."
Current costs
How high do you need to go? And how much weight do you need to take with you? These factors will determine how much your Skytrak will cost.
Expect to pay a minimum of $34,000 for a machine that's logged medium to heavy use, with far more telehandlers falling in the $47,000 to $63,000 range. At the high end, for something like a 2012 telescopic forklift with an enclosed cab and joystick control, you'll pay anywhere from $102,000 to $132,500.
Ready to Compare Forklifts Price Quotes?