Finding Deals on Cargo Containers
Instead of disposing of items you need because you don't have the room, consider cargo containers for your work site or home. Using these durable steel containers, you can store just about anything and protect them from weather damage and theft.
It's easy to get confused by the term "cargo containers". Many businesses believe this describes shipping containers to send materials from one location to another. While this can be true, the term "cargo containers" is also another way of saying "storage containers", "shipping containers", "sea land containers", or "steel containers." Regardless what you call them, these boxes provide a wide range of uses for all businesses.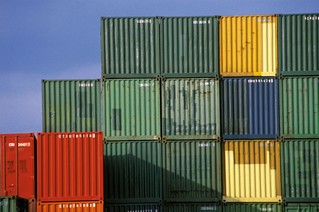 Cargo containers can store a large variety of job site materials safely and affordably.
For starters, businesses and homeowners use sea land containers to stock up on emergency supplies, raw materials, tools and equipment, and supplies. Those working in health care or manufacturing industries can also use these containers to store harmful items that you don't want to keep indoors like chemicals, explosives, and weapons. And with added dual cargo doors, construction and automotive businesses have more room to fit equipment, machine parts, and even vehicles inside.
Cargo container construction
Sea land containers and cargo containers are made of corrugated steel that provides strong and secure construction that's waterproof and weatherproof for storage and shipment. It features marine-grade plywood floors that are one-inch thick and can withstand thousands of pounds of pressure. The extra-strong floors allow you to safely store heavy equipment and large volumes of materials. Sea land containers carry ocean freight.
In addition, each cargo container is ISO-certified and features a corten steel roof that won't rust and sturdy cam rod locks which keep the contents protected from theft or vandalism. You can also customize your containers with simple add-ons like additional doors or shelving or more elaborate changes that can transform your container into a fully functional office trailer.
Sizing cargo containers
Most cargo containers are available in lengths of 10', 20', or 40' and some vendors can even provide custom sizes. Smaller containers are best if you have limited space and need to easily access items in the back of the unit. With larger models, you get far more storage space, but typically need additional doors in order to store materials from different directions.
You can determine the size of container you'll need by examining two factors: the size and volume of the materials you need to store and the available space you have on premises. Small containers are more appropriate for storing old documents and computer equipment. If you need to safely store bulky or heavy items, it's best to purchase a large container. Make sure to provide plenty of space around all container entrances to move items in and out freely, particularly if you need to drive a vehicle up to the container to load and unload cargo.
Shipping and delivery considerations
In addition to the cost of the cargo container and any customization options, you'll be responsible for delivery and shipping charges. A vendor will ship the container to your location on a flat tilt bed and use a crane to lower it into your desired spot. Your costs are based on the distance from the vendor and total weight so try to find the closest container vendor to save money.
If you're using cargo containers to ship materials, you'll have to pay two charges: one for the delivery truck to pick up the filled container and another to ship it to its destination.
Cost-cutting tips
Plan ahead online. - Quality services allow you to browse the total estimated cost for long-distance moving and storage online. This will enable you to play around with the dates to try and lower the cost (if it's works within your timeframe).
Get the total estimate. - By some estimates, an 8x8x12 storage container will cost you around $220. This is the total you'll pay. Make sure to always be looking at the total cost when comparing providers. Some will charge you $100 to deliver the storage container, and then another $100 to pick it up. This back-end cost can creep up and surprise those who only look at the initial cost.
Finding vendors
Before you sign on the dotted line, it's important to interview each potential seller to make sure you're getting the right fit for your needs. Here are a few questions to help suss out the best choice:
Can you work with me to pair a container to my specific budget?
How new is the container I'll receive? And is it guaranteed to be free of mold, mildew, and any other residue from previous uses that may cause an undesirable smell?
Do I have to pay in advance? If not, how much of a deposit is required?
Do your long-distance shipping rates change? And if so, how long is your quote good for?
Do you offer payment terms?
What do I need to know about customs (if shipping internationally)? And how do you help me with that?
Ready to purchase new or used cargo containers? Use BuyerZone's free request for cargo containers quotes service to get matched up with as many as six qualified suppliers to help you find the right container sizes and features. Simply complete a brief series of questions and we'll send the suppliers to you. Then compare your free quotes to determine which supplier you want to work with.
Ready to Compare Storage Containers Price Quotes?