Low-Cost Storage Solutions for Business
As a business owner, you may find yourself suddenly needing extra storage space. Your business may grow rapidly, requiring more inventory than your facility has space to store. You could have a surplus of seasonal items that you want to have out of your way until the next time they're needed. Instead of moving your business to new premises to gain storage space, think about using a portable storage container.
What to consider before adding a storage container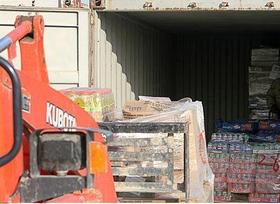 When you need more storage space, it should be the right size, for an affordable price, and offer you convenient access to your stored items. Most companies will provide you with a guide to help you calculate the cubic feet of space you need. If you are looking for a longer-term storage solution, don't leave yourself short. Allow for growth by getting a container slightly larger than you think you need.
You will find many options available. If you only need extra storage temporarily, a rental is probably your best choice. To meet a longer-term need, consider a purchase or lease-to-own option. Containers can be bought new or used, in many sizes. Be aware that zoning regulations frequently apply to large storage units, but permits are not usually required for temporary containers. Contact your city or county building department for local regulations.
Commercial storage containers
Capacities of commercial containers can range from just over 1,000 cubic feet to about 3,300 cubic feet. The average container is 8 feet wide, 8 1/2 feet tall, and 20 to 40 feet long. The construction industry often uses commercial-size trailers to store equipment on job sites - and these trailers do provide security, but they don't always offer easy access. The entrance doors will be a few feet off the ground, and you'll have to go up and down steps to load and unload items.
If you plan on buying, expect to pay:
10' x 8' x 8.5' - $1,500 to $2,500 new and $1,000 to $2,000 used
20' x 8' x 8.5' - $2,000 to $5,000 new and $1,750 to $4,500 used
40' x 8' x 8.5' - $3,500 to $7,000 new and $2,500 to $5,500 used
Storage containers can also be rented or leased for as little as $3 to $10 per day, with monthly rates falling in the $70 to $250 range, depending on the size of the container.
Portable Storage Containers
This portable storage solution is an excellent business choice, especially for longer-term storage for materials that do not have to be accessed frequently. Portable storage containers are normally very easy to load and unload. You can arrange to have one delivered to your location. Once it is filled with the materials you want to store, the company will pick up the unit and take to a different location for long-term storage.
Portable containers are a good choice for legal or medical professionals who must store large amounts of paperwork. If you don't need frequent access, off-site storage provides the best solution. For restaurants or retail businesses that reuse seasonal decorations, either on- or off-site storage would work.
Portable containers tend to be substantially smaller than their commercial counterparts, geared more toward the moving of a home or small office. Made from a variety of different materials depending on the vendor you select, you'll typically find them available in three sizes:
7' x 7' x 8'
12' x 8' x 8'
16' x 8' x 8'
Unlike a commercial storage container, drop-off and pick-up is the primary part of the expense, unless you're having them transported from one location to another, or use them for storage and keep them for extended periods of time. Plan on paying $200 to $250 total for both drop-off and pick-up and an additional fee, based on the size of the unit and your location, for the service itself.
Before you sign on for a container
Take the time to inspect the storage container before you accept it. The inside should be clean; normally you will be responsible for cleaning the unit before it is returned. Check for any holes or cracks in the seams, especially along the roof. You do not want your materials damaged by water penetration. Also, check along the floor level for openings. Rodents can get in through a hole as small as one-half inch.
Additional features are available for unique needs. Some portable storage systems offer added insulation or a heating and cooling system, a feature that can be critical for storing materials that could be damaged by temperature extremes. You might also need a unit with shelving for better organization. If you are storing high-value items, consider a unit with an alarm system.
Ready to Compare Storage Containers Price Quotes?