How to Choose the Right Construction Storage Container
Construction businesses have many issues in common. And one of the most popular issues that can present complications and delays is the lack of access to the supplies needed to complete a project.
Storage containers solve many of these problems, providing a safe space to store necessary equipment throughout the duration of a project. But apart from the size of the unit itself, there are a number of specifics to keep in mind when considering the integration of a storage container into your next project, and three in particular:
1. Security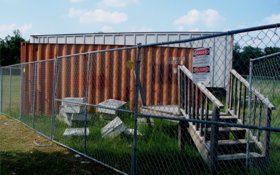 The first critical issue you must deal with is the security of the storage container. No matter what type you choose, you must be able to securely lock it. Avoid any units with flimsy doors or hinges that can be broken easily. The more difficult you make it to steal your supplies, the less likely you'll be a target. While copper and metal are currently popular targets, all supplies and tools are prone to theft.
While preventing theft, storage also keeps your supplies safe from weather damage. A strong roof and sealed walls keep out moisture and allow you to conveniently store fertilizer, bark, cement, and other items that would otherwise be ruined by a few drops of rain.
2. Ease-of-access
Having access to needed supplies will greatly speed up the construction process. If workers have to drive or walk long distances for a light switch or box of tiles, job progress slows down and your costs go up.
But having materials nearby is only one consideration regarding access. Workers need to be able to locate items and retrieve them from the storage container. And that's where interior customizations come in. Popular upgrades for storage containers include:
Shelving
Pipe racks
Cabinets
Light bars
Container and forklift ramps
Containers with shelving are excellent if most of your construction supplies are small. Otherwise, look for a container that's large enough to allow for adequate organization using a combination of the add-ons mentioned above.
Removing supplies is another consideration. If the doors to the container are at ground level, there's no issue. Steps will work if all your supplies are small and light. Large equipment and case materials will be easier to remove with an access ramp, especially when using forklifts or other machinery to move heavy pallets.
On large sites, gang boxes are often used for small items and tool storage. A larger container will be needed for large quantities of supplies and bulky items. Smaller jobs can benefit from a portable trailer that can be pulled behind your work truck. An additional plus with this type of storage is that you can remove the trailer in the evenings to further protect your business from theft. Large trailers can be brought to your site by semi truck and left in place for the duration of your project.
3. Job site regulations and insurance
In some cities, the use of storage containers may require permits. The seller you choose should be able to advise you on local laws, but the ultimate responsibility is yours. Depending on what you're storing, check EPA guidelines and the local regulations enforced by city and state governments.
Also depending on your location, you may also want to add a damage waiver to your container. Accidents happen. And a single tree or large piece of equipment can do some serious damage to a storage container - damage you're responsible for. So look for a comprehensive damage waiver that covers any necessary repairs to your storage container, trailer, or modular office. The best plans are those that take care of everything with a single phone call, eliminating the need to take out a new insurance policy or provide proof of property insurance.
Ready to Compare Storage Containers Price Quotes?