Mobile Storage Solutions
Storage containers provide a useful method for storing items you no longer have room for. But what if you don't have space on site for the containers? With mobile storage units, you can pack away all of your extra equipment, old furniture, or outdated files, and store the container in an offsite location.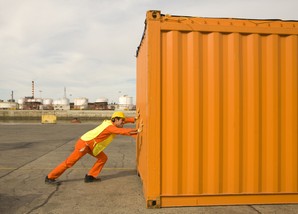 Mobile storage containers can be handy to keep things accessible.
By renting mobile storage space, you don't have to worry about maintaining the units on premises or adhering to local zoning laws. You simply select the container you want, choose the delivery date, and arrange for a pick up. The mobile storage company will then return the filled container to their secure, climate-controlled facility. If you need to retrieve an item, simply visit your container, or schedule another delivery and pickup.
With mobile storage, you'll save money up front because you only have to pay for delivery and pick up costs and a monthly fee for storage. However, depending on how long you maintain mobile storage units, you could end up spending more over time.
Mobile storage options
The storage container industry provides two main services: on-site storage and mobile storage. With on-site storage, the company delivers the unit to your location and you access the unit at your facility whenever you need it. If you need to store your property but don't have room for the container, a mobile storage dealer can drop off a container, pick it up after you fill it, and deliver it to their facilities.
You'll find mobile storage in a variety of sizes, from small 6' to 8' models to 20' to 40' double-wide units. Besides the volume of items you want to store, you also have to consider how frequently you need to access them. If you want offsite storage space for a few items you need to access regularly, smaller units will allow you to remove them easily. Larger units are best if you have a lot of items you want to stock away, but hardly use, so you can put older stuff in the back.
Next, consider which features are most important to you. You can find mobile mini containers with additional doors on the side or foldable ramps. If you need to protect your belongings year-round in different climates, you can request insulated containers and extra ventilation vents. These features may add to your costs, but will let you get the most out of your containers.
Selecting the right mobile storage vendor
Location plays a big role in deciding which mobile storage vendor you'll work with. Vendors base your pick up and delivery costs by proximity to their location, so it's important to select a vendor closest to your business. Try to find a vendor within 25 to 75 miles of your office to keep costs down and to spend less time traveling to the vendor's warehouse when you need to access your containers.
Working with a close mobile storage vendor also lets you investigate their facilities first hand. Arrange a visit to look at where the containers are stored, the conditions of the facilities, and how easy it is to maneuver in and out of the containers. This is also a great opportunity to find out how they secure the premises after hours so you're assured your property will always be safe.
Whether you want to rent mobile storage offsite, or purchase a storage container to maintain on premises, it's always important to compare multiple dealers first. By submitting a free BuyerZone request for mobile storage quote, you'll get matched to as many as six local dealers. Meet with each of them to detail what you're looking for, and then compare the offers to see who offers the best deal.
Ready to Compare Storage Containers Price Quotes?