Do You Need a Permanent or a Temporary Steel Container?
Steel storage containers are weather and vandal-proof, and available in permanent or temporary forms. When making the purchase, your steel container considerations include whether to go with a permanent or temporary storage unit. Alternatively, over time, you can turn the temporary container into a permanent storage solution with a few tweaks.
Permanent vs. temporary steel containers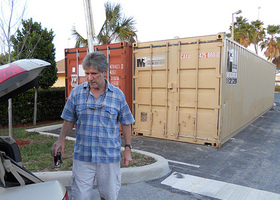 Temporary options refer to the rental or lease of the steel container, while a permanent container is one you purchase outright. As a permanent option, buy new or used and have the freedom to use the container whenever you like after purchase. Many vendors can also modify the container; common modifications include installing interior shelves, vents and windows, as well as a choice of colors to match the storage area or company logo.
With a permanent steel container, you eliminate the interest payments that come with temporary units. If you rent or lease, however, you pay substantially less money upfront than with the permanent venture. If you plan to use the container for only a temporary period, the rental is likely the easiest option, as you give it back to the vendor once done. The lease option offers less flexibility than rental, which is beneficial if you want to ensure your current monthly rate is fixed over a certain length of time.
Transition from temporary to permanent
When you want to buy a steel container, you can tweak a current lease or rental agreement. Two options are to lease-to-own and an operating lease with buyout clause. Lease-to-own lets you pay set amounts each month, and ownership transfers to you after the last payment. You need not make one large payment to secure a container. This method is actually growing in popularity, as companies want to expand their equipment to take advantage of growth, but also want to maintain flexibility.
When your lease has a buyout clause, you make monthly payments that add up to a set buyout amount. After the last buyout payment, you officially own the container. It transitions from temporary to permanent.
Many vendors will let you take the contract from rental to a leasing option. If that's your plan, don,t forget to read the fine print before signing the rental agreement, just to make sure. While you may not need a permanent container to start with, your steel container considerations may change over time.
Shop among vendors to find the most reasonable pricing for the short- or long-term solution you desire for the steel container.
How to determine the best value
To figure out which may be the best option for your business, start by asking yourself the following three questions:
How long do you need the container for?You'll pay $3,500 to $7,500 for a 40' storage container that you could rent for $195 to $300 per month (not including delivery and pick-up). If you plan on using the trailer long-term, you've more than purchased it after a year of renting, so it might make more sense to simply buy upfront.
Do you need customizations to suit specific storage needs? Shelves, racks, light bars, insulation, customized branding, and other add-ons will bump up the price - often quite significantly. So in this instance, it probably makes more sense to buy, since most rental houses won't allow you to make any permanent alterations to the container itself.
Do you have the capital to purchase outright? Purchasing a container requires a substantially higher outlay upfront. But when purchased, it typically falls under the protection of your insurance policy. If the container or its contents are damaged, you're covered. This isn't the case with a rented unit, which often requires you to purchase extra liability in case of damage - all of which you will be responsible for.
Ready to Compare Storage Containers Price Quotes?