Introduction to Workers' Compensation
Employers always try to provide the safest working environment for their staff. But even the most conscientious businesses are not immune to the occasional workplace accident. With workers' compensation insurance, businesses can provide benefits to injured or sick employees while protecting themselves from costly lawsuits.
Unlike other forms of business insurance, workers' compensation is required by law. You must provide coverage for all full- and part-time employees or face federal and state penalties. Each state develops its own regulations to ensure that businesses provide compensation and health benefits to employees who are hurt or become ill on the job.
Workers' compensation insurance is also a no-fault policy - your employees can usually receive benefits for a workplace injury even if you weren't directly responsible.
In turn, the employee receives compensation but can't sue your company for negligence.
Businesses typically grumble about workers' compensation requirements because of the cost, particularly in high-risk industries. As businesses move toward safer work environments, however, workplace injury rates and insurance premiums subside. A recent Bureau of Labor Statistics study showed that improving work conditions and standards helped reduce workplace injuries and illnesses from 7.1 incidents per 100 employees in 1997 to 4.4 in 2006.
Use this BuyerZone Workers' Compensation Buyer's Guide to learn how the system works, how to select the right insurance provider, and methods to reduce costs. After you read our expert advice, submit a free request for quote to be matched to workers' compensation providers near you.
As you begin the process of investigating worker's compensation, your first step is to get familiar with the various types of benefits available, specific requirements, and the advantages and disadvantages of the program. Get started here.
Workmans Comp Basics
In general, your business is required to have workers' compensation insurance if you have one or more non-family employees. Depending on your state, you may also have to provide insurance to part-time workers and contractors. Workers' comp is also mandatory for employees of home-based businesses, although sole proprietorships and partnerships don't have to purchase workers' compensation insurance until they hire staffers that are not partial owners.
Typical workers' comp benefits
Workers' comp offers many benefits to employees injured on the job. While the specifics vary from state to state, most policies provide employees with:
Compensation for a percentage of lost wages
Reimbursement of medical expenses
Recovery and rehabilitation services
Death benefits for families
The exact compensation and benefits an employee gets are based on the type and severity of the injury as well as on the profession. A retail cashier who slips and bruises a hip may get temporary benefits because he can return to work quickly. However, a surgeon who loses an arm would get more substantial and permanent benefits since the injury will prevent her from ever doing her job again.
Requirements
The National Council of Compensation Insurance (NCCI) works closely with insurance companies from multiple states to form the general rules of workers' compensation. The NCCI determines the cost of premiums, sets the amount paid out in benefits, and writes policy manuals detailing how premiums are calculated.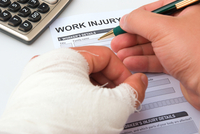 Because workers' comp is so state-specific, you'll have to become familiar with regulations in other states if you relocate, expand beyond your locality, or hire remote employees who reside in different states.
Workers' comp advantages
Reduces lawsuits
Back-to-work programs ease workers back to the job promptly
Can reduce premiums with deductibles
Offers additional tort protection when you demonstrate a commitment to workplace safety
Allows you to deny claims if you suspect fraud
Provider handles and processes all claim paperwork
Workers' comp disadvantages
Can be expensive depending on business risk and location
Increases medical expenses
Requires you to stay updated on frequently changing regulations
Frequent claims could lead to coverage cancellation or significantly higher premiums
You are responsible for all premiums (can't pass expense onto your employees)
May need to manage multiple rates if you work with employees residing in different states
The next step in the process is to learn more about how the actual claims process will work. Like any other insurance policy, it has established parameters.
Types of Workers' Compensation Claims
Workers' compensation claims are generally segmented into four categories: incident only, medical only, lost time, and death. For any claim, though, compensation is based on injuries tied to the employee's job responsibilities. If workers get hurt while doing a job for another company or participating in social activities, the policy won't cover them.
Incident only
This is the most straightforward claim. An employee slips and falls or pulls a muscle, for example, and immediately reports the incident to his manager or HR department. The claim then goes to the insurance agency for processing. The agency will determine what compensation and benefits to pay out, if any. Incident-only claims must be filed as soon as possible, or your company can face fines and penalties.
Medical only
Employees who suffer injuries requiring basic doctor visits and follow-up appointments are eligible for medical expenses beyond what health insurance will cover. If the doctor determines an employee can go back to work immediately, your insurance policy won't pay out any other compensation.
Lost time
Lost time claims pay benefits when employees can't return to work. There are three types of lost time benefits:
Temporary total disability - Employee can't perform the job because of the injury suffered but should be able to return once the injury heals (example: truck driver with a broken foot or machine worker with a badly cut hand). Employees on temporary total disability collect workers' compensation benefits while convalescing.


Permanent total disability - Employee can't return to work in any capacity. The injury either crippled the employee or caused loss of limbs essential to job performance. This typically provides the full allotted workers' comp benefits for the employee.


Partial disability - A mix of temporary and permanent disability. Employee's injury may allow him to return to the work in a limited capacity for a portion of his salary, while the insurance claim pays the difference.
Death
An employee dies from injuries or illness suffered on the job site. The employee's family is eligible for compensation and benefits through your policy.
Preventing fraud
The National Insurance Crime Bureau lists workers' compensation claims fraud as the fastest growing insurance scam in the country. Unscrupulous workers who feign back injuries, knee tweaks, or chronic fatigue syndrome to secure benefits cost insurance companies millions of dollars. In turn, you end up paying higher premiums for your coverage.
The Coalition Against Insurance Fraud suggests you immediately contact your insurer anytime you suspect fraud. Your insurance company can call in an investigator who can observe employees outside the workplace to see if they are performing strenuous activity unrelated to their jobs, or earning another paycheck while collecting benefits. They can also research if the employee was:
Under the influence of drugs or alcohol
Concealing a previously existing medical condition that caused the accident
Engaged in unsafe work practices that violate corporate policy
Workers Comp Types
The most common way to purchase workers' comp coverage is through your insurance company. It will review your business and create a policy based on your industry and prior claims history. It can also offer coverage for general liability insurance and protection from natural disasters.
Assigned risk funds
If your business is high risk or your state requires it, you may have to get workers' comp insurance through a state-operated assigned risk fund (or monopoly state fund).
An assigned risk fund lumps together multiple businesses from similar industries that can't get workers comp. This allows businesses to pool their losses. State officials typically manage the fund and pay out claims. Policies purchased through assigned risk funds are typically more expensive than private insurance policies, but they may be the only way certain companies can get the required coverage.
Self-insurance
Large, private companies with significant cash flow can elect to pay the true costs of claims through self-insurance. Instead of paying premiums on a policy, you would pay the benefits directly when claims are filed.
To qualify for self-insurance, you need several hundred thousand dollars for a security deposit, and millions of dollars in excess insurance coverage. But companies that can afford it would experience significant cost savings - self-insurance costs about five to ten cents for every dollar in payroll vs. forty-five to fifty cents for every dollar in payroll through private insurance.
Your state insurance board requires self-insured prospects to submit their business financials in order to get certified. You also must maintain in-house staff to manage and administer claims. Keep in mind that being self-insured means you absorb full responsibility for claims, including large accidents that injure multiple employees.
If the requirements for self-insurance appear steep, a self-insurance group allows you to pool your resources with other large private businesses to provide similar benefits. Check with your local insurance board to see if self-insurance groups are permissible in your state.
Payouts by provider type
You can see the popularity of different workers' compensation providers by the amount of total claims paid by each group:
Private insurers - 51%
Self-insured - 24%
State-funded - 19%
Federally-managed programs - 6%
Claims cost you money. It's that simple. And the best way to lower your workers' comp costs is to minimize the potential for claims. We've gathered some tips from our network of leading national sellers to help you do just that. Don't consider a workers' comp policy without pairing it with one or more of these suggestions. They have the potential to save money... and lives!
Ways to Lower Workers' Comp Claims
While workers' compensation doesn't offer the traditional discounts you may get on other insurance policies, your provider can still help lower your premiums if you proactively work to reduce risk. By proving that you run a safe workplace and take appropriate measures to keep employees free of workplace injuries, you'll typically qualify for more manageable insurance rates.
Hire safety professionals
Inviting an industrial hygienist to your worksite could help uncover ways to reduce or eliminate potential hazards for workplace injuries by looking at your previous claims and observing employee behavior. You can request that the state send inspectors to regularly examine your facilities for such potential injury hazards as poor lighting or small leaks, both of which you can fix quickly and inexpensively.
Practice good ergonomics
You don't need to operate heavy machinery or work above ground to suffer a workplace injury. Repetitive stress injuries such as carpal tunnel syndrome or neck strains are just as common. Make sure you provide fully adjustable chairs and computer monitors for desk employees and utilize proper shelving for warehouse and manufacturing plant employees to minimize bending.
Develop a safety committee
Ask employees to volunteer for a safety committee that is responsible for new safety initiatives. The committee should keep an eye out for safety hazards and make sure each work area provides easily accessible protective gear. Don't pass all the responsibility to the committee, though. Stay involved so you know what projects and efforts are being pushed forward.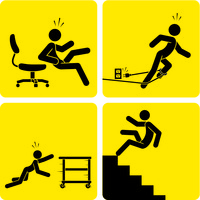 Provide road safety training
If your employees use company vehicles for business purposes, have a driving instructor review road safety rules with all potential operators.
Display safety collateral
Place safety manuals and informative posters in all common areas as a constant reminder to employees to always practice workplace safety.
React quickly to incidents
Immediately record all accident details and set forth immediate guidelines to prevent this from reoccurring. Never try to hide an accident! Since workers' compensation is no-fault, a single claim should not affect your premiums. More important, the consequences for not reporting can be costly.
Develop alternative work programs
The biggest workers' comp expense for employers is the time employees spend convalescing at home. By letting these workers take on alternative responsibilities that they can handle until they recover fully, you can get them back on the job as quickly as possible.
Institute financial measures
Make sure your state workers' compensation rating bureau inspects your workplace to ensure that each employee is appropriately classified. Premiums for employees with risky job responsibilities will cost more, so you may want to reassess the number of employees you need in those positions. Also, workers who perform multiple job responsibilities may be classified according to how they spend their time.
It's also helpful to develop a medical fee schedule. Setting up fee schedules for general office visits and physical therapy after a workplace accident can help control costs and ensure injured employees get necessary services and medications at predictable prices.
Develop rapport with employees
Your staff may not understand what it costs to provide workers' compensation coverage, so it's up to you to show them. Be up front about how much you pay for each employee and stress how multiple claims can impact everyone in the company. Always share the latest issues and policies that affect your industry with your employees so that they understand the importance of maintaining workplace safety.
Finally, look for ways to reward employees who demonstrate a commitment to long-term safety. Acknowledging employees' efforts to keep a safe work environment can go a long way to show you appreciate their efforts. With employees working to keep everyone safe, you'll be on your way to a safer office and lower premiums.
Comparing workers' comp providers is similar to evaluating almost any other insurance policy. In fact, it boils down to one critical question: how much coverage do you need to maintain a cost-effective yet comprehensive safety net? Find the best provider by relying on the standards covered in the next section.
Choosing a Seller
Workers' compensation providers should be experienced with all federal and state regulations, and understand how your specific industry will impact your policy. In addition, you want to work with companies that have written workers' compensation policies for years. That way, you know they'll still be around 5, 10, or even 20 years down the line if you need them.
Experience will come in handy when it comes to finding available discounts to keep your costs low. Understanding the challenges facing your business will help insurers advise you on what programs and initiatives to investigate to make your premiums easier to bear.
One way to gauge the experience and quality of a provider is to check with outside organizations who rate insurance companies. Nonprofit entities like A.M. Best Company or Standard & Poor's rate insurance providers based on customer satisfaction, number of complaints filed, and industries they work with.
Quality customer care
Dedicated customer care is essential, particularly when you have to submit claims. Check how potential insurers accept claims - is it by fax, e-mail, or postal mail? What should you do if an injury takes place after hours? You must feel confident that the provider will stay on top of your claims and get the process moving immediately.
While a quick response to claims is important, 100% accuracy is also critical. Submitting a faulty claim could negatively impact your premiums for years. Look for providers with a strong attention to detail so that you never have to worry about the validity of your claims.
If you purchase insurance through a commercial insurance company, you'll typically have an agent assigned to your company. In addition to being well schooled in your industry and all local regulations, your agent should take the time to learn about your business in order to help you find the best ways to keep your costs manageable. If you have employees who work in other states, your provider should be knowledgeable about the insurance regulations in those states as well.
Audit documentation
When providers furnish you with your insurance quotes, review each copy carefully to uncover inconsistencies and ensure that they use the appropriate classification codes for each employee. If you notice discrepancies, your provider should immediately adjust the problem.
This level of detail is especially important when the time comes to renew your policy. If you ever notice a big increase in your premiums from year to year but you're unsure what caused the increase, request a written explanation from your provider. It's possible that the rate spike was just an error, but rates do change over time so your premiums may go up.
Before you get on the phone with a provider, make sure you review our rate estimates on workers' comp. A number of factors come in play, largely determined by your geographical location, but there are also ways to cut your premiums to make it as cost-effective as possible.
Workers' Compensation Rates
Costs for workers' compensation policies are very state-specific. Each state has a workers' compensation board that determines how much you'll pay in premiums and claims. Rates are set according to three factors:
Risk classification
- Insurance companies apply hundreds of classification codes to different job types to indicate the potential for workplace injury. The higher the risk, the higher your premiums.

The state you operate from - You could pay higher premiums in areas prone to natural disasters, or that are near famous high-rise buildings, which could be terrorist targets. You could wind up paying multiple rates if you employ workers from different states.


Prior safety record - You'll pay more if you've submitted a high number of prior claims.
Taking steps to increase safety and minimize worksite injury potential can help reduce your costs. Your workers' compensation rates should also fall over time as the insurance company learns more about your company.
Risk is the biggest cost determinant. For example, covering a desk clerk will cost considerably less than protecting a truck driver who spends a lot of time on the road enduring harsh weather conditions.
See what other BuyerZone users paid for their workers compensation policies.
Calculating costs
Pricing for workers' compensation is expressed as a percentage of your total payroll. This typically ranges from $1.25 to $9 or more for every $100 of employee salary, depending on the risk level for each employee's job. That rate will vary for each employee according to their risk classification and location.
Here are a few examples of how this pricing structure works:
An office manager earns $600 per week or $31,200 annually. Since this is a low-risk occupation, NCCI sets the risk classification at 2%. The employer will pay $624 per year - or $12 per week - to purchase workers' compensation coverage for one year for this worker.


A crane operator makes $1,000 per week or $52,000 annually. NCCI determines the risk classification for this job to be 6.5%. The employer will pay $3,380 per year - or $65 per week - in workers' compensation premiums.
One way to immediately cut these premiums is to consider a policy with a deductible. By paying $100 to $1,000 for each claim out of pocket, you can cut your premiums by up to 25%. This is typically a good option if you run a small to midsized business that's considered low risk.
Note that insurance companies should only consider salary, commissions, and cash bonuses as the basis for workers' compensation premiums. Overtime pay, gratuities, and other insurance payments shouldn't be calculated. Check with your provider to ensure that they are only looking at qualified compensation.
Workers' Comp Buying Tips
Second injury fund - To allow fair employment of handicapped workers, you may have to buy into a second injury fund for an additional 6% to 8% of your insurance costs. This coverage protects your company in case previously disabled workers get hurt while working for you.


Bankruptcy backup - While we always recommend you find insurance providers with a lengthy track record, it's possible they could go out of business. Should that happen, your state may have guarantee funds that continue paying out benefits when a carrier goes bankrupt. In addition, existing insurance carriers may purchase policies from a busted provider, which would continue your coverage.


Do more than the minimum - Your business must live up to the bare minimum OSHA requirements. However, there's no reason to stop there. Even if it isn't required, always take additional safety precautions and actively find ways to maintain a safe work environment. It will not only reduce your chance of a claim, it will also help you obtain lower premiums.


Nontraditional injuries - Workplace injuries don't just occur from lifting heavy items or falling. Employees can also get hurt or sick from work-related stress and anxiety, repetitive stress disorder, or eyestrain from working on a computer all day. Check with your insurer to see if your policy will cover these and other types of injuries.


Solicit employee feedback - Ask employees to voice their concerns about safety issues or potential hazards. Offer them a chance to talk in person or communicate anonymously, and be sure to act upon these issues immediately.
Ready to Compare Workers Compensation Price Quotes?