IS-330 Desktop Mailing System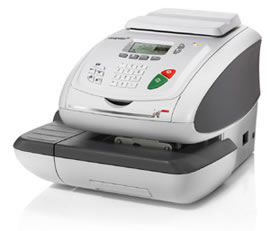 Growing businesses count on smart productivity tools to keep their offices running smoothly. The Neopost Intelligent Solution 330 Mailing System is a desktop powerhouse that makes it simple to weigh, rate, post and track your mail with accuracy.
Easy to operate and convenient to use, the highly capable IS-330 with whisper-quiet operation is designed to integrate smoothly into your office environment and process mail efficiently.
With its state-of-the-art technology and online services you can be sure to have the best in class solution to meet your demanding needs.
SEAMLESS RATE CHANGE
Simple, hassle-free postal rate change downloads
Conveniently electronic rate downloads instead of time-consuming rate chip installations
More Neopost Postage Meters Information
PERFORMANCE ASSURED
Ergonomically-designed with whisper-quiet operation
Powerfeed for fast batch processing
Dashboard display with operational overview
Built-in two-pound weighing platform
Smart Start weighing
EFFICIENCY OPTIMIZED
Postal Rate Wizard, on hand assistance for the occasional user
Quick rate shortcuts for fast, direct access
Shortcut Keys for instant function selection
Automatic date setting with time preset for early date advance
Download postage now, pay later with NeoFunds
COST CONTROL
PIN code authorization helps you control usage
Default postage value helps eliminate accidental mis-posting
Postage usage allocation by department or user
Online access to postal usage for previous 13-months
Lower postage costs using USPS eConfirmation Services
ONLINE MANAGEMENT
First in its class of mailing machines to include automatic usage reports and downloads
Review postage usage by date, department, postal class and type of transaction
Simplify ink reordering with Low Ink E-mail Alerts
Get added support with remote diagnostics
FEATURES
SPECIFICATIONS
Processing speed
Job Imprint Memories
Job Imprint Memories
9
Imprint Customization
8 standard, 2 open advertising slogans
10 custom personalized text messages
Automatically printed mail class
Account Reporting and Control
10 departments
Online Services
Seamless USPS rate downloads
Low-ink email alerts
Online postal reporting
E-confirmation services
Size
14"L x 15"D x 10"H
Envelope Specs
Dimensions:
Minimum: 3.5" x 5"
Maximum: 10" x 13"
Thickness: Up to 3/8"
Orientation: Portrait or landscape
Ready to Compare Postage Meters Price Quotes?