Real-World Postage Meter Lease Prices From BuyerZone Buyers
One of the unusual aspects about getting a postage meter for your business is that you simply can't buy them: Federal law only permits you to lease them. But as with any purchase or lease, it's helpful to know what other users are paying so you can budget accordingly. We've pulled together a wide range of responses from other BuyerZone users who leased postage meters using our service, and we've collected them here help set your expectations.
One benefit to leasing postage meters is the manufacturer maintains responsibility for repairing the unit so you don't incur those expenses. They can also offer service contracts for the rest of your mailing equipment and build the charges into your monthly rates. You can expect the rates to fall somewhere in between $19.99 and $29.99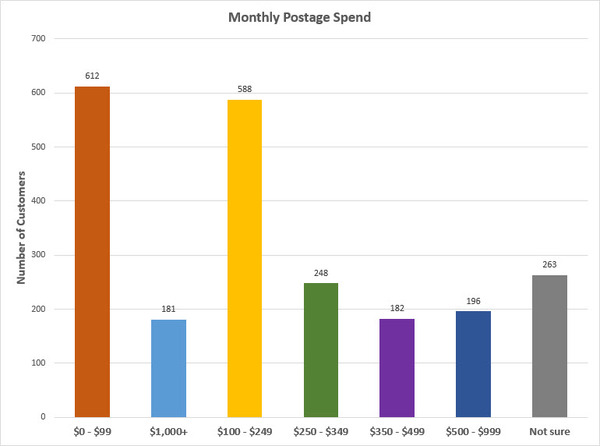 Mailing costs prior to leasing a meter
As you'll read in many of these quotes, dealers will often give you a free trial of a meter for 30, 60, or 90 days. Depending on the length of the contract you sign, the dealer may also include freebies such as a small amount of initial postage ($20 to $30), rate protection, unlimited resets, and more. When you're committing to an ongoing monthly expense like a lease, it's a nice gesture on the part of the vendor to give you at least a token discount.
It's also worth keeping in mind that while you can't purchase postage meters outright, you can choose to lease or purchase other postage equipment, such as postage meter bases, postage scales, letter folding equipment, and sealers. You may be able to save money in the long run by purchasing the accessories, although the hassles of making sure they integrate smoothly with your leased meter may make it not worthwhile.
Basic postage meter and scale lease prices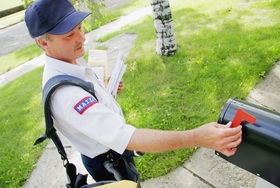 "$19.99 per month. Includes meter and a separate, standalone 5 lb scale."- Software Publisher, Fort Wayne, Indiana
"$19.95/month for MyMail postage meter. Rate never to increase and no refill charges. Month-to-month service contract." - Attorney, St. Petersburg, Florida
"90-day free trial on Pitney Bowes Model E700 Series with standalone scale. After 90 days, the contract is $9.95 a month for 1 year." - Graphic design company, Mesquite, Texas
"Mailstation postage meter with 2 lb. integrated scale - $19.99/month with $50 free postage after trial." - Manufacturer, Alpharetta, Georgia
"The postage meter is on lease for 3 years at $14.95 per month and guaranteed not to increase in price during that time." - Financial Services, Tiffin, Ohio
"48 mo. contract for a T-1000 w/ 5 lb scale for $22.95. (1) Four mos. free (2) Unlimited resets for the 52 mo. contract (48 mos. plus 4 mos. free)." - Accounting firm, Lancaster, Pennsylvania
"60 day free trial, followed by $15/mo for 12 mo. - mail specials offered the same machine for $20/mo, so this is a good deal. Also, have option to change machines if we don't like it (60-day trial)."- Realtor, Prairie Village, Kansas
"Postage meter, 5 lb. scale, rate guard, maintenance, no contract for 2 years but price guarantee for 2 years, $34.50/month, unlimited refills with no fees."- Textile wholesaler, Chattanooga, Tennessee
"No contract. Guaranteed $12.95/mo for the first year w/8 free refills, $14.95/mo for the second year w/2 free postage refills. Free postage upgrades, 1 free ink cartridge, free maintenance or replacement, free shipping to exchange meters, 5lb scale upgrade, free Account Features upgrade, one-time free custom meter ad."- Financial Services, Naperville, Illinois
"Mailroom Consultants (FP Mailing) T-1000 postage meter and scale. 24 months, $24.95 per month, includes unlimited resets and maintenance. Ink cassettes = 3/$64.95 (1,600 imprints each). Best price." - Fastening Manufacturer, Wixom, Michigan
"$18.95 per month, no charges down the road for rate updates and at this price point I got a semi-automatic feed machine where others were strictly manual feed."- Wholesaler, Arlington Heights, Illinois
"$24.99/month, 60-day free trial period, digital meter with integrated 5 lb scale, $50 in free postage after commitment." - Plastics manufacturer, Clinton, Arkansas
"90-day free trial, $19.99 a month for a 12-month lease, $50 free postage after 90-day period."- Cleaning service, Pittsburgh, Pennsylvania
"$24.99 per month (included 5 lb. attached scale), no contract (month to month), able to exchange current ink cartridges for credit, upgraded from current meter at considerable savings (currently paying $54 per month)." - Bicycle parking products, Grand Rapids, Michigan
"FP T-1000 Postage Meter, 48 month rental agreement, 1st 4 months free, then $26.95/month. Included at no additional cost: service & maintenance, 5 lb. scale, starter supplies, unlimited resets and rate guard." - Manufacturing company, Cleveland, Tennessee
Postage meter and other equipment lease prices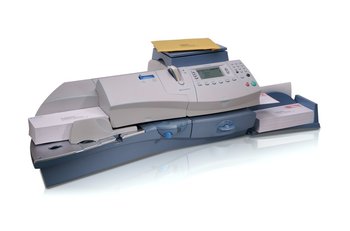 "IJ-40 postage meter $26.95 per month for 1 or 2 years with scale and sealer. Free resets and prepaid postage which they will bill me for monthly. 2 free ink cartridges." - Wholesaler, San Leandro, California
"Mailstation we purchased was $30 deposit, $9.99 shipping charge, and $19.99 to purchase a moistener/sealer. Try free for 60 days; after trial period pay $19.99 a month for 1 year." - Paper supplier, Thorofare, New Jersey
"Semi-automatic meter, 5lb scale, sealer, up to 10 accounts, 3 years maintenance: $39.95 per month."- Non-profit, Lansing, Michigan
"$70/mo, 48 mo. lease. Includes: 5 lb. scale, auto feeder, auto moistener, free service calls." - Insurance company, Aurora, Colorado
"Reconditioned unit $20.25 per month, with semi-automatic feeder, 31 dept. accounting function, 5 lb. stand-alone stand and envelope sealer." - Steel wholesaler, St. Louis, Missouri
"T-1000 Meter with 614 sealer. Free scale and Free Platinum Level rateguard. $23.95/mo - 1 year rental contract. No charges to load postage, no charges for rate changes."- Locksmith, Naples, Florida
"DM100 model with 10 lb. scale, moistener, and account tracking. Leased for $49.95/mo. Free 60-day trial." - Real Estate, Puyallup, Washington
"We went with the DM400 from Pitney Bowes. The lease is 53 months and is $181/mo. Included in the service is: e-certified return receipt, an automatic feeder for both letters and labels, free reset fees, machine/computer integration software, training, maintenance/service repairs."
- Manufacturing company, Conshohocken, Pennsylvania
"Free for 90 days. $42.95/month, 1-year contract. Pitney Bowes DM100. Semi-automatic feeder. Built-in scale. Auto updates for postage rates." - Public relations firm, Waltham, Massachusetts
"$35.95 per month/48-month contract. The stand, sealer, letter tray, rate guard, scale, unlimited resets and meter were all included." - Warehousing & fulfillment services, Bellingham, Washington
"Rental agreement of $37.95 a month for a term of 24 months. T-1000 digital meter with sealer, stand, letter tray, and 5 lb. digital scale. Also, startup supplies for the meter with unlimited postage resets and rate guard chips every time there is a postage change." - Web hosting firm, St. Louis, Missouri
All responses collected from BuyerZone users and may not be representative of currently available prices in your area. Quotes have been edited only for clarity.
Ready to Compare Postage Meters Price Quotes?