Postage Meter Prices: How Much Should You Expect to Pay?
The humble postage meter is a key piece of office equipment for many businesses, small and large. If you're thinking about upgrading, or getting one for the first time, you're probably wondering how much you should pay for a postage meter. To answer that question, we've asked thousands of other BuyerZone users how much they paid, and collected the best answers here.
Based on the responses we got, there are a couple of key points to keep in mind as you're shopping for mailing equipment: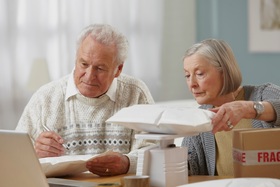 You can't simply purchase a postage meter: federal regulations only you to rent or lease your meter. It's a technicality, really, but it does impact how you make your decision. You'll pay a monthly fee for usage, plus additional costs if your vlume exceeds preset levels.
The prices you'll be quoted do not include actual postage costs: the pure mailing costs are the same whether you buy stamps, use an online postage printing service, or use your own meter. However, some vendors provide a small amount of free postage when you get started ($20-$50).
Instead of free postage, some providers will offer the first month or two of your meter rental or lease for free. In addition to just getting you to sign up, this allows you to test the functionality of the meter before you make a longer term agreement. It's a good deal for you - but don't let a month or two rent-free have too much sway on your overall decision.
Postage meter rental companies may offer price breaks if you agree to a long-term lease. This is a great idea if you know you'll be getting constant use of the meter day in and day out. From a financial point of view, it's also nice to have a fixed rate for the length of the agreement.
Keep these points in mind as you read what our other customers paid, and get a sense for what features and price ranges you'll be looking at.
Rental prices for postage meters with scales
Some businesses require a separate postage scale or one that connects to the postage meter to accurately calculate postage. A digital postage scale can cost hundreds of dollars, but vendors can add them onto a monthly lease for an extra $5-$10/month. These postage meters typically process only a few letters at a time and don't include extras like envelope sealers and stackers.
"I got the machine for free for the first 60 days, then I pay only $14.95 per month. Very good deal." - Health Care, Henderson, Nevada
"90 day free trial, $50 in free postage over time, $18.99 per month, 1 year contract, less trial." - Wholesaler, Surprise, Arizona
"$12.99 per month for 2 years - meter and scale." - Insurer, Ravenna, Ohio
$14.99 per month rental fee plus postage, no fee to refill meter with postsge and a 60-day free trial period. - Contractor, Mokena, Illinois
"Purchase price $13.95 p/month, scale, $25 free postage, 60 days free." - Construction Contractor, Amarillo, Texas
"$14.99/mo with 1st 3 mos. free; no refill fee; includes scale." - Legal, Beverly Hills, California
"$20.95/mo, quarterly billing, 12 month initial contract, ink included, scale included, direct debit available.- Construction, Tampa, Florida
"$15.99 per month - $80 free products, postage." - Health Care, Longview, Texas
"$16.96 a month including a free scale and $25.00 in free postage." - Health Care, Garden Grove, California
"Personal Postage Meter, 5 lb. scale - $19.75 per month (gov't price.)" - Police Department Administrator, Matthews, North Carolina
"$19.99/month for meter, extra printer cartridge, labels, and a 5 lb scale."
- Insurer, De Forest, Wisconsin
"$21 per month. I chose the length of contract. I was able to keep my current equipment."
- Engineer, Springfield, Illinois
Postage meter and base rental costs
A base can increase the functionality of your postage meter. They often include feeders, sealers, and stackers that allow you to process large mailings much more quickly.Buying a high-volume postage meter base can be expensive, but most vendors will rent out a base as part of your monthly fees.
"$22.95/mo. Included was the envelope sealer, scale, beginning cartridge, labels." - Non-profit, Springfield, Massachusetts
"$21.95 per month, plus $160 one-time fee for seal moistener and stand." - Wholesaler, Tillamook, Oregon
"F100 for $35/month in 36 mo. lease for 4 locations." - Travel Agent, Savannah, Georgia
"$76/month - unlimited resets; scale, sealing." - Non-Profit, Dubuque, Iowa
"Lease for $99.95 per month, includes meter, scale and stand for scale. Auto reset and updates at no charge. - Staffing agency, Tampa, Florida
"IS330 Rental with sealer and 5lb scale. 12-36 month agreement, $59.95 per month. Includes equipment rental, maintenance, meter rental, postage downloads, real-time USPS rate updates, and shipping. " - Retailer, Denver, Colorado
"$133 per month lease. 54 mo. lease on dm400 series, free technical service, set-up, training, etc." - Business Services Provider, Meridian, Idaho
"$28/mo; lease 36 mo." - Non-Profit Organization, Lansing, Michigan
"Postage meter & 70 lb scale, approx $38/mo." - Government Agency, Denver, Colorado
"$229 a quarter including maintenance and we got to keep our old scale as well." - Wholesaler, Chula Vista, California
"Lease price of $418/month." - Telecommunications pro, Wapakoneta, Ohio
"Monthly lease - $550." - Retailer, Tigard, Oregon
"$111.70/mo; $109 annual maintenance; $19 per reset." - Real Estate, Myrtle Beach, South Carolina
Postage meter base and scale prices
Unlike a postage meter, you can purchase a postage base or scale outright. Prices can range from a few hundred dollars to several thousand depending on the features and volume it can handle.
"Hasler wj150 , stacker, wjs70 scale, maintenance, global lite software, multi piece weighing: $8,535. Meter rental $45.00 per month, and maintenance on machine and scale $218 per year." - Government sector, Missoula, Montana
"Wj150 mail machine with sealer and wj70 scale - $5,391. 12-month meter rental model ltn165 digital meter with unlimited resets - $540. Price locked in for two years." - Government sector, Green Lake, Wisconsin
"$6,000 with service contract." - Real Estate, Woburn, Massachusetts
"IJ 60 - mail machine, WP51J - 5 lb weigh platform - $3,695." - Health Care, Omaha, Nebraska
"About $5,000 to purchase the meter, with scale." - Manufacturer, Uncle Sam, Louisiana
"$36,000 - dm1000 mail machine, 500 account accounting capability, Intellilink software, 70 pound interfaced scale with differential weighing, report printer, Pc interface for reports, mixed mail feeder, power stacker, and WOW technology." - Non-Profit Org, Rosemont, Illinois
Want more information on choosing a postage machine? Click below to get connected to postage meter companies in your area.
Information was provided by BuyerZone users. Quotes have been edited for clarity only.
Ready to Compare Postage Meters Price Quotes?