IS-6000 Desktop Mailing System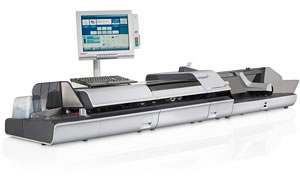 Ergonomically engineered for maximum productivity and output
The IS-6000 sets a new standard for mailing system productivity, operability, and efficiency. Neopost observed high volume mailing machine operators and listened to production mail center customers to design this next generation mailing system. The IS-6000 delivers simple, ergonomic operations; investment protection and cost savings; reliable production, and maximum uptime. Coupled with the new internet-connected Neopost iMeter™ postage meter and powerful Apps to manage your business, it is clear that the IS-6000 is the ultimate choice in high volume mailing systems.
Simple, Ergonomic Operations
Height adjustable 15" touch screen moves backward and forward, swivels left and right, and moves up and down, providing a comfortable working environment
All screens display large descriptive buttons and prompts, making navigation a breeze
Cool shades of blue illuminate the screens minimizing eye strain and fatigue
Customizable screens increase operational efficiency
Added comfort of a full keyboard makes account or department setup/usage, and custom text messaging on the envelope easy
Optional remote label dispenser reduces work steps and optimizes the ergonomic workspace
Custom ergonomic workstation creates a comfortable and efficient workspace
Reliable Production and Maximum Uptime
Over 200lbs, this rugged, durable system is a perfect fit for large volume and production mail processing centers
Processing speeds up to 210, 260 or 300 letters per minute (lpm) and up to 140 lpm in dynamic weighing mode, the IS-6000 is ready for any job
Process nested or non-nest envelopes (up to .8") and postcards with ease
Dual pump, jet spray sealing system with filter and 5 adjustment levels ensures a quality tip-to-tip envelope seal
High capacity envelope feeder and power conveyor stacker help maximize throughput by decreasing the number of starts and stops of the mailing system
Investment Protection and Cost Savings
Advanced modular design allows you to purchase the components, Apps and options you need, eliminating overspending
Print head is designed to last the life of the system, saving money on traditional scheduled print head replacement
IBI Lite indicia reduces ink usage
Mailing Systems Management and Cost Control
Internet-connected Neopost iMeter™ postage meter enables Apps to deliver capabilities beyond the traditional postage meter
Save up to 5% off retail USPS® rates on Express Mail™ and Priority Mail™
Report on postage usage and trends by department, time period and postal class
Report on postage usage data from a single location or integrated multi-site enterprise
Track, confirm, and save when processing mailing utilizing USPS® discounted electronic rates for eDelivery Confirmation™, eSignature Confirmation™, and eCertfied Mail™ with Electronic Return Receipt™ from USPS®
Remote diagnostics help you sustain maximum uptime
FEATURES
SPECIFICATIONS
Control Panel
15" height adjustable (left right, backwards forwards)
Processing speed
Up to 210, 260, and 300 LPM (Letters Per Minute)
120, 130, 140 LPM in Dynamic Mode
Job Imprint Memories
15
Rate Favorites
20
Imprint Customization
8 standard, 2 open advertising slogans
10 custom personalized text messages
Automatically printed mail class
Account Reporting and Control
100 departments standard
Available Upgrades to 300, 500, and 10,000
iMeter™ Apps
Seamless USPS® rate downloads
Commercial rate discounts
Low-ink email alerts
Remote diagnostics
Remote access to postal and department usage
Track, confirm, and save when utilizing discounted rates for USPS® Extra Services
System Dimensions
Mailing system with dynamic scale and catch tray: 78"Lx25"Dx14"H
Power conveyor stacker: 40"Lx14"Dx12"H
Adjustable control panel height: 26"-33"
Ultra High Capacity Ink Tank
Up to 100,000 imprints
Electrical Requirements
Voltage: 110 VAC
Frequency: 50-60 Hz
Line conditioner included
Sealing System
Dual Pump, jet spray with 5 levels of adjustments
Print Modes
Meter, Permit, Date Stamp, Seal Only
Envelope Dimensions
Minimum: 3.5" x 5"
Maximum: 13" x 15"
Thickness: Up to .8"
Orientation: Portrait or landscape
Ready to Compare Postage Meters Price Quotes?