Making Postage Software Work for You
The purchase of a postage meter is one of the smartest investments a small business owner can make - especially for those who rely upon delivery of paper bills, advertising circulars, or other physical materials through the postal service. When you buy a postage meter, however, you're investing in more than just a machine; it's the native software that lends the equipment its value.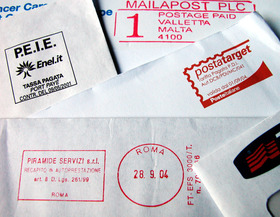 How postage software saves money
When you're able to closely monitor your postage usage with ease, you can optimize your operation to reduce waste. One of the features offered by an Internet-connected meter, such as the Neopost, is an inherent tracking and management ability. You'll know where your money's going, and how much you're spending each month on postage so that efficiency is maximized. The software is powerful, but simply designed so that you're also able to save time.
Just as the native postage meter software allows you to save money, it also helps you to boost your business's earning potential. You can have your company's logo or name inserted into the indicia for advertising purposes. Personalized postage is eye-catching and helps to increase the visibility of your brand. You can send personalized messages to your customers and clients that they're able to read before they even open an envelope. When brand awareness increases, so do profits.
Using a metered mail system to streamline your postage and mailing procedures allows you to take advantage of postal discounts that can be extended to qualified businesses. You'll also never have to overpay for postage and you can keep up with changing postal rates.
The economy of time savings
Do you remember the days when you had to leave your office to send registered or certified mail? Or how about all those times when you had large envelopes and never were sure how much postage to use for the second and third ounce? With the new postage software all the guess work and gas usage are a thing of the past.
When you download a simple CD to your computer you have everything you need to print labels, postage, certified and registered letter receipts and much more. Many companies send you special scales that can interface with your computer so you know exactly how much a large envelope - or even a package - weighs and the required postage. You do not have to leave your home or office for a minute. Your mail carrier can pick up all your metered mail when your regular mail is delivered.
Ready to Compare Postage Meters Price Quotes?